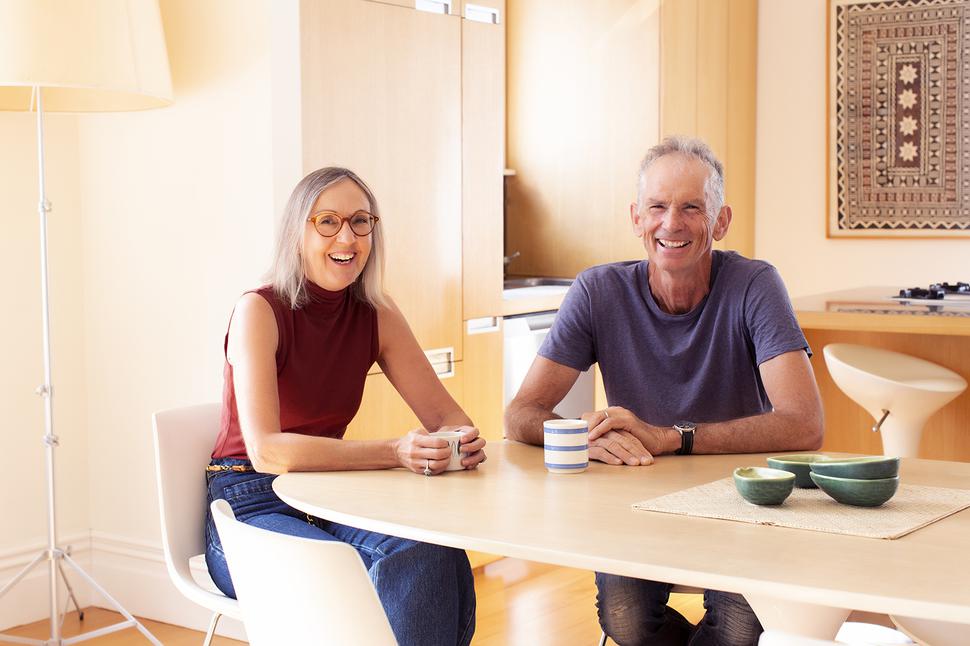 Love Stories: What Dianne & Patrick Have Learned From Love
Openness and a stream of relaxed rituals are their marital potion for comfort, familiarity and a strong love life force
Saturday Feb. 13, 2021
Together for two decades, vintage queen and fount of knowledge Dianne Ludwig (find her wares on Instagram at @Welcomeback_slowfashion) and Patrick Flannery say that love just gets easier as the years go by — although Patrick reveals that he did give up his old Peugeot 504.
How did you meet? 
Patrick: At work
Dianne: I knew he had a crush on me when he came into my office and sang the entire theme song to the 1960s TV show Green Acres.
What originally caught your eye, and what have you discovered about them since?
Patrick: She was great to talk to and she made me laugh. I discovered she sometimes works too hard for her own good.
Dianne: I loved his voice, and his silly sense of humour. I discovered he can have a glass half-empty view of the world.
What do you find most attractive about your partner?
Patrick: Her sense of humour, and positive attitude to people and the world.
Dianne: His laughter and kindness.
READ: What Hoete & Adrienne Have Learned From Love
What do you most admire about them?
Patrick: Her personal integrity and concern for others.
Dianne: He's a good man.
How do you spend your time together?
Patrick: We are lucky to spend half our week at our old bach at Mangawhai Heads, the sea is our special place. 
Dianne: We love swimming in the sea, preferably without togs.
How has your relationship evolved? 
Patrick: Apart from both getting older, nothing has changed.
Dianne: It's always been easy, but just gets easier.
What personal growth have you experienced in your relationship? 
Patrick: Coming to terms with the reality of ageing is a challenge, but going through it together makes it easier.
Dianne: I am still learning to be more patient, it's not my default setting.
How do you support your partner?
Patrick: Since retiring I am now Dianne's personal butler.
Dianne: I try not to overwork the butler.
READ: What Fred & Maeve Have Learned From Love 
What compromises have you made in your relationship?
Patrick: Selling my old Peugeot 504's because they took up too much space in the driveway.
What is something romantic your partner does or has done?
Patrick: Bought me my Stratocaster guitar, greater love hath no woman....
Dianne: Breakfast in bed every day is pretty dam good.
How do you keep your relationship healthy?
Patrick: We are both very open and direct with each other so it's never been an effort.
Dianne: We have lots of rituals, like early morning coffee, walks and swims — times we can talk and do something we love together.
What is the hardest thing about being in love, and the best? 
Patrick: It's all consuming, which can be hard but great.
Dianne: The only hard part will be when one of us dies and leaves the other. The best part is having him around.
What does love mean to you?
Patrick: Putting someone else first.
Share this: