Meet the Kiwi Couple Starring in the Lush Valentine's Campaign
Aucklanders Darren D'Cruz and Joel Leaver feature in the new campaign from Lush Cosmetics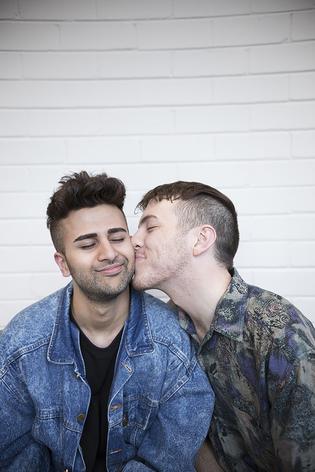 Darren D'Cruz and partner Joel Leaver are the poster boys for a Valentine's Day campaign from Lush Fresh Handmade Cosmetics across Australasia.
It's the third year the company has run the campaign, but the first time New Zealanders have featured in it. Darren (below left), aged 23, works at Lush in Newmarket and was nominated for the campaign by his colleagues, while Joel (below right), 22, works as a customer care representative for the AA.
Although the couple, who have been together for three years, like to keep their lives fairly private, they decided the campaign was worth speaking out for. Darren says customers have been excited to make the connection between the poster in the window and the man behind the counter.
The pair already have Valentine's Day sorted: they are leaving this week for a holiday in Hawaii.
How do you feel about being in the windows of Lush stores in Australia and New Zealand?
Darren: Being in a window with someone that I love so much is quite amazing. This is something so close to us. We know how hard it is to be accepted, so hopefully this touches people. It's not just one person. There are such high suicide rates within the LGBTQI community. We are pretty happy that Lush takes the time to support the community.
How would you feel, knowing if you lived in Australia, you couldn't get married?
Darren: It is tricky because it feels like you're not really wanted in your own country. Personally, I struggle with being gay in my own country of New Zealand where it is actually quite open. You still have to watch your back.
Joel: I think that even though there is marriage equality, that doesn't mean equality. I don't think that it fixes it. There is such a deep-rooted hate. You learn to adopt an attitude where you just don't really care, but it does take time to build that attitude. I think that's one of the hardest things.
Have you ever been anywhere in the world that has made you feel comfortable to be who you are?
Joel: In my house.
Darren: Yeah, in my house. I can't think of a time where I thought I'm comfortable to make out with Joel in front of everyone. Joel and I are so much older than some of the younger people that don't understand who they really are. We have people that support us, but if you think about the people who have no one around them to support them, it's not hard to believe why suicide rates are so high. We feel like that is the big issue.
Do you feel optimistic that things are going to get better?
Darren: I think they are, but it is very, very, very slow. I think things will get better.
What is the nicest response you've had from someone when you've come out to them?
Joel: My sister was really upset that I didn't tell her first. She said: "You could have opened up to me, I knew and you could have told me, I could have comforted you." I think that was a nice response, she was genuinely upset that I didn't come to her.
Darren: I think that is such a great response. I think if more people had a response like that then it would be so much easier to tell people.
What do you love most about each other?
Darren: I think Joel does really well to bring me back in. I can be someone who can be very dramatic and over the top, and Joel always makes sure I come back.
Joel: How honest he is. I am a Libra. I avoid confrontation. Darren is straight up and that's what I like to help me grow.
Share this:
More Beauty & Wellbeing / Features & Profiles