How to Shine Like a Supermodel
Makeup artist to the stars Rose-Marie Swift shares her beauty tips on how to achieve glowing skin
Rose-Marie Swift is off to Miranda Kerr's wedding on May 27. The makeup artist is excited to be attending as a guest, rather than in her professional capacity as first planned.
With her own busy schedule promoting her cult favourite RMS Beauty brand — including on a trip to Auckland last week — the pair realised Rose-Marie would be stepping straight off a plane to get to the wedding. So they agreed it would be more fun for her to head to the ceremony without her brushes.
This consideration reflects the close friendships Rose-Marie has forged with some of the biggest names in the fashion and beauty world. In a career spanning 35 years, her signature style of crafting enviably glowing skin has been seen on famous faces in top magazines and on the red carpet. These range from Sofia Coppola to Zoe Saldana, Milla Jovovich and Tilda Swinton to Cindy Sherman and Paloma Picasso.
Rose-Marie has worked regularly with supermodel Gisele Bundchen since she was a 15-year-old newbie in the United States. As with Miranda, she has helped shape the Brazilian's look.
READ: What Star Makeup Artists Want in Their Kit
The key to why top models regard Rose-Marie as both a confidante and makeup artist is based on trust. Not only does she make them look great, over time she has acted as a surrogate mother to some.
"These girls are young when they start ... somebody has to make them feel good." She dispenses advice not just on beauty care but on healthy eating, about which she is passionate. This extends to bringing them homemade organic salads on set.
Gisele is a firm favourite with Rose-Marie: "Gisele is super-evolved and connected. She really cares about mankind and the environment and she's doing something about it."
For many young models, Rose-Marie observes, these commitments are little more than skin deep. Health issues made the Canadian-born, New York-resident makeup artist take stock of her own career a few years back.
Testing showed she had high toxicity in her blood and she was shocked to be asked: "Do you work in the cosmetics industry?"
She was told it was not uncommon for people who did to return results indicating high levels of heavy metals and chemicals.
Rose-Marie set out to eliminate "nasties' from her kit and then to make her own "clean" products. She wanted them to be glamorous and easy to use, not just green. "I'm very competitive, I thought I could make better than what was out there."
READ: Makeup Artist Amber D's Shopping Wishlist
Many green products weren't actually all that green, or as a makeup artist she found their colours and textures "all wrong".
Her RMS Beauty range of organic colour cosmetics soon developed an influential following. The Living Luminizer is her star item, along with a face oil.
For American Vogue's 120th birthday, Rose-Marie was asked to make a special lipstick called Vogue Rose in a muted colour she describes as "corally brownie pink." More vivid palettes are in the pipeline.
RMS cheek, eye and lip pots are all made with a mix of plant-based oils and mineral colour. By avoiding water in the formulas, the risk of bacteria growth is dealt to, allowing the elimination of emulsifiers and pesky preservatives.
Incorporating healing ingredients adds a dual skincare purpose to products. Fragrance, including essential oils, are not added.
Rose-Marie has become an advocate in educating women about personal care products. She cites her own background growing up with a vegetable garden and appreciating raw food as big influences in her approach to both lifestyle and the brand she began eight years ago. To share her views, she has set up a website called Beauty Truth (beautytruth.com).
• RMS Beauty is stocked exclusively in New Zealand at Mecca.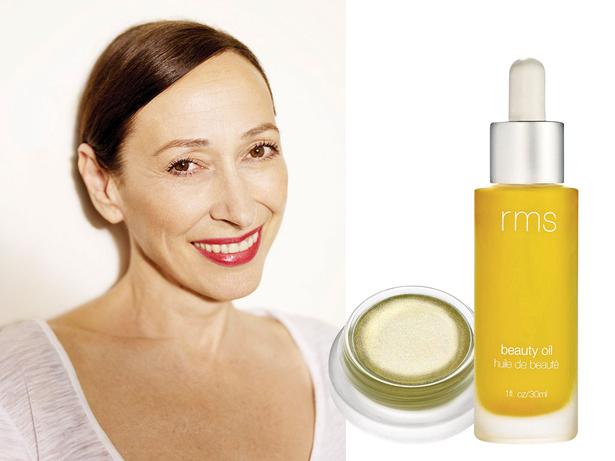 Rose-Marie Swift; RMS Beauty products. Pictures / Supplied
IN THE SPOTLIGHT
The one beauty look that will never date is glowing skin, says Rose-Marie. "It's like having shining hair." It's youthful, sensual and healthy looking for all ages.
Social media shots often show well-lit women wearing multiple layers of makeup. Although this can work on screen, in real-life the effect on skin is to create a drying look. "If you've got beautiful glowing skin you look gorgeous," says Rose-Marie. Here's how:
1. Use a face oil to hydrate skin and then apply a little foundation as needed to the T-zone area.
2. Dab RMS Beauty Living Luminizer on the round of the cheekbone (not too high). Make your start point on the bone directly below the outer corner of the eye and pat upward with fingers which help warm the product to better meld into skin.
3. Add Luminizer to the inner corner of the eye, with fingers or a fine firm brush.
4. Dab down the centre of the nose, from the bridge, but avoiding the tip.
5. Dot discreetly on to the cupid's bow.
6. Add to the centre of the eyelid.
Expert advice: Avoid highlighters that are excessively glittery. You need a quality product with finely milled minerals such as mica to illuminate convincingly, says Rose-Marie. If you don't have one, then a quick cheat is to try a little natural lip or multi-purpose skin balm.
Share this:
More Beauty & Wellbeing / Features & Profiles