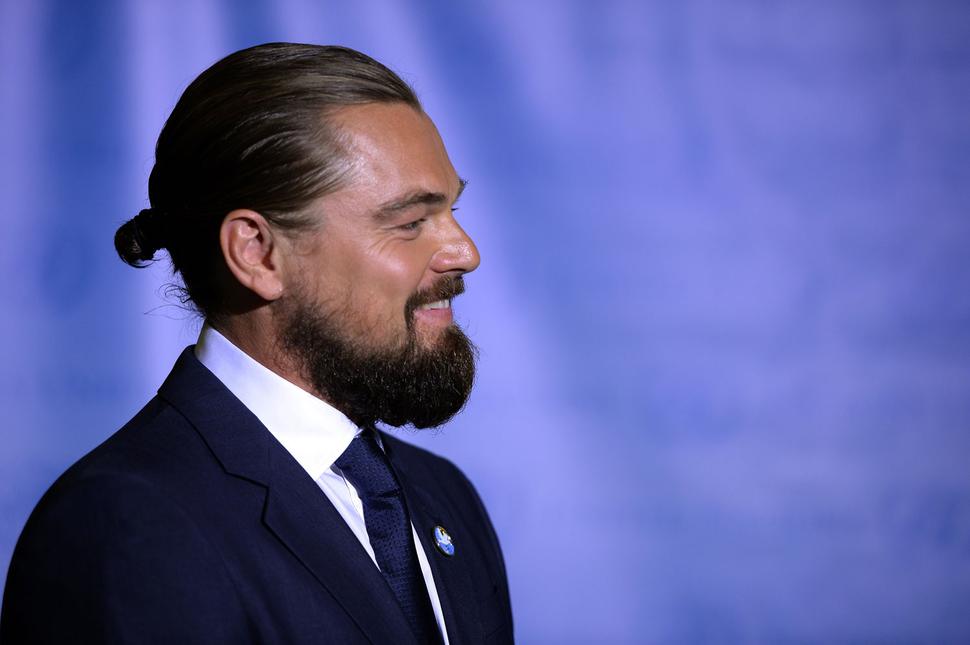 Is the Man Bun Dead?
As the man bun reaches new heights, consider what could replace it
Wednesday Nov. 25, 2015
Vanity, thy name is man. Recently it was revealed that leading footballers, including Theo Walcott, Mario Balotelli and Wayne Rooney, rely on hairdresser Daniel Johnson to titivate their barnets just before a big game. I know! Wayne Rooney has a hair stylist - who'd have thought it? But perhaps we shouldn't be so surprised - according to Google, web searches about men's hair and styling outstripped women's for the first time this year. And the most popular searches of all these involved blokes asking how to grow, or how to tie, the excrescence known as the "man bun".
For the uninitiated, or those living outside the major urban centres where such things flourish, the man bun is the same as a woman's bun, only (wait for it) on a man. It involves collecting long hair at the back or top of the head and tying it into some sort of bulky bobble, ranging from a loose knot to a glossy doughnut, so the head resembles a jaunty number eight. The style favoured by J.Lo, Kim Kardashian and Rihanna has been annexed by Jared Leto, Leonardo DiCaprio and One Direction's Harry Styles.
READ: Why Guys Are Embracing the Top Knot
The man bun is entirely different from other male tonsorial eccentricities such as the pony tail (loose hair gathered at the back) or the topknot (short hair gathered into a tuft at the crown). But on anyone other than devout male Sikhs - who are required by their faith not to cut their hair, to comb it twice a day, and gather it into a bunch - it makes as bold a statement as either. It is an assertion of both masculinity and vanity, a lusty embrace of the booming male grooming industry, and a refusal to accept that one might look more than a little ridiculous.
Perversely, the rise of the man bun lifts my heart, because I am now of an age where I feel no urge to pursue such wayward spasms of capillary vanity. And a good thing too, as most radical hairstyles, of the head and face, have been denied me. As a toddler I was blessed with angelic golden ringlets, which were peremptorily shorn off at about the age of two when my father took me for my first "proper" haircut. Ever since, my hair has grown in a dark fuzz, directly outwards from the surface of my head, which has drawn both anti-semitic abuse and an assumption of kinship by a Trinidadian drummer at the Notting Hill Carnival.
It has a kink to it but never goes curly in a romantically Byronic way. Aged six, I looked like one of those old-fashioned microphones with a spherical foam cover. Before sending me to school, my mother would try to comb a parting into it, which would gradually heal up through the day. Later on it resisted New Romantic fringes and punk spikes. An attempted rat-tail braid (it was the 80s) looked like a hirsute cauliflower floret growing from the nape of my neck. A later Mohican resembled a cat at bay, perched on my bonce.
Worse, even though now in my late forties, the effusive growth from my scalp is unmatched on my chin. While every fashionable man in the UK has spent the past year sporting a beard, I can still only manage something that looks like an Amish chinstrap. When I tried to grow a moustache for a Gomez Addams fancy dress costume, my wife had to fill in the gaps with mascara.
So the man bun, like the lumberjack beard, is barred to me. But I, like the truly follicly challenged, can draw comfort from the fact that the bun, like the rat tail, is surely a flash in the pan.
For one thing, it is already the subject of an internet meme where a bun is photoshopped on to US heads of state, from George Washington to George W Bush. For another, the website Wowcher is now selling clip-on man buns for $9.99, which calls to mind the doleful lament of Danny the drug dealer from Withnail and I: "They're selling hippy wigs in Woolworths, man!"
The surest sign that a radical trend is dead is when it is commercialised. Pretty soon, there will be a backlash against today's furry faced and long-locked males in favour of something cleaner and simpler and less high-maintenance: bald men, your time will come.
Men's Hair Trends:
The Long Fade
"The most popular look this year, especially in the summer, was the skin fade, where the hair is trimmed 'right down to the wood' at the back and sides and left long on top," says Daniel Davies, general manager of Pall Mall Barbers in London. What's left can be styled any way, from an Elvis Pompadour to the kind of girly "curtains" favoured by David Beckham.
Digital Victorian
A more restrained version of the look known as steam punk: longish, unruly hair twinned with a trimmed beard and an expressive moustache (up to and including waxed tips). Often worn with specs, it suggests you are working on both a time machine and an internet start-up. This look can be adapted for men losing their hair on top with a crackling Professor Branestawn halo.
The Grizzly
A beard and mop of hair so bountiful they'd make Brian Blessed feel he lacks testosterone. As sported by Christian Bale, it implies you have been roughing it in the Alaskan wastes for a year, and only tied your hair in a bun to stop it getting tangled in your bear-trap.
The Mod-Mod-Mod (modified, modern'Mod' look)
"We've seen a 90s revival with the growth of interest in bands like the Stone Roses," says Davies. "A lot of people are coming in asking for their own versions of the Noel Gallagher/Paul Weller/Jake Bugg style."
The Grey Cavalier
A luxuriant wave starting high in the crown and cascading back over the shirt collar, worn by men of a certain age, such as Michael Heseltine to suggest sustained potency ("there's snow on the roof but a fire in the cellar").
And for 2016... Blue Steel
Popular films inspire copycat styles, such as Daniel Craig's "class men's cut" in Spectre. Ben Stiller returns next year as the vain, gelled male model in Zoolander 2. If there is an upsurge in spiky black urchin cuts (plus a cheekbone-sucked pout) we'll know the same is true of the male population.
— The Daily Telegraph
Share this: