The New Makeup Collection Featuring the Work of Man Ray
A new cosmetics collection featuring Man Ray's work shines a light on the artist's approach and the fascinating story of his 'missing' muse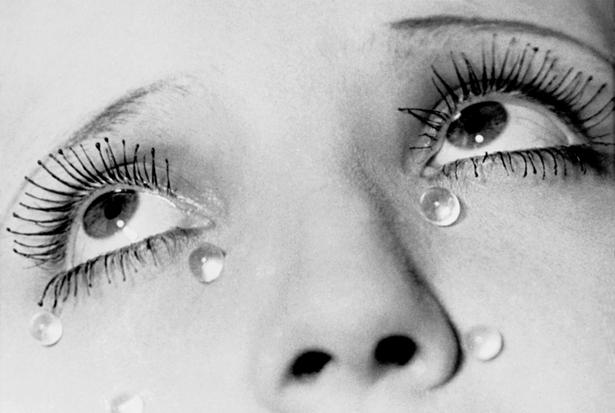 Tuesday Nov. 7, 2017
Man Ray's avante-garde approach to art still arrests the eye, nearly a century on from the creation of some of his best known works. Influential images such as Tears and his constructions of floating lips are likely familiar, even to those who may not know the name of the artist. Less well-known is that his was the first photograph of a black model to appear in a major American fashion magazine.
Man Ray, who hung out with fellow surrealists Marcel Duchamp and Salvador Dali, shot fashion and portraits as well as creating art with his muses. Makeup came into play in images with models wearing false lashes, arched brows, glass droplets placed as tears and lips painted gold and dark.
The impression his stylistic twists left on the fashion world can be seen to this day, in magazine pages, on designer Diane von Furstenberg's coveted lip clutch bags and now in a collection of beautifully packaged makeup from Nars.
A world expert in Man Ray's work, Dr Wendy Grossman, believes he would be relaxed about this commercial homage. "Man Ray brought avant-garde ideas and aesthetics to a more mainstream audience," she says. "He blurred the line between his commercial and art photography and pioneered an approach that it is still evident in today's fashion and art worlds."
Francois Nars, whose career as a leading makeup artist took him in the opposite direction to Man Ray - from Paris to New York - is an admirer. In using Man Ray's images on makeup palettes for his 2017 Christmas collection he is widening the audience for the work.
American art historian Dr Grossman regularly lectures on Man Ray and has published extensively about his role in photography, early 20th century modernism, surrealism, and the intersections with non-Western art. Her award-winning book Man Ray, African Art, and the Modernist Lens accompanied a touring exhibition she curated, which looked to influences beyond the Parisian milieu with which he is most associated in the 1920s and 1930s.
Her upcoming book, Man Ray's Missing Muse, will focus on one of his lesser known partners, the Guadeloupean dancer and model Adrienne Fidelin. She was the subject of countless works of his art, including close to 400 photographs, including Mode au Congo, a photograph that appeared in Harper's Bazaar in 1937. They had met a year earlier, he was in his mid 40s, Ady was around 20 years younger. The couple were photographed holidaying with Picasso and his muse and lover Dora Maar.
Racial attitudes in America were different at the time, with magazine publisher William Hearst prohibiting pictures of black models. Bazaar editor Carmel Snow pushed the boundaries, commissioning images of black opera singer Marian Anderson. Ady's picture was dropped in opposite a page of white models, in a shoot Man Ray did inspired by an African costume exhibition in Paris.
It may be, that her being a French-speaker from the Caribbean, with a lighter complexion, rather than a black American, was what got around the colour ban, although she did not appear in the magazine again.
It was only in 1974 that a black model finally made it to the cover of an American fashion magazine, when Beverly Johnson graced Vogue. In the years from Ady and Man Ray's collaboration, Paris had proved a somewhat more hospitable working environment for coloured models, including Africa Americans.
Dr Grossman has been tracing the sketchy story of Ady's life for some time. (Man Ray's earlier lovers had a higher profile and included the model, turned photographer, turned war documenter, Lee Miller.) Ady parted ways with Man Ray when he returned home to the United States after World War II broke out. She remained in Paris and married. He returned to the city in 1951, with a wife, and lived there until his death, aged 86, in 1976.
More detail of the missing muse and her role in Man Ray's art, will be in the book due for publication in 2018. Dr Grossman shares more from her studies of Man Ray.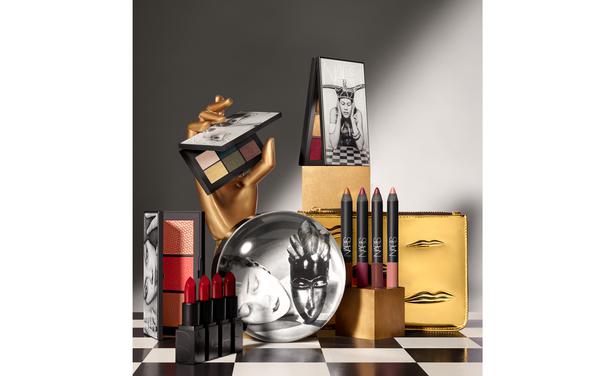 What is it about Man Ray's vision that you think continues to draw the eye?
The surreal appeal of many of his photographs, which lie in the way his ethereal and otherworldly images operate at the edge of mystery and subversive - rather than classical - beauty.
How do Man Ray and makeup combine to your mind?
Man Ray himself paid close attention to the way in which his models were made up. His radical cropping aesthetic led to dramatic images of lips, eyes, and hands, all of which draw the viewer's attention to the components of the body most enhanced through the use of makeup.
In regards to the collaboration with Nars, I was very happy to see the desire from the brand to delve into Man Ray's work and develop an appreciation that would ultimately be reflected in the products that emerged from this collection. Everything from the packaging to the colours, inspiration and imagery all pull from Man Ray's work.
Do we know much about how he staged and created his evocative photographs?
As I mentioned, Man Ray was very precise and involved with the way his models were made up and staged for his photographs. Man Ray's special talent was to bring out the unique beauty in each of them and find ways to add a "surreal appeal" in the way he used lighting, shadows, camera angles to infuse his compositions with mystery and intrigue.
What personally drew you to make a study of his work? And how do you define his artistic importance and style through the lens of time?
The novelty of his experimental work and the wit that often influenced his images spoke to me more than any one particular image. In addition, my existing interest in Surrealism and Man Ray work in the movement also attracted me to the artist. Noire et blanche became a very important photograph to me as I pursued my interest in the intersection of Western and non-Western art. Man Ray's engagement of a mask from the Baule peoples of Cote d'Ivoire in this provocative composition provided a springboard for much of my research over the course of a decade, including a dissertation, a travelling exhibition, and numerous publications.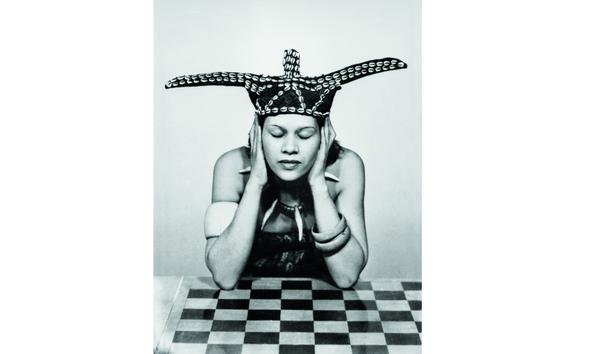 Some of his muses (like Kiki de Montparnassee and Lee Miller) are well known, but you are writing about his "missing muse." Can you tell us a little about her and her time with Man Ray and how she influenced his work?
Adrienne Fidelin or Ady, as she was affectionately called, was his model, muse, and lover from 1936 until he was forced to flee France in the wake of the German occupation. Man Ray's notable Mode au Congo photograph features Adrienne and was published in Harper's Bazaar, making her the first black model to appear in the pages of a major American fashion magazine.
As with Man Ray's other muses, Adrienne inspired him to create innovative images that drew on her engaging personality and unique attractive qualities. He found cause on more than one occasion to use her "café au lait" skin tone as a compositional feature to play on the theme of black and white that permeated his photographic work.
What have your studies led you to believe in terms of his attitudes to women?
It's evident through his work the strong appreciation he had for women. In Man Ray's work, women were placed at the centre of his Surrealist art as both the object of and sign for desire; these women were his muses and vehicles for accessing the depths of the unconscious. His muses inspired him to create innovative images that drew on their engaging personalities and unique attractive qualities. For Man Ray, who mined the world of dreams for inspiration, enigmatic representations of the female form became key to his success in all spheres of his creative endeavors.
If Man Ray were alive today, do you have any sense of what sort of medium he would be drawn to, or art he would likely be creating?
I think the answer can be summed up in the words of Man Ray himself: "My works were designed to amuse, annoy, bewilder, mystify and inspire reflection." He was a cerebral artist inspired by ideas and his works were conceptual in nature throughout his career. I think this would remain the same if he were alive today, whether his focus at any given time was on photography, painting, film or object making.
For someone wanting to learn more about Man Ray, what would you recommend?
It's difficult to narrow it down to just a few. Noire et blanche is a standout on my list because of my interest in the intersection of Western and non-Western art.
The photographs selected for the Nars collection certainly align with my own personal notable favourites, perhaps most notably Violon d'Ingres with its witty play on words and multiple meanings. A number of his mysterious Rayographs are also must-see works, operating as they do in an enigmatic space between representation and abstraction.
Share this:
More Beauty & Wellbeing / Features & Profiles