SPONSORED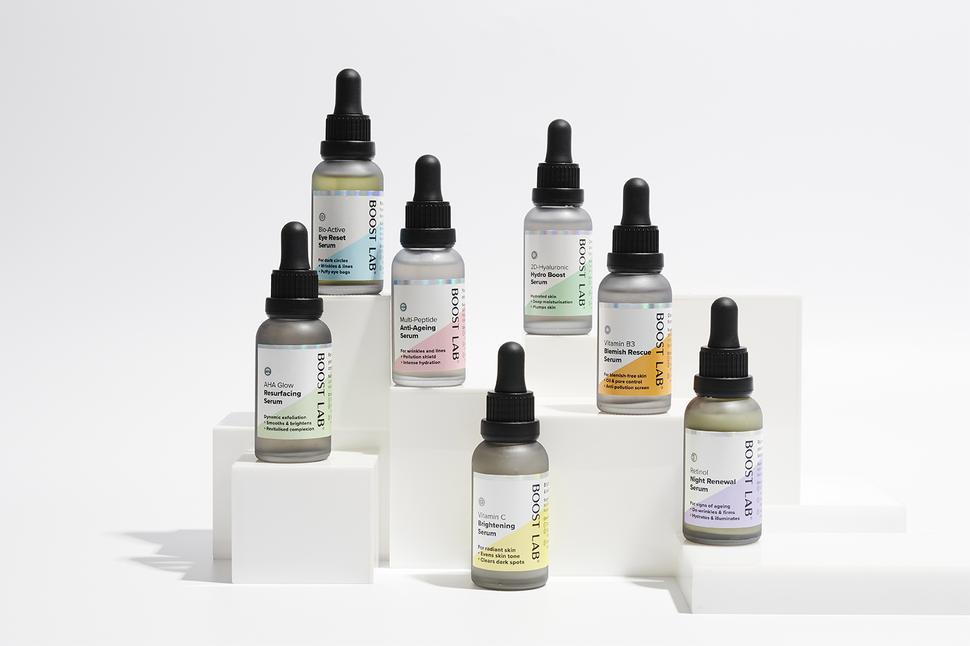 Meet The 7 New Supercharged Serums Disrupting The Industry (& Skincare Routines)
Efficacious skincare need not come with the top-shelf price tag. Discover the local skincare brand making serums accessible for all
Friday June 18, 2021
Good skincare doesn't need to cost the earth. So says BOOST LAB, the accessible new beauty brand bringing with it a range of seven scientifically formulated face serums made right here in Aotearoa — and available exclusively at Farmers.

Each is formulated with cutting-edge active skincare ingredients designed to address a myriad of skin ailments, conditions and concerns — from dryness and dehydration to uneven skin tone and the visible signs of ageing.
BOOST LAB is the brainchild of Craig Schweighoffer, the skin industry expert once at the helm of much-loved brands like Ecoya, Trilogy and Skin Physics.
His modus operandi was to formulate a range of simple, pure and potent serums that deliver clinically proven results at an affordable price point — a revolutionary concept given the designer price tag attached to many serums today.
After quickly garnering fans and collecting hardware across the ditch, in the six months since its launch (BOOST LAB'S Hydro Boost Serum was awarded with the Best New Serum at the 2021 Glosscars Awards), its hardworking and highly-concentrated serums are now gaining traction here too.
BOOST LAB aims to take the guesswork out of building a skincare routine with its range of seven essential serums that easily slot into existing beauty rituals, or can be layered together to fast-track results. The ethical, 100 per cent cruelty-free formulations are free from sulphates, parabens and fragrances, and are gentle enough for even the most sensitive skin types.
Conscious of its environmental impact, these smart serums come housed in repurposed, recyclable glass bottles, and the cardboard outer is sourced from sustainably managed forests that are PEFC (Programme for the Endorsement of Forest Certification) endorsed.
Not sure where to start? Below, discover our helpful guide to which BOOST LAB serum is right for you.
You have: Uneven skin tone.
You need: BOOST LAB Vitamin C Brightening Serum. This oil-based brightening serum contains a highly active derivative of vitamin C to defend against the ageing effects of harmful free radicals like UV rays, pollution and smoke, while boosting brightness and inhibiting the production of pigmentation-forming melanin.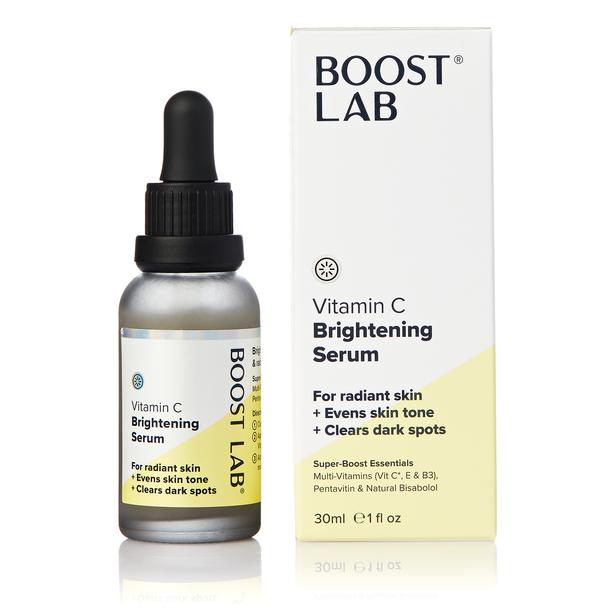 You have: Wrinkles or fine lines. 
You need: BOOST LAB Multi-Peptide Anti-Ageing Serum, a multi-purpose serum that works just as hard as you do. The active peptides and complex carbohydrate blend contained within combats the visible signs of ageing (like fine lines and wrinkles), uneven skin texture and dehydration, and form a shield over skin to protect against environmental aggressors like pollution.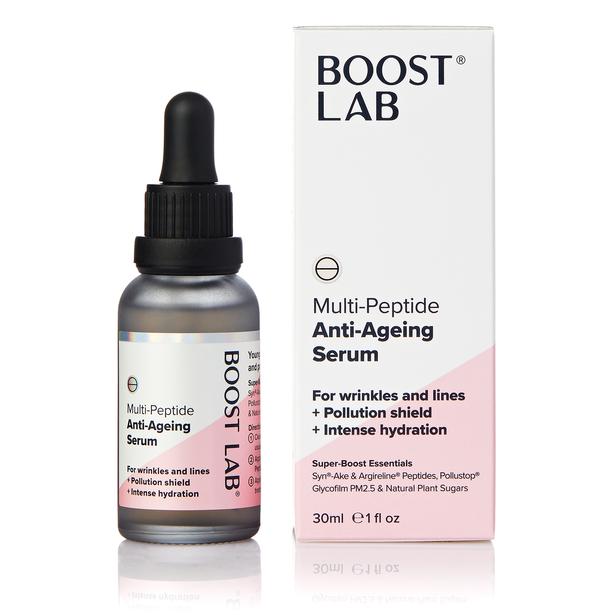 You have: Dark circles or puffy under-eyes.
You need: BOOST LAB Bio-Active Eye Reset Serum. Disguise the tell-tale signs of a late night with this targeted eye solution which addresses the visible signs of tired-looking eyes and dark circles. In-house studies found that after seven days of consistent use the appearance of lines in the under-eye area had significantly reduced, and after 14 days under-eye bags and dark circles had been relieved.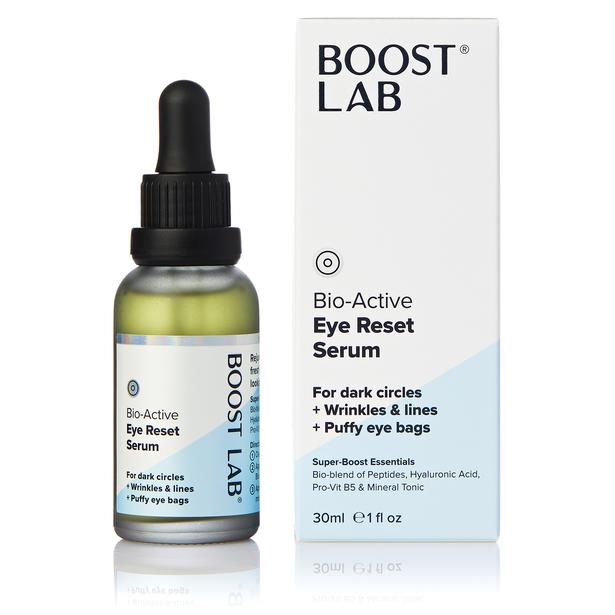 You have: Acne-prone skin.
You need: BOOST LAB Vitamin B3 Blemish Rescue Serum. Pip pimples at the post with this vitamin B3-rich, oil-free serum which clears congestion and minimises the appearance of pores for a complexion that appears more refined and radiant.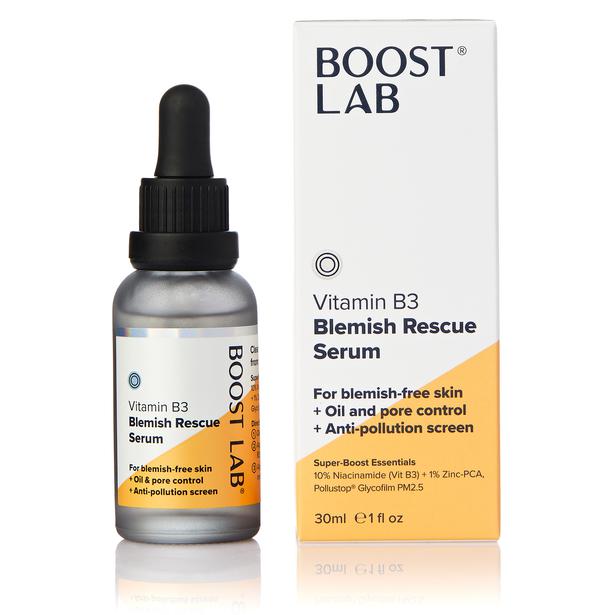 You have: Ageing skin.
You need: BOOST LAB Retinol Night Renewal Serum. Allow the two per cent granactive retinoid and retinol contained within this night emulsion to do all the hard work while you slumber. It works three-fold to boost hydration levels for a smoother visage, fades dark spots for a more even-toned complexion, and promotes skin elasticity.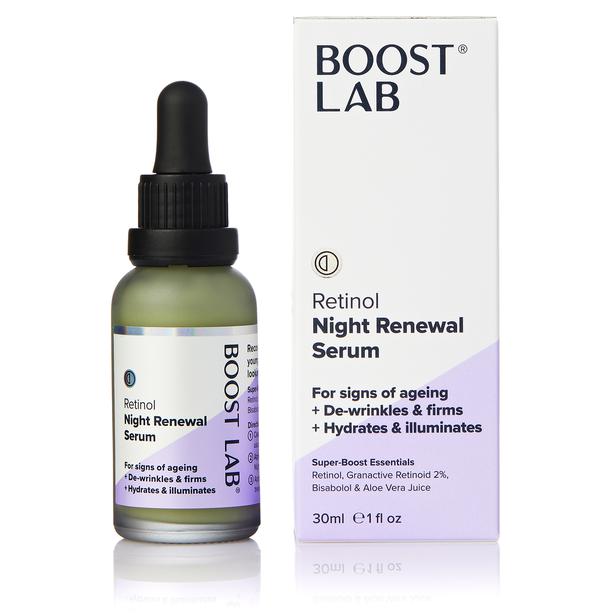 You have: Dry or dehydrated skin.
You need: BOOST LAB 2D-Hyaluronic Hydro Boost Serum. Give dry or flaky skin a much-needed boost with this hyaluronic acid-rich hydration serum. It deeply moisturises skin and locks it into the skin's epidermal layers to boost skin health while improving dryness, dullness or irritation. The addition of provitamin B5 offers extra skin conditioning, leaving skin smoother, softer and plumper.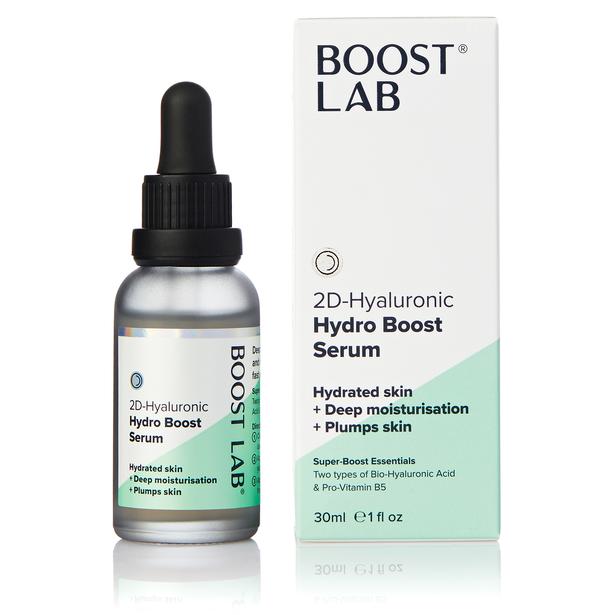 You have: Uneven skin texture.
You need: BOOST LAB AHA Resurfacing Serum. Slough away dead skin cells to reveal a brighter, more radiant complexion with lactic acid (an alpha hydroxy acid) via a time-release delivery system for a gentler approach to exfoliation. Other key ingredients include aloe vera, manuka honey and arginine to reduce inflammation while soothing and smoothing.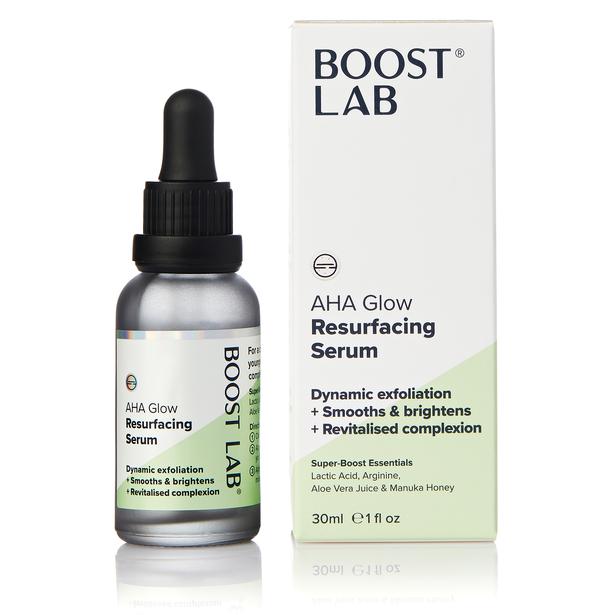 Try a more targeted approach with one of BOOST LAB's three skincare packs: Hydrate + Glow, Ultimate Anti-Ageing or Clear + Bright Complexion, or discover the full range in BOOST LAB's Supercharged Skincare Pack, designed to work symbiotically to improve overall skin health and appearance.
BOOST LAB serums are priced at $35, and are available exclusively from Farmers department stores or online at Farmers.co.nz 
Share this: