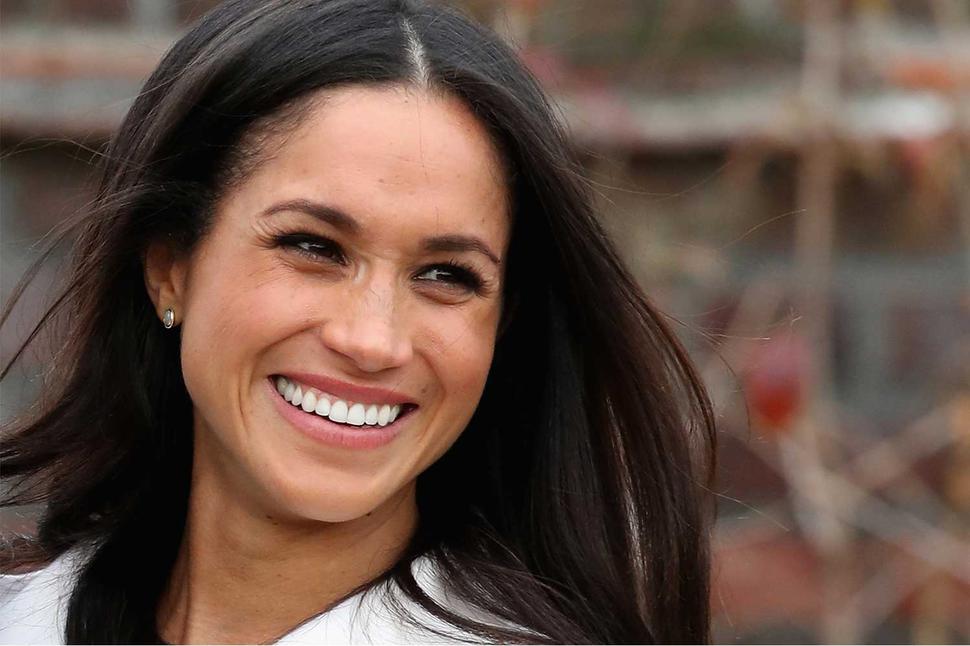 Make-Up Bag: Meghan Markle's Favourite Beauty Products
For a Princess-worthy appearance we check out the royal bride's go-to products
Thursday May 17, 2018
In the afterglow of Meghan Markle's wedding to Prince Harry one thing we hope she won't change is the modern beauty look that she wears so well.
From allowing her freckles to show through by day, to smoking up her eyes for an evening out, there's something refreshingly relatable about the American actress.
READ: Winter Hair Care Tips from Gigi Hadid's Stylist
With her tumble of dark shiny hair, sometimes casually twisted up in a bun, her contemporary approach isn't overdone. From her career, she knows the tricks of the trade appearance-wise, so can turn on the glam when required, but let's hope in her new role she doesn't feel pressured to adopt too much of a formal style.
Checking out Meghan's preferences was helped along thanks to the number of interviews this former star of the television series Suits  had given pre-engagement.
READ: How To Keep Skin Radiantly Hydrated
We've even found a New Zealand connection with Glamour magazine reporting her saying that her favourite breakfast is oats and sliced banana, topped with a drizzle of manuka honey. No word if she's into our bee beauty products, but she does apparently like holistic facials, tea tree oil and beauty wipes on lazy nights.
Hair masks, oils and dry texturising sprays are in her beauty cupboard, with her stylist of four years Michael Silva saying he loves lavishing on the Parisian cult favourite Leonor Greyl oil, which is new to New Zealand (see Inesstore.com). 
READ: Katie Holmes' Beauty Tips
Easier to find in local shops is Nivea Firming Body Lotion, a budget buy that shares Meghan's shelf space with other proven performers. Former makeup artist Lydia Sellers says she schooled up her charge to use a Beauty Blender sponge to apply foundation and to mist her face for added freshness.
Other items we've gathered were name-checked by Meghan herself, in the pages of magazines including Allure and on websites she was interviewed by. Here's our cheat sheet, so you can check out some of her favourites.
MEGHAN MARKLE'S FAVOURITE BEAUTY PRODUCTS (in no particular order) 
Charlotte Tilbury Matte Revolution Lipstick in Very Victoria, about $47. This taupe-nude was inspired by Victoria Beckham. Hello magazine reckons Meghan wore this regular favourite shade in her engagement photograph. Charlottetilbury.com/uk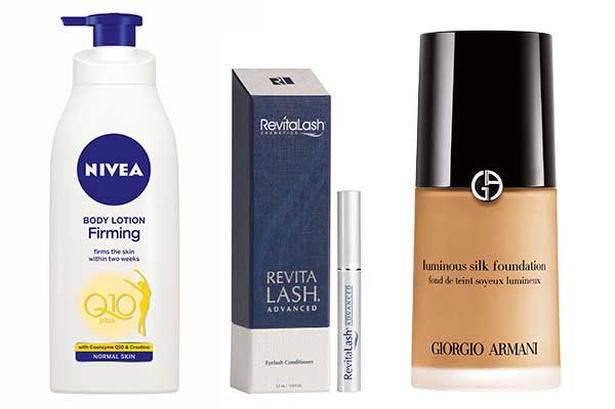 Nivea Q10 Plus Firming Body Lotion, $8. "It's honestly my favourite lotion on the market, it's so affordable, and makes my skin look and feel amazing," she told Beauty Banter website. (Available from supermarkets, variety stores and Farmers).
Revitalash Advanced Eyelash Conditioner, $120 (for 3 months supply). Of using this lash growth promoter, Meghan told US beauty magazine Allure: "I swear they are as long as they could ever be." Revitalash.co.nz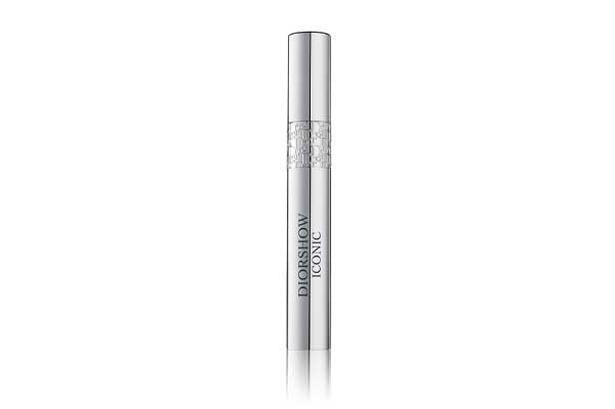 Diorshow Iconic Mascara. Picture / Supplied

Giorgio Armani Luminous Silk Foundation, $109. Delivers coverage designed to let the natural glow of skin (and its freckles) show through. "To this day, my pet peeve is when my skin tone is changed and my freckles are airbrushed out of a photo shoot," Meghan told Allure. "For all my freckle-faced friends out there, I will share with you something my dad told me when I was younger: 'A face without freckles is a night without stars.'" (Retailing in New Zealand from July, exclusive to Smith & Caughey's Queen St store).

READ: Armani Is Bringing Its Luxury Beauty Brand To New Zealand

Diorshow Iconic Mascara, $65. A sweep of the wand adds volume and definition. Before applying mascara, or on days without when she just wants to look more wide-eyed, Meghan likes to use lash curlers. (From selected department stores and pharmacies).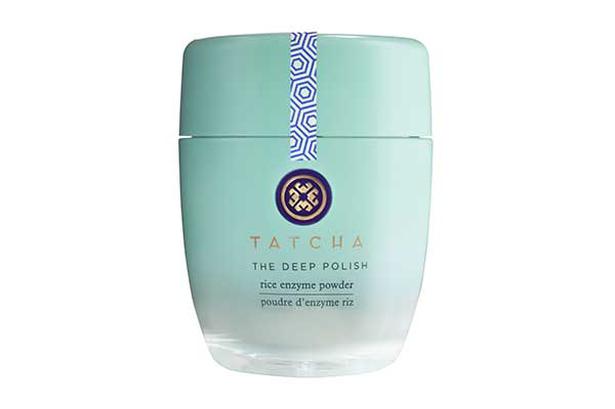 Tatcha Rice Enzyme Powder. Picture / Supplied

M.A.C Eye Kohl in Teddy, $36. Taught by a makeup artist to tightline around her eyes to highlight their shape, Meghan likes this bronzy brown soft pencil which is also the choice of Sofia Vergara. Maccosmetics.co.nz

Tatcha Rice Enzyme Powder, $104. A Japanese water-activated enzyme exfoliant that gently removes debris and leaves skin polished and baby soft. "It just sort of foams on your face and gives you a really subtle exfoliation." Meccabeauty.co.nz
(From left) NARS blush in Orgasm, Kate Somerville Quench Hydrating Face Serum, YSL Touche Eclat Radiance Perfecting Pen. Picture / Supplied

NARS blush in Orgasm, $47. This iconic peachy-pink flush of a shade with golden undertones in powder formula is one Meghan first used on set, but liked so much that she added it to her beauty bag. Meccabeauty.co.nz

Yves Saint Laurent Touche Eclat Radiance Perfecting Pen, $65. Who doesn't pick this as their go-to cover-up for dark circles and a fast track way to dab on a little luminosity. 'It blends, it's compact and if you've worked a 17-hour day and have nothing else on, you will still look relatively alive. Relatively,' she told Beauty Banter. (From selected department stores and pharmacies or see Smithandcaugheys.co.nz)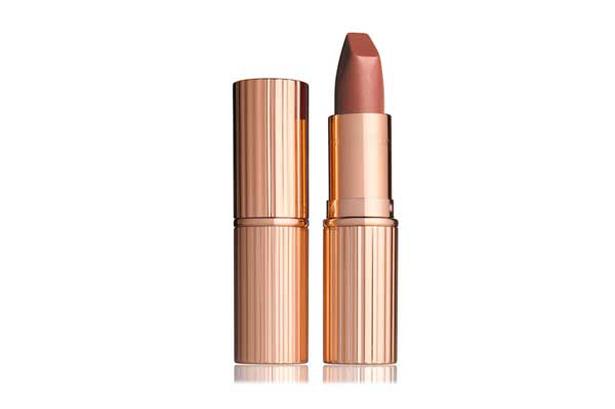 Kate Somerville Quench Hydrating Face Serum, $119. This Hollywood facialist is a favourite of the stars and when Meghan moved away from Los Angeles to Toronto for filming she took along her favourite dewy skin aid. Meccabeauty.co.nz
Kerastase Discipline Maskeratine, $65. Meghan's pick to maintain smooth, nourished hair and a product she has said she uses "religiously." To tame flyaways, Meghan told Birchbox she would spray hairspray on a small boar bristle brush or toothbrush before smoothing off through from the hairline. From Kerastase salons.
FRESH Sugar Tinted Lip Treatment in Bloom, $37. "I have searched high and low and tried every kind of lip balm but this is the very best. Soft, kissable, buttery lips. I swear by it," Meghan told Beauty Banter. It gives a light tint and has SPF15 sun protection. Sephora.co.nz
Share this: