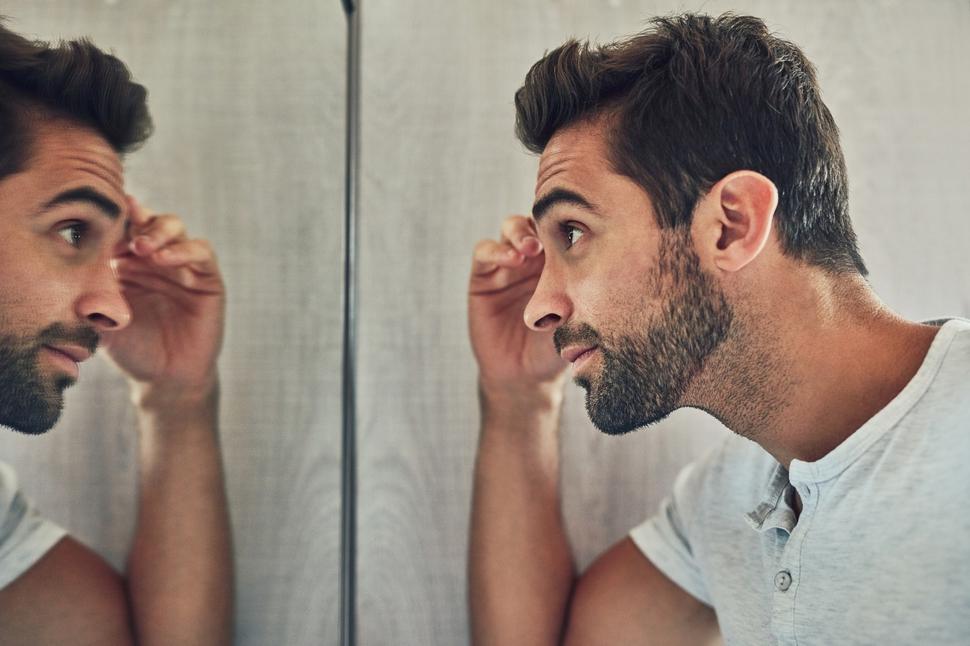 Men's Advanced Skincare: Smart Products To Better Care For Your Complexion
Step up your daily routine with new-style textures and high-tech ingredients to enhance your appearance and skin health — now and down the track
Sunday March 24, 2019
A splash of water and a slap of sunscreen aren't going to cut it when it comes to the long-term good condition of your skin.
Better than nothing for sure, but properly cleansing, exfoliating, hydrating and protecting your skin are the recommended minimum routine steps to take. Consider adding in some extra steps like using a serum to boost your skincare's effectiveness or booking in for the occasional facial where you can benefit from a relaxing experience and pick-up some advice on after care.
Men's skin is typically thicker and oilier than women's so it benefits from purpose-designed products, either from ranges that are made specifically for men or those that take a more unisex approach than the traditional female-focussed brands. Think fluid and gel textures, rather than fragranced creams. These sorts of lightweight and easily absorbed formulas are especially suited to those with active lifestyles so are fast finding favour with both men and women.
READ: Style Lessons From Paris Men's Fashion Week 2019
Specialist skincare clinic About Man says creating a bespoke routine is the best course of care. While men's skin may be oily,  that doesn't mean it can't be dehydrated as well, so picking products needs to go beyond just choosing those for one skin type (eg dry or oily), to looking more at skin needs and individual lifestyle. "Men tend to have larger pores which produce more sebum, often resulting in an oily complexion, this is great to help keep a youthful appearance and why men tend to "age" less than women, but it does mean that a thicker epidermis requires more hydration and exfoliation as layers of dead skin build up resulting in patchy areas of dryness."
Think of your skin as the living protective barrier it is and deal with issues as they arise. Its condition can be managed and improved and its needs will change over time. An outdoor worker will require gruntier skin protection than an office worker, a sweaty gym goer will benefit from stepping up cleansing and exfoliating and someone who burns the candle at both ends should consider giving back some extra nutrients to a depleted system. Here's a few ideas of some of the approaches that may suit your skin.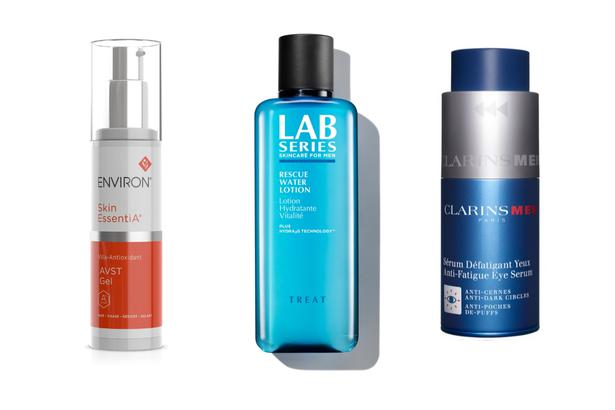 (From left) Environ Skin EssentiA Vita-Antioxidant AVST Gel, Lab Series Rescue Water Lotion, and Clarins Anti-Fatigue Eye Serum. Photos / Supplied

DOSE UP 
Serums are skincare's version of a turbocharger. They kick everything up a gear, offering more ingredient oomph than moisturisers. You can live without them, but for high performance outcomes your skin will welcome the added energy injection they provide. Layer them under your moisturiser/sunscreen by day. Overnight, you may find they are hydrating enough to wear alone. Gel and watery textures are common among serums, making them pleasantly fluid and lightweight to wear.

Pre-serums are an initial layer already seen in women's skincare and the arrival in New Zealand of a men's equivalent in Lab Series Rescue Water Lotion, $65, is noteworthy. It's the department store brand's most popular product overseas and uses a patented technology to boost the formula to act like a magnet in binding moisture to the skin. Pat it on as the first-step after cleansing. The lotion plumps skin for a more refreshed look and feel, ready to soak up an actual serum.

A good match is Lab Series Future Rescue Repair Serum, $112, which is an antioxidant defence against chronological aging and environmental damage. Clinic brands are generally big on the benefits of antioxidant protection as well and one well-liked by men is Environ Skin EssentiA Vita-Antioxidant AVST Gel, $81, which contains vitamin A. This can help prop up the collagen that scaffolds our skin and which becomes less structurally sound over time, leading to wrinkles and skin sagging.

Serums aren't just for the face, there's ones especially targeted at the eye contour area where signs of tiredness and aging show up early. Clarins Anti-Fatigue Eye Serum, $66, aims to smooth skin and combat bag and dark circles, so you can wake up looking like you had a good night's sleep.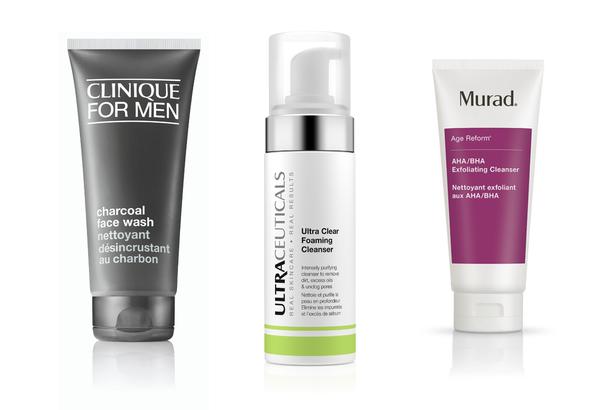 (From left) Clinique for Men Charcoal Face Wash, Ultraceuticals Ultra Clear Foaming Cleanser, and Murad AHA/BHA Exfoliating Cleanser. Photos / Supplied

CLEAN UP
Cleanse twice daily and exfoliate at least weekly. Ridding your skin of surface dirt, pollutants, oil and bacteria isn't just hygienic, it also clears the path for other products to penetrate pores more effectively.

Clinique for Men Charcoal Face Wash, $46, uses bamboo charcoal to deep clean debris, leaving the face less tired and congested looking. The detoxifying bamboo charcoal isn't harsh or drying and glycerine helps bind water to the skin to restore suppleness, plus there's caffeine included to act as an anti-irritant. 

Ultraceuticals Ultra Clear Foaming Cleanser, $65, is a first-rate foaming cleanser that helps regulate excess sebum production, without drying out skin, as some can do. For an even gentler approach the clinic brand's gel cleanser is a smooth option with a refreshing feel.

Another doctor developed choice is Murad AHA/BHA Exfoliating Cleanser, $69, which uses salicylic, lactic and glycolic acids as exfoliating agents in an intensive cleanser which also contains jojoba beads to hep polish away impurities.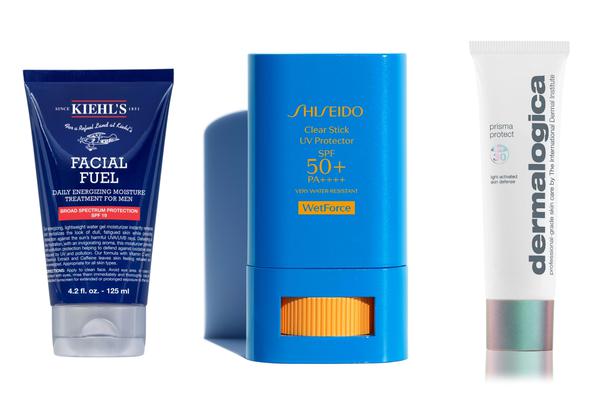 COVER UP
Sunscreens aren't just for summer given our strong southern sun. As well as the SPF we need year round, sunscreen are increasingly coming armed with anti-pollution or anti-blue light ingredients to better buffer skin from what may aggravate its condition, either outdoors or inside in front of a screen. Of course wearing any sunscreen is better than none, but if you want advanced protection then it's time to consider an upgrade.
Kiehl's has just overhauled its  Kiehl's Facial Fuel Moisturizer, $50, with SPF19. While we'd recommend a purpose-designed higher-factor sunscreen for extended time outdoors this multi-tasker hydrates with an energising water gel texture and has an anti-pollution shield, which helps deflect tiny pollutants from penetrating pores and inflaming and ageing skin.
This approach to dealing with urban aggressors as well as UVA/UVB and blue rays also distinguishes Dermalogica Prisma Protect SPF30, $119 (travel size, $36), which is unisex and super lightweight. Another high-tech feature is that it contains light-activated chlorella, an algae that helps skin look fresh and luminous.
Sports minded folk might want to touch up with Shiseido Clear Stick UV Protector, SPF50, $49, which is can be applied direct to the scalp, skin or ears. Like the matching Shiseido Multi Defense SPF50 Sunscreen Lotion, $65, it comes with a veiling "wet force" technology that better adheres to skin, by binding with the minerals in sweat and water.
Reapplication is necessary over time, as with all sunscreens, but for a jog or a swim, it's a good way to go.
Share this:
More Beauty & Wellbeing / Features & Profiles