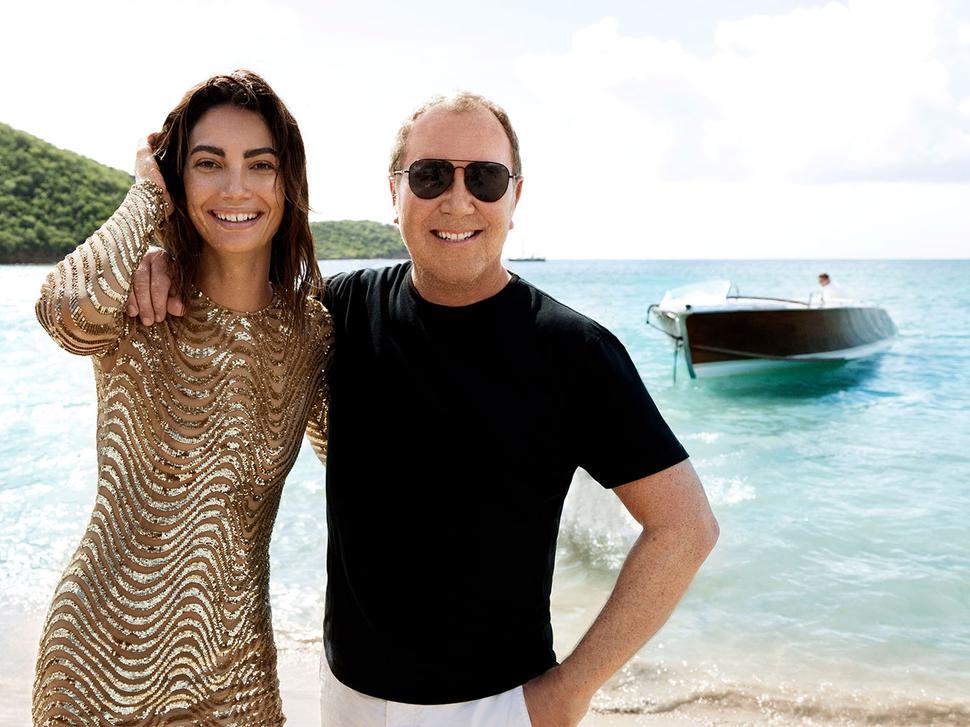 Michael Kors' Fashion Magic
Fashion designer Michael Kors talks democratising modern luxury and his new Wanderlust perfume
Thursday Nov. 10, 2016
When Michelle Obama posed for her first official portrait the gym-toned First Lady chose to wear a sleeveless black shift. It was a powerful fashion moment that Michael Kors remembers particularly well.
The American designer was at the theatre in London after the 2008 election which swept Barack Obama to the United States presidency. He emerged at intermission and turned his phone on. "I had a zillion emails congratulating me. I said: 'For what?' Then I saw the photograph of Mrs Obama wearing Michael Kors and I have to say I was very excited, just seeing how much fashion had changed."
He tells the story, not by way of boasting, but in response to a question about his career highlights. His response serves the dual purpose of also illustrating how his approachable take on design has won fans from the mall to the Oval Office.
"We had always had First Ladies who were very formal, you know, always wearing a colourful suit and suddenly we had a very modern First Lady and modern President and here she was wearing a black jersey dress, sleeveless, and I thought, you know what, all the things that I'd been talking about, that the world was changing, seeing her in that dress made me realise that I was right."
We are on a 5.30am telephone speed date, which I manage to drag out a little in the face of his New York team calling late and then wanting to whisk him away after just five minutes to another more pressing appointment. Well, that's my excuse for not asking whether he would like to get his hands on Hillary Clinton's closet. Kors gives good chat and proves a good sport, agreeing to answer a few extra questions by email. His team duly deliver, and I get the impression it was more because he personally wanted to keep his word than because they were fussed about accommodating a journalist from a tiny market like New Zealand.
In the US, Kors is very much a household name. You may know him as the initials MK on a handbag or as the wise-cracking designer judge from eight earlier seasons of Project Runway but we, in the outer-reaches of his global empire, mostly just get to see his perfumes. There's a new one due out soon, hence the chance to talk about what it means being a purveyor of what he calls "modern luxury". That's the often over-used term attached to a portfolio of covetable lifestyle-friendly clothes, shoes, bags, and, of course, perfume. In the case of Kors, the description is apt.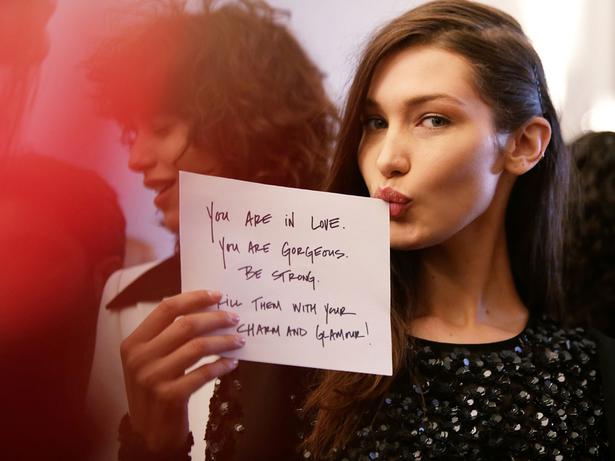 He designs in the grand tradition of refined American sportswear for both women and men. His simple, tailored daywear and glamorous evening attire is easy to wear and his accessories have struck a chord across age groups. A Glamour magazine survey of 10,000 American teens found a Kors handbag to be their top choice. Globally the future is looking good for growth, building on more than 700 stores.
New Zealand is on the keen traveller's "bucketlist" but he adds: "If I could magically get there and not have to deal with the jet lag, it would be a lot easier".
"For a big city boy, which I am, when I see nature at its most extreme beauty that's what always knocks me out and inspires me tremendously. So I need to come to New Zealand. It's amazing I haven't done it."
He makes do with Capri, Phuket and eastern Long Island as favourite spots to escape to. "I like to go anywhere with a beach — for me, there's nothing more energising than a few days in the sand and sun."
In a nod to his own wanderlust he has called his latest perfume Wonderlust and called in model Lily Aldridge to amp up its appeal in a campaign that speaks of idyllic escape. "Lily brings a natural glamour and genuinely adventurous spirit," he says.
Kors was first captivated by the notion of the sun-seeking jet-set lifestyle at a young age, reading his mother's magazines. He mentions the impact of images of Elizabeth Taylor and Richard Burton, Ali MacGraw and Robert Evans, and Jackie and Aristotle Onassis.
"All these people look very glamorous, but they were the first photographs of people we saw who were actually moving quickly, they weren't lounging. The idea that you could look great, but actually be busy and active, started with them. Now I think whether or not you get on a plane or a helicopter, you're travelling every day on the internet. You're always looking at something new, so now more than ever life is filled with speed."
Designing in a fast-moving world means embracing the breaking down of barriers, accepting the power of social media and trying to use his public profile for the greater good, he says. Initially hesitant about signing up to judge on Project Runway when the show started in 2004, he soon realised it increased his reach internationally and helped the public understand his craft and trust his name. "I wouldn't consider myself a celebrity, but I do get the good tables at restaurants," he notes.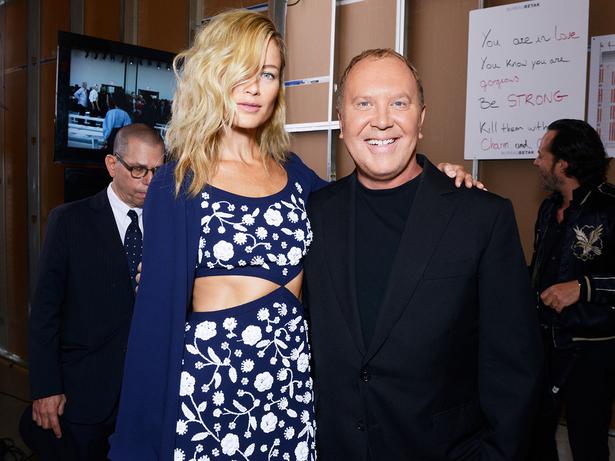 He certainly has A-list friends and ropes them in to support his favourite charities. At a gala dinner last month which raised $2 million for God's Love We Deliver, a service that supplies meals to house-bound sick people in New York, guests in support included Vogue's Anna Wintour, actor Kate Hudson and city mayor Bill de Blasio. Kors is the charity's patron and has been active in its work since the 1980s Aids crisis. American news reports say he personally donated $5 million to a new building to house it, in addition to $15 million fundraised by his company.
Kors counts himself lucky and tells me: "I just think that's the way of life. It's give and take, going back and forth, so I think that everyone can do something. If you're in the public eye you can certainly raise awareness about issues that are important to you".
Another is the Watch Hunger Stop initiative which he launched three years ago with actor Halle Berry. Through sales of his watches, it supports the World Food Program's school meals outreach in countries including Nicaragua, Cambodia and Uganda. The work received a vice-presidential award earlier this year, with Kors quoted as saying he was involved because he was an optimist and a pragmatist.
"You give a child a plate of food, and you've not only given them the nutrition they need to thrive, but you've also given the family a reason to send their children to school."
The New Yorker wasn't so keen on school himself. He dropped out of the Fashion Institute of Technology in his first year and worked in retail for a boutique which allowed him to do some design. In 1981 his first proper collection was picked up by two leading department stores.
"I knew the kind of clothes I wanted to make, but I had no idea how to do any of them," he recalls.
"To see my clothes in the window of Bergdorf Goodman on Fifth Avenue in my first season ... I kind of thought if I can do this, I'll figure it out."
Kors makes his success sound serendipitous, but his designing started precociously young at home in Long Island, when the 5-year-old was given free rein on his mother's wedding dress for her second marriage. The then Karl Anderson jnr, already working as a child model, was also allowed to pick a new first name to go with her new last one. "The marriage didn't last [but] the pictures are timeless," he quipped later. The name he chose stuck, enter Michael Kors.
WATCH: Michael Kors Spring 2017:
His eponymous company nearly went under in the early 1990s, however, entering Chapter 11 bankruptcy. It reorganised and launched the lower-price KORS Michael Kors line. Having fought back from the brink, Kors went on to spend time as creative director at French luxury brand Celine, all the while expanding lines under his own name. Investors took a significant stake in 2003, fuelling further expansion. The company went public in 2011, propelling him to billionaire status. That same year, when gay marriage was legalised in New York, he married his long-time partner Lance La Pere, who works in the business. The company has recently been the subject of buyout rumours.
Now 57, Kors shows no signs of slowing down. He welcomes the shift that means being an American designer no longer means designing only for America. "We are living in speedy times and fashion and beauty has to reflect them," he says.
To fuel his inspiration he looks to three things: Travel - or rather "seeing" things that "change your eye and your perspective", be they at home or abroad - pop culture and obsessive people watching. "Fashion to me is pop culture. Fashion and beauty are affected by it all. All of those things combined, turn out to me, to be the recipe."
The relationship between celebrity, red carpet and fashion is, he says, an important one. "When you get the right dress on the right woman at the right time, it's a little bit of fashion magic."
• Michael Kors' Wonderlust perfume will be available in department stores and pharmacies from November 21.

Share this:
More Beauty & Wellbeing / Features & Profiles