Celery Juice, Tuning Forks and Wim Hof: Inside Miranda Kerr's Daily Beauty & Wellness Rituals
The supermodel and beauty boss reveals her makeup must-haves and how she remains calm under pressure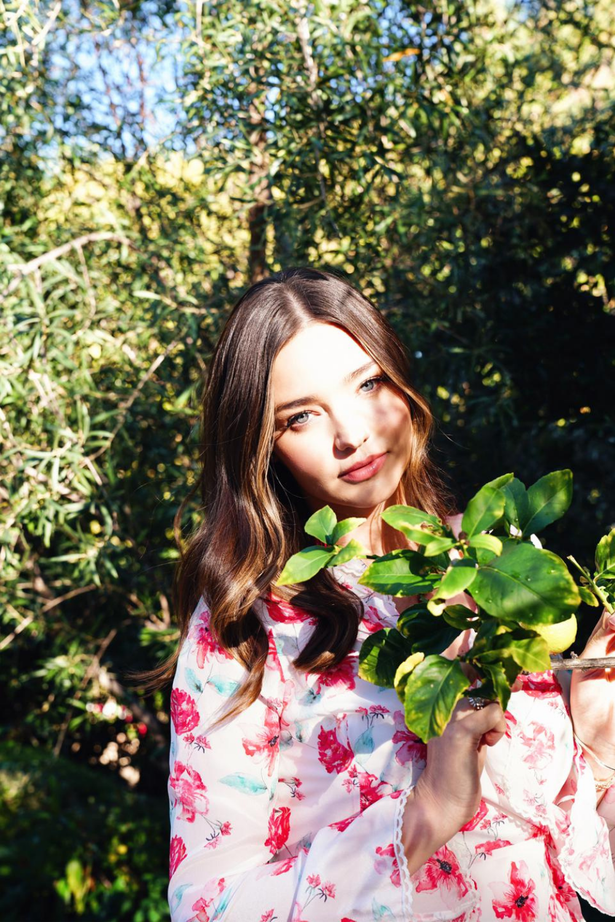 Monday May 24, 2021
We've been wondering why Miranda Kerr's skin is so good for quite some time. 
She quickly rose to international stardom after being discovered at age 13 when she won Dolly magazine's model search, and in the time since the founder and CEO of certified organic skincare brand Kora Organics has inspired women the world over with her effortless and radiant beauty looks. 
Hers is a holistic approach, prioritising skincare and keeping makeup to a minimum, while an 80/20 diet and a preference for celery juice ensures her skin remains glowing from the inside out. 
Below, Miranda lifts the lid on her daily beauty and wellness routine, sharing everything from how she stays focused on a busy day to why she'll always make time for exercise, along with a calming trick taught to her by organisation expert Marie Kondo. 
READ: How Miranda Kerr Is Future-Proofing Her Range Of Organic Skincare 
Morning routine   
I think exercise is very important, lately I have been doing the Tracey Anderson Method for an hour. It's a really good way to start the day because you're jumping around and sweating a lot, it gets the endorphins going and wakes you up. I also love a cold shower or at least a cold burst at the end, because that also helps wake you up. I drink celery juice every morning. I love it. I think it's really great for the body and health and energy and all of that. I drink 32oz [1L] in the morning. I suggest people start on 16oz [500ml]. 
Signature makeup look  
RMS Beauty Uncover Up concealer in 22, and Kora Organics Rose Quartz Luminiser on top of my brow, cheek bones and my collarbones (if they're showing). Next I pop on some Kosas Kosasport LipFuel Hyaluronic Lip Balm in the shade Rush or Pulse (you can put on lips and a little on cheeks too). For brows I use Benefit Gimme Brow, and a little Charlotte Tilbury Jewel Pot in the shade Walk Of No Shame on my eyes, and the Benefit They're Real! Mascara is pretty good. 
Five beauty favourites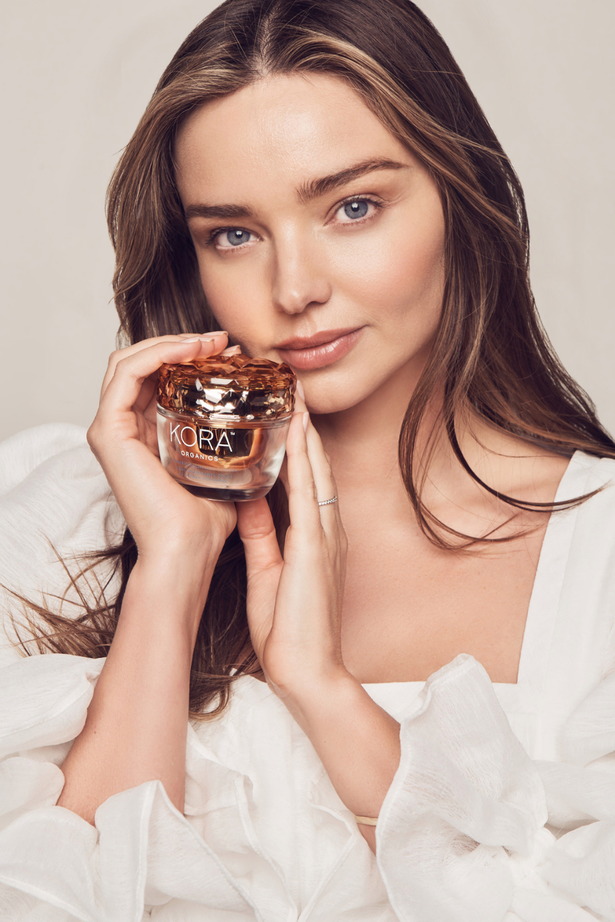 What helps you to stay focused on a busy day?  
I feel like an individual needs to figure out what helps them, but for me I really love meditation, even if I'm having a busy day I do five-minute meditation and take that moment. Or I go and put my feet outside in the grass, that's really grounding. I have different crystals and this little tuning fork that I can ding (Marie Kondo taught me that) but it kind of resets the energy in the space. Little tools like that. Essentials oils. I love peppermint for focus. You can rub a couple of drops into your palms and then breathe three deep breaths. I've recently been doing the Wim Hof Method of breathing with helps with energy and focus too. 
READ: What Does 'Clean' Beauty Really Mean? Beauty's New Buzzword Explained 
Approach to nutrition  
I really do believe in a balance. I eat probably 80 per cent healthy and 20 per cent indulgent. If I do have a little treat, it's probably l little bit of chocolate or a glass of wine, or caviar. I like the Cloudy Bay Sauvignon Blanc from New Zealand, it's quite good. 
Treatment to try  
Probably dry body brushing. Even if you just do it for a few minutes every morning, it's something that gets the lymphatic system going. It feels so energising, and it's inexpensive, and I think it's worth the time. I feel so much better after I've dry body brushed. Leave it next to your toothbrush and that's a good reminder.  
On Kora Organics   
Noni Night AHA Resurfacing Serum

:

 It h

as caviar lime extract in it, which is a gentle fruit acid to resurface skin. It's a great night serum for anyone with acne but it's also great for wrinkles and fine lines. It also has willowbark, a natural BHA which helps exfoliate the skin and minimise pores.  

 

Noni Bright Vitamin C Serum: 

This was the

 first certified organic vitamin C serum that was available. It contains

 

kakadu

 

plum which is one of the richest sources of natural vitamin C on the market. My mum used to drink it in a powder. B

asically it melts into your skin so that when you put your moisturiser or makeup over the top

 there's no pilling like a lot of vitamin C serums would have. 

Turmeric 2-In-1 Brightening & Exfoliating Mask:

I use this 

in the shower. It completely changed my skin. It's like you can have an at-home facial with just one product. It's my skin saviour. It also contains peppermint aromatherapy so you really feel that spa-like energy from the scrub. My husband also uses it!

Milky Mushroom

 Gentle Cleansing Oil

:

 

It'

s

 

a very lightweight, dual-phase oil cleanser that you actually shake to activate. When you shake

 

it

 

you mix together the oils, there's babassu, sunflower seed oil and apple seed oil and you shake it with the aloe and silver ear mushroom and it turns into this milky texture. And it has the aromatherapy essential oils of rose, geranium and basil. I just love using it morning and night. It's the whole sensory experience and those oils are specifically great for anxiety and to promote calm and to centre and so I just love having these little rituals with my products to give back to myself in that way.

 

Turmeric Glow Moisturiser:

 

This cream in particular really brings that glow to your skin. It looks gorgeous underneath makeup and I love the turmeric, liquorice and marine micro algae in there. It's an incredibly active moisturiser because it has liposome technology, and the liposomes actively pop on your skin when you're using it. That is what keeps the ingredients active until you actually moisturise it in. 
Last beauty buy? 
Benefit They're Real! Magnetic Mascara. 
What are you currently:    
Listening to?

 

Snatam Kaur — it's a recording of a live concert where she sings 'Ong Namo' over and over. It's really beautiful.

 

 

Reading?

 

I just bought The Medical Medium Revised And Expanded Edition 2021 and I'm really loving that. It's got some great recipes in there, and eating this way has changed my life. I thought I was into health before and this takes it to a whole other level of health and purity.

 

 

Watching?

 

Nothing because there's no time in my life! One day there'll be some time and who knows. My husband and I don't really watch things because after the kids get to bed, we'll have dinner together and catch up on each other's day and by the time we've done that and gotten ourselves ready for bed it's already 9.30pm. We wake up around 5am so we have to go bed, there's no time to watch anything.

 Maybe when the kids are a bit older!

 

 

Manifesting in 2021?

 

I'm just continuing to be the leader in certified organic beauty and just create products that really will transform people's skin in a healthy way. We always like to have a three-year plan of what products are coming out in the next three years so that's what we're doing, manifesting that.

 


Share this: