Model of the Moment: Lucky Blue Smith
This American rising star is smoking the runway and gathering online followers by the million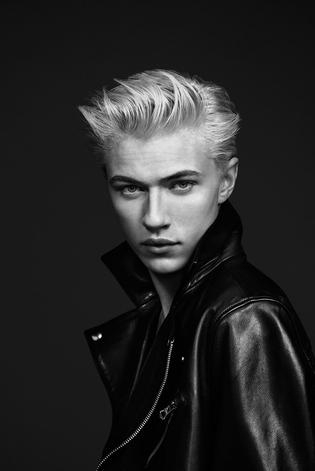 Bleached blond 17-year-old year-old American Lucky Blue Smith was the toast of the latest show season in London, Milan and Paris. He is becoming one of the most recognisable male fashion faces around, with a fast-growing social media profile. His look pays a nod to his style icon James Dean and his baby blues have set teen hearts a Twittering. His several million followers are known as Lucky Charms. He keeps in regular touch with them via Instagram and arranges group meet-ups to keep the buzz growing. Find out more about his distinctive look:
Did you always plan to become a model?
No, I was a musician first. My sister got signed to Next Los Angeles and I went in with her while on a family vacation to the beach.
How did you feel when the fashion world called you the new "IT model"?
Super cool but also shocking.
What is the secret to your social media success story?
I am not really sure I just post things I like and think are cool.
Where was your very first fan meet-up?
London at Heathrow, I came walking out of Customs to about 60 or 70 girls who had figured out I was coming and showed up to greet me. It was surprising and fun. I love meeting new people.
What can we expect at a fan meet-up with you?
A crazy fun time with lots of people, screaming and of course my Lucky Charms.
What is the trick to taking great selfies? Do you have a selfie stick?
Good lighting. No just long arms.
What is your best fashion moment so far?
There have been so many great experiences so far but I really loved Iceland with Annie Leibowitz.
What is the biggest fashion mistake to absolutely avoid?
Not being yourself.
What's the most challenging part of your job?
Jet lag and being away from family and friends.
What is your next challenge?
I am working on new music with my [three older] sisters and our band, The Atomics, so I'd say recording and getting ready to play shows. I am really excited for people to hear it.
When did you take up drumming?
I got the drums when I was 6 and started getting serious and playing with my sisters at 11.
What's it like being in a band with them?
It's the best. We are really close and good friends I wouldn't want to be in a band with anyone else.
How would your sisters describe you?
Classic, loving, easy-going, happy go Lucky.
What can we look forward to from your first film role this year?
Romance, inner beauty and a couple of kissing scenes.
GROOMING
Why did you decide to go platinum blonde?
Sometimes you just have to switch it up ya know?
What is your must-have grooming gadget?
A comb!
What do you pack with you when you travel?
Face wash, moisturiser, pomade.
What is your beauty advice?
Keep your skin clean.
What gives you confidence?
Knowing who I am and being true to myself.
What do you do in order to stay in shape?
I spend a lot of time in hotels so I try to utilise the good old hotel gym whenever I can and I'm always up for a good swim. My jet lag can get out of hand and I have to take care of my skin. So when I was asked if I wanted to be one of the L'Oréal Men Expert's face for grooming I was super stoked.
If you could only take 3 things way for a weekend what would they be?
My phone, money and a toothbrush.
Share this:
More Beauty & Wellbeing / Features & Profiles