SPONSORED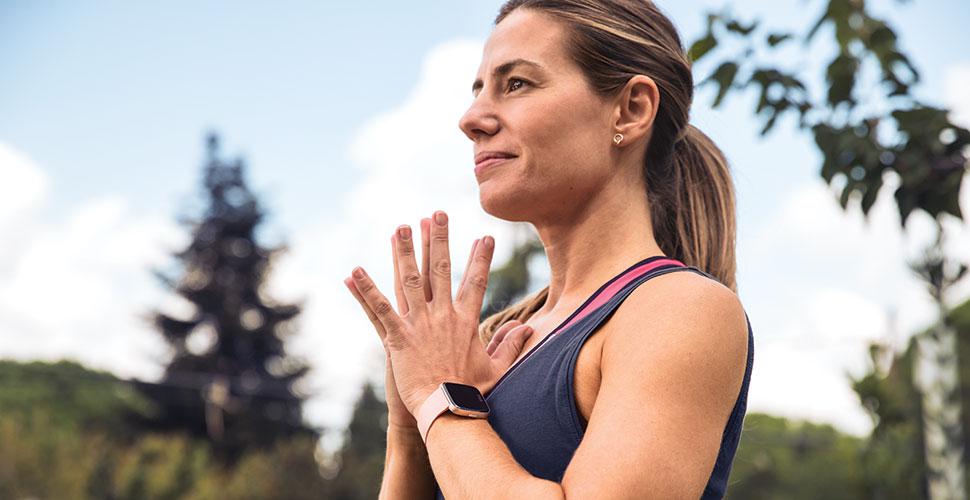 Modern Movement
Exercise tips from three inspiring Kiwi women
Wednesday May 2, 2018
Regular exercise doesn't just help tone your body and keep you fit; it is proven to lift the spirits. The sense of achievement from reaching exercise goals can be game-changing. Sometimes the pace of modern life can get in the way of taking those first few steps.
We spoke to three inspiring kiwi women about how they fit exercise into their routines and the benefits they gain, both emotionally and physically. It's never too late to find the exercise plan that works for you, and Fitbit can be there to help track your progress along the way.
Libby Hunt
Libby is a busy professional who works as a marketing and content manager, while also raising two young children. She ran her first half marathon last year and is now training for a full marathon. Libby uses a mix of uplifting music from across the decades as a motivator; she runs to classic 70s disco tracks from Sylvester, 80s power ballads by Kate Bush and nineties hip-hop.
Tell us about the sense of personal achievement you get from exercise?
I've never been a natural runner; it's something I've had to work at. It never fails to amaze me when I finish a run because it goes against everything I ever thought I'd be able to do. As a working mum, lots of things can feel out of your control. There's a beauty in the simplicity of being able to leave the house with nothing else to focus on except for putting one foot in front of the other.
Do you have any tips on time management for people wanting to include more exercise in their life?
Try and work it into something you have to do every day — for me travel time is dead time, so I run to and from work most days. With Auckland traffic it actually takes the same amount of time for me to run as it does to drive or catch public transport, not to mention it's cheaper and better for the environment. Top tip: I keep my makeup, shoes, shampoo and straighteners at work to lighten the daily load.
What inspired you to run the half marathon last year?
I'd been running to and from work for just under a year and felt like I needed something else to stretch for. I ran as fast as I could every day, with the intention of trying to beat my previous time. In the weekends for the month leading up to the race, I'd schedule a longer and slower run to build up stamina. It worked. I'm planning to run the Queenstown full marathon this November. I've never run a full marathon before but it's on my bucket list and I figure this is the year to go for it.
Francesca Hopkins
Francesca organises yoga and meditation classes for young women who want to use the practices to calm their minds as well as exercising their bodies. Stress and anxiety are big issues for millennial women and Francesca's classes aim to help with their use of breathing and mindfulness.
Tell us about the sense of personal achievement you get from exercise?
Moving my body is just like drinking water, I don't think about what I'm going to get from it short term, I just know it's going to increase the quality of my life for the long term. It hasn't always been like this though and during those times it was that sense of vitality, the tingle down my spine and redness in my cheeks that kept me motivated to move and stretch, I love feeling alive!
Do you have any tips on time management for people wanting to include more exercise in their life?
Find something you love to do. This way time management might feel more natural and potentially easier. Ideally, you're moving your body whilst in enjoying your surroundings and the company, even if it's your own!
Why yoga?
Experiencing the physical benefits of yoga initially drew me in and then after a short while of practicing regularly I started to notice the benefits related to my mind and emotions. Learning about anatomy and physiology in an experience-based practice and being a part of a supportive community are also key factors that have kept me coming back to yoga.
Julea Cecil
Julea is a GRIT coach, a part-time model and an advocate of vegan plant-based eating. Julea recommends a post work out meal packed with fruit, vegetables and unprocessed grains like oats and as much raw food as possible.
Do you experience an endorphin high from exercise?
Definitely! I always feel refreshed, energised and happier after exercising. It can change your outlook, your mood and improve your day. Exercise is a daily activity; just like brushing your teeth. If you didn't brush your teeth for a few days, how would you feel? Not great, it's the same with exercise... well for me anyway.
Tell us about the sense of personal achievement you get from exercise?
Exercise makes me feel empowered, happy, strong, energised, calm and centered. Knowing that you did something good for your body and mind is really important to me. I feel like I'm always on the go, doing something, rushing around, so I really appreciate the mindfulness aspect of exercise.
Do you have any tips on time management for people wanting to include more exercise in their life?
Schedule your time — be prepared, plan ahead, find those gaps of free time and add in some exercise. If you have time to watch TV or scroll through social media for hours, you have time to workout.
What are your priorities?
Break it down: 10 minutes in the morning, 10 minutes at lunch and 10 minutes in the afternoon (e.g. a simple 10-minute yoga sequence in the morning, 10-minute walk at lunch and 10 minutes of bodyweight training in the afternoon/evening — think squats, push-ups, lunges, burpees, running up and down the driveway etc).
Every step counts — take the stairs instead of the lift, walk to work, park your car further away, get off the bus a few stops earlier. Find a way to get more steps in.
Viva is giving away a Fitbit Versa to one lucky reader. Enter here.
Fitbit is a simple and effective way of monitoring the exercise you do on a daily basis, to find out more go to fitbit.com
Share this: