Raising Boys: Anna Miles, Miles & Joe Fahey
A gallery in their house meant constant creative inspiration, and for Anna's sons, led to a penchant for business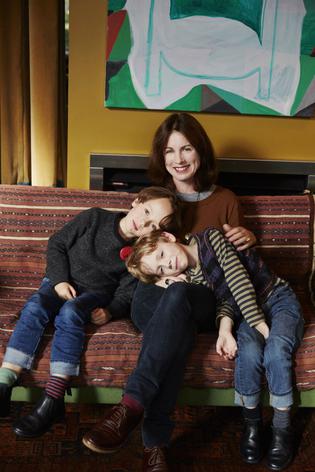 There's no shortage of things to look at in gallerist Anna Miles' home. It's not surprising, given her profession and the fact she, her partner, Richard Fahey, and their two sons, 9-year-old Miles and 7-year-old Joe, share an abode with her eponymously named Anna Miles Gallery on Auckland's Upper Queen St.
"I suppose for them it's normal to have a gallery in their house," says Anna of her sons. "They don't know any different, really."
When asked if they like art, Miles and Joe make noises of protest and have several strong opinions on the state of art today, not all favourable, but Anna recalls them both having ongoing creative endeavours.
"A few years ago Miles had a shop in his bedroom. He said 'you have a gallery, so I can have a shop'. And he did a very good job actually — he'd plinthed up all the items that were for sale on wooden blocks from the garage, and it looked very well-presented. The price list was quite something, it was very funny actually. There was an empty chewy mints tin that cost less than $2 new, and now that it was empty he was charging $10 for it."
Having discovered a penchant for business, the boys then went on to create home-made badges, named Ballistic Badges, which they sell at the Cross St Market, conveniently located just around the corner from their home. The badges are sweet and witty in the irreverent way that only children's creations can be — including a must-have for any modern adult, stating simply 'I'M BUSY'.
The boys' upbringing in central Auckland city is quite different from Anna's own in the suburbs of Wellington, but she thinks this enriches their lives and has made them more aware of the world.
"I want them to be independent and think for themselves, and have empathy with others," she says, "and they do — they're great. I think it's interesting for them growing up in this part of town because they notice a lot. I didn't have things like homeless people in my face when I was a small kid, and they do, and are concerned about those things. I am very lucky to have these two fabulous boys."
Her advice for mothers? "Ignore all advice, just stumble through," she says, laughing. "There's too much advice I think."
Anna says she also has a lot of respect for the women who, for whatever reason, haven't had children — and for the contributions they have made to society. "I don't think people are celebrated enough for not having children actually. Many people are not able to have children and that is a great source of sadness that is rarely aired.
"There is so much public celebration of pregnancy and the arrival of babies — a kind of mania when you consider how parenting at any point is important — parents of teenagers also deserve celebration.
"I am from a generation who wandered around as teenagers with 'Girls can do anything' bumper stickers stuck on our ring binders.
"A wise friend of mine from those days pointed out we interpreted this as 'Girls can do everything'. The difference between anything and everything is worth thinking about."
Share this:
More Beauty & Wellbeing / Features & Profiles