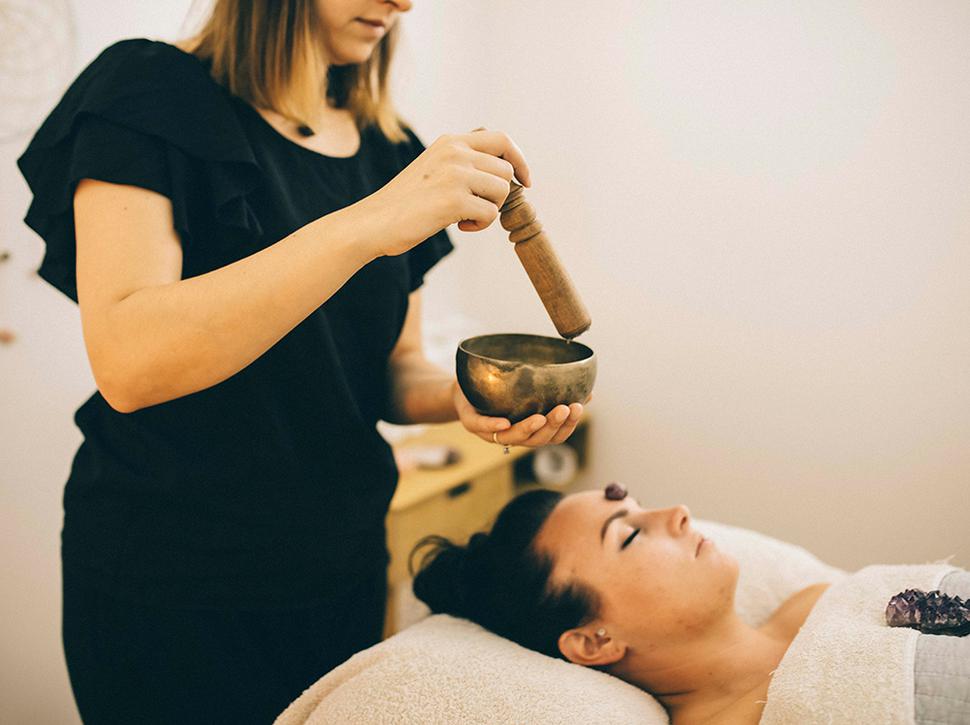 Tailormade Mother's Day Spa Ideas
Make the gift of a treatment extra special by seeking out customised spa experiences
Friday May 4, 2018
GROUND HER
The Yogi Facial: Taking a professional spa range and supplementing it with customised touches is what facialist Romy Burgess can't resist doing. This intuitive approach was honed by time in India and is seen in her bespoke facials with the use of healing crystals and optional add-on guided meditation.
It's the best of both worlds, using the innovative German skincare range Dermaviduals, which can be tailored to treat different skin conditions, supplemented by hand-blended plant oils and holistic calming methods. The corneotherapeutic approach taken is to work with the structure and function of skin to better strengthen it.
READ: Skincare Brand to Know: Essence of Humanity
The facial includes exfoliation using pineapple and papaya enzymes, then a targeted serum-mask is applied infused into an algal base. Massage follows with various serums, but also using Romy's favoured oils. Along the way, in her small treatment rooms, there may even be a touch of gua sha, the Traditional Chinese Medicine practice of light skin scraping to improve circulation, in this case, done with a rose quartz crystal.

• The Yogi Facial with Dermaviduals at the Beauty Elixir, Grey Lynn, costs $180 for 75 minutes, with Dermaviduals facial alone, $150 for 60 minutes. Visit Thebeautyelixir.co.nz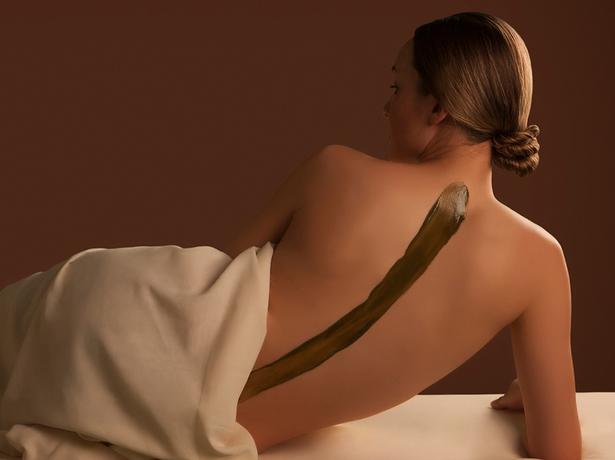 IMMERSE HER 
Voya Emeralds of the Ocean: The centuries-old Irish tradition of seaweed bathing inspired the creation of Voya skincare, which features mineral-rich extracts of sustainably hand-harvested kelp from county Sligo. It is the world's first certified organic seaweed-based range and is used in detoxifying and nourishing spa treatments for face and body, and in skincare for home use.
The Spa at the Pullman was early to take on Voya when it was introduced to New Zealand last year. It's in good company; internationally the range is found in top hotel spas and at the pointy end of Emirates planes. The spacious Pullman spa makes an ideal place to lie back and luxuriate in what the ocean has to offer skin. (True water babies can arrive early for a dip in the hotel's 25-metre indoor pool or to steam and sauna).
A lazier approach is to linger after your treatment with a refreshment in the relaxation zone. The Voya signature package combines standalone services. It includes a full-body sugar scrub fragranced with lavender oil, followed by a massage and an anti-ageing facial.
READ: Luscious Body Oils Your Skin Will Love
The massage anoints sloughed limbs and cleansed skin with a healing seaweed mix during which the body is well supported with warm cloths and comfort pads.Strokes echo the ebb and flow of the tide in gentle and stimulating movements designed to carry you away.
• A Voya Emeralds of the Ocean Package at the Spa at the Pullman costs $350 and lasts for 150 minutes. Visit Pullmanauckland.co.nz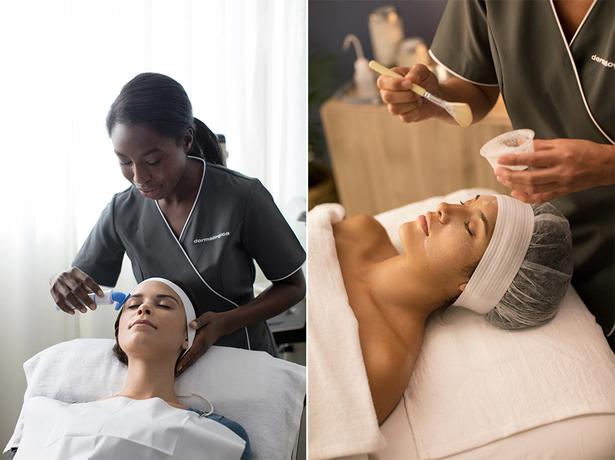 GUIDE HER
Dermalogica ProSkin 60 Customised Facial: This is a great gift consultation for woman of all ages wanting a skin-health check or keen to embark on a skin-improvement journey. A thorough assessment and face mapping is done, followed by targeted treatments including facial massage, so you will leave informed and uplifted.
Follow up ProSkin 30 (minute) treatments can be booked, or stick with the longer sessions if you want to add relaxation to the results. Depending on what you want to work on, time can be spent on anything from hydrating lip or eye area fixes, to extractions or skin calming measures. Salon manager Gemma at Bare in Belmont is one of the first to be trained in this new service which Dermalogica is rolling out across its stockists nationwide this month.
READ: Embracing Coconut Beauty Products
Once inside the chic interior of the Belmont salon, awkwardly sandwiched between suburban shops, you'll soon know you're in good hands and be eager to return for self-improvement.

• The Dermalogica Pro60 at the three Bare Waxing and Skin Centres costs $130 for 75 minutes, with ProSkin 30 for $65, Barewaxing.co.nz. For other Dermalogica salon locations (where prices may vary). Visit Dermalogica.co.nz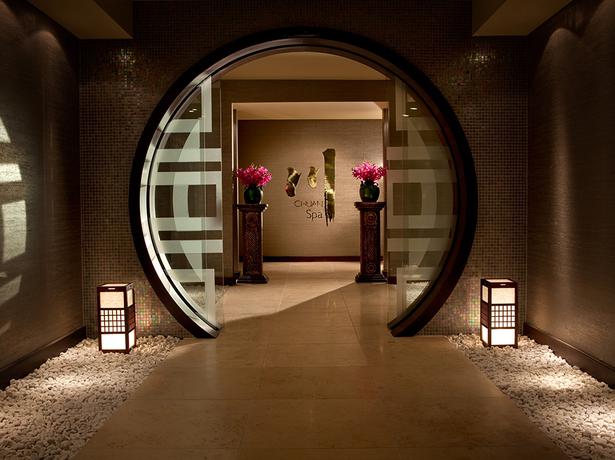 REINVIGORATE HER 
Codage Paris Body Scrub: Trust the French to turn what can be a rough-edged ritual into a self-improvement exercise — combined with all-over indulgence. This Parisian-developed head-to-toe regimen draws on the boutique apothecary-style brand's expertise in facial care using targeted serums.
It extends the approach into bodycare for intense hydration or firming and anti-ageing concerns. Before identifying your skin's needs, East Day Spa staff offer tea to set the scene for your enjoyment of this award-winning meeting of Asian-influenced spa practices and skilfully selected Western ranges.
The treatment time is efficient (as with Codage's facials), but there are no short cuts. After a full-body buff — made easier with nourishing nut oils, fine sugars and rice particles — it's shower time. Skin already feels velvety smooth, but wait until the prescribed concentrates are applied.
The likes of pomegranate oil and blue thistle stem cells are used to rehydrate and firm. While you steep in a body serum milk, there's time for a brief head massage, or neck and shoulders if you'd rather. For those crying out for relaxation as much as results, switch to the spa's extended massage menu or book a package that includes dining at one of SkyCity's restaurants.

• A Codage Body Polish at East Day Spa at SkyCity Grand costs $105 and takes 45 minutes. Visit Eastdayspa.com
TRANSPORT HER 
Pure Fiji Classic: Enjoy island time without airport hassles. This foot ritual, back massage and facial avoids the all-too-common trap of being a combination treatment that in trying to give a taste of all things, delivers not enough of any one. Instead, you will leave well satisfied that you've been both relaxed and revitalised.
Even spa aficionados who favour standalone sessions would be impressed by how much About Face delivers in its special deal, developed out of existing treatments especially for Mother's Day. This edit makes for an ideal introduction to Pure Fiji's aromatic care, starting with a warm coconut milk foot bath.
READ: Your Ultimate High-Flying Skin Guide
By focusing next on kneading out the knots, the Lomilomi massage with nut oils soon puts tired shoulders at ease, so you stretch out in satisfaction, with ample minutes left for a gentle, hydration-enhancing facial.

• Pure Fiji's facial, back massage and foot ritual costs $99 for 60 minutes, at any of About Face's seven-day spas, with vouchers available for purchase (allowing for later use) only until May 13. Visit Aboutface.co.nz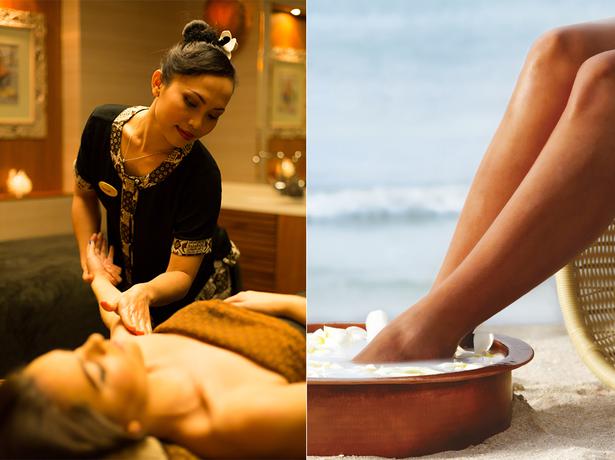 TOAST HER 
Sip & Spa: With a complimentary glass of bubbles served after your choice of a massage or facial, this is an outing lucky recipients may find twice as nice if shared. It starts with entry through the moongate to Chuan Spa's impressive facilities, which include double treatment rooms. (Arrive early if you fancy a rooftop heated swim or want to try the tri-bathing experience inside.)
Your therapist will invite you to inhale from five small vials of essential oil blends. Each aroma links to one of five Wu Xing elements (metal, wood, water, fire and earth) and the idea from Chinese Traditional Medicine is that you will be drawn to the one within you that most needs rebalancing.
READ: Why Machines Are The Latest Beauty Trend to Know
The chosen oil is then used during your treatment, which includes a scalp massage. Those opting for a facial, will benefit from Thalgo skincare, using marine extracts from France.
Afterwards, you're invited to recline on a lounger for that drink and a snack of fruit and nuts, supplemented by a juice shot, mixed to further enhance your sense of wellbeing. A nice departing touch is a gift of Chuan Clove Balm.
• The Sip & Spa package at Chuan Spa at the Cordis hotel is $130 for 45 minutes, Monday to Friday only, until June 30. Visit Chuanspa.co.nz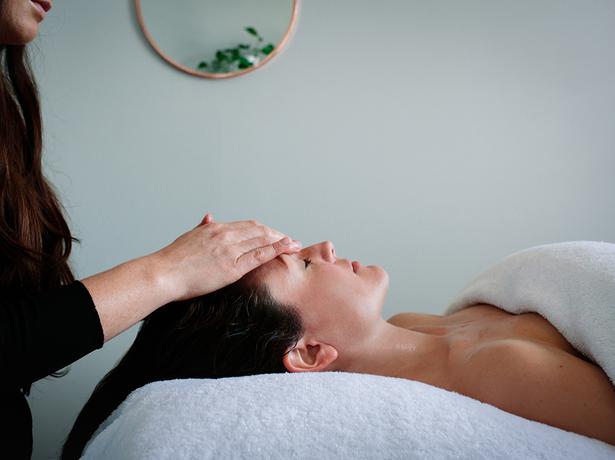 ECO-EMBRACE HER
The Total Complexion Reset: Otherwise known as the Tata Harper Multi Acid Peel, this is all-natural, but extremely active. It comes from the Colombian-born, American-resident pioneer of farm-to-face skincare, name-checked by the likes of Gywneth Paltrow and is for those who want products that do more than tick green boxes and smell nice.
It's part of the range of holistic facials at the Tonic Room, where a bespoke approach and notably good facial massage by Milly Hart features.
READ: How to Have Flight Savvy Skin
The treatment uses hydroxy acids to declog and freshen the face, exfoliating white willow bark and sugar prebiotics, then plant extracts to hydrate and heal, resulting in a glowing complexion (sun protection is required in the days afterwards). The long-term aim is to strengthen skin and for those interested in a rounded approach on how to do this, naturopathic consultations can be arranged.

• A Tata Harper complexion reset at the Tonic Room, Kingsland, costs $175 and takes 60 minutes. Visit Tonicroom.co.nz
UPLIFT HER
Babor High Skin Refiner Lifting facial: This remodelling facial is one for those who appreciate the well-recognised benefits of European digi-massage techniques. It will leave the facial contours more youthfully rounded, with skin toned, visibly smoothed and relaxed.
The bonus extra is that this instant uplift is backed by advanced ingredients, including peptides, designed to improve skin's resilience over time. At Forme day spa in Albany, the upmarket German brand Babor is delivered with skilled hands and in cosseting interiors, taking this anti-ageing experience from treatment to treat.
READ: Eco-Friendly Beauty Products To Buy Right Now
The post-cleansing facial steps include a mask (during which time you can have a foot or hand massage) and the application of ampoules of actives and a plant-based firming eye and moisturising day cream. Neck and shoulder tension is not ignored, so relaxation is coupled with skin refinement.
Stay for your Serenity shot, the likes of passionflower and chamomile, to send you on your way revitalised.

• A Babor HSR Lifting facial at any of Forme Spa's 10 locations costs $219 and takes 90 minutes. Visit Formespa.co.nz
Share this:
More Beauty & Wellbeing / Features & Profiles