Musical Theatre Star Elise McCann's Beauty Routine
The Australian frontwoman of the upcoming Dahlesque show with the APO talks about makeup and make believe and how Roald Dahl's influence on her career extends to appearance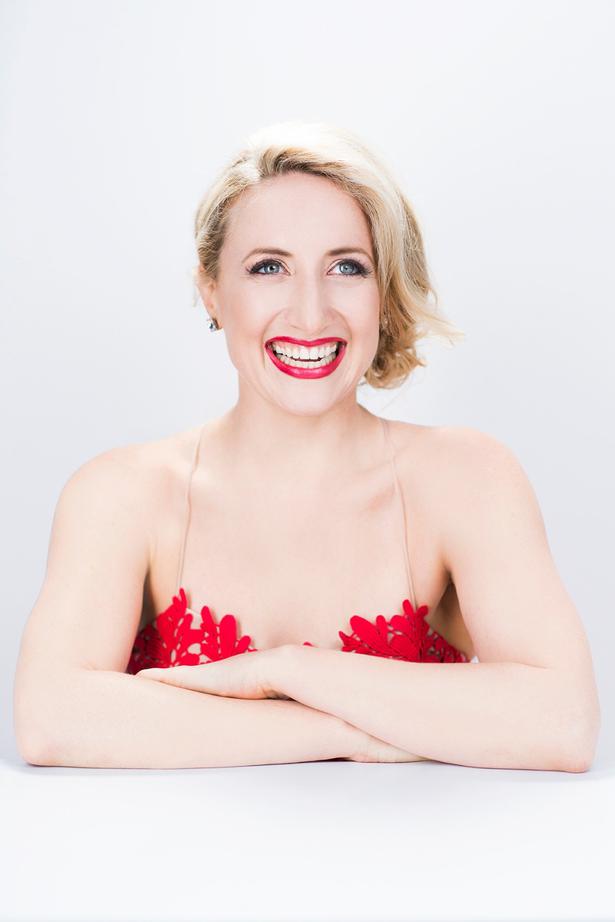 Friday April 26, 2019
After more than 650 performances as the prim Miss Honey in the hit musical version of Roald Dahl's Matilda, it's no wonder that Elise McCann has a good handle on the author's words. A few lines that particularly resonate from Matilda are that ugly thoughts will start to show on the thinker's face while someone with good thoughts cannot ever be ugly. As an award-winning performer, the 33-year-old has had to deal with coming to terms with her self-image while being in the public eye. She's learned to stress less about her everyday appearance and enjoy the fun of transformation that her work for stage and screen brings.
Elise has also come to appreciate how Dahl's sage observations, tucked away inside his imaginative stories, help explain the British author's popularity with generations of children and adults alike. After two years playing Miss Honey in Australia, winding up in 2017, the actor, singer and dancer turned her hand to co-writing the fun-filled Dahlesque. This includes music from Matilda the Musical, Willy Wonka and the Chocolate Factory, James and the Giant Peach and original compositions of Dahl's Revolting Rhymes. There's also time to belt out the James Bond title track for You Only Live Twice, included because Dahl wrote the screenplay.  
After successful seasons in Australia, Elise is bringing the fun-filled family concert to New Zealand to perform with the Auckland Philharmonia Orchestra. Two shows will be held on Saturday, May 11 at the Town Hall. 

Beauty journey
"When I was four to six years old... I apparently wouldn't leave the house without my handbag, my plastic high heels, gloves and lipstick! I was very particular about being put together and I thought I was a superstar. When I wasn't even at school, I loved getting dressed up and wearing makeup and pretending I was an adult. As the years went on and I became a professional actor, my appearance became a huge pressure that pervaded my daily life.  How I looked, how I dressed were major parts of my job -- people could and would actively discriminate against me based on my appearance -- that is the nature of the acting industry. So I felt a lot of pressure to fit a 'perfect' mould, to emulate that which I saw was validated and promoted by the health and beauty industries. I would obsess over my weight, my hair, my nose, my glasses, all the ways I didn't think my body and appearance were good enough. I would spend so much time thinking about what to wear and making sure I had a full face of makeup on etc, etc. I really struggled to see myself as beautiful.  
Over the last five to 10 years... I have worked on my body image and my own love of self, and as cliche as it probably sounds, today I do feel beautiful.  I am far from physically perfect, but I feel happy and content and I am healthy and I think I am actually more beautiful than I've ever been.  I often have to wear a lot of makeup for work when I'm on set or in a show, and similarly, as an actor, you tend to go to a number of events where you wear beautiful gowns and designer outfits and you get all dressed up with the help of a team of hair and makeup experts.  So in my daily life I often wear very little makeup, I wear my glasses most days, I let my hair run wild in its natural crazy curly state, and whilst it is so much fun to get all dressed up and be pampered, I really love not spending hours on how I look on a regular day. It genuinely takes me less time to get ready in the morning than my boyfriend!
It is so easy to compare ourselves to others. With the advent of social media we started seeing each other's Facebook and Instagram profiles as the 'casual reality' of those around us when in fact it's everyone's highlight reel.  It has been said ever since I can remember, but it truly took me years to understand and believe it -- beauty lies within. The more I look after myself on a mental, physical, emotional level, the happier I am, and the happier I am, the more beautiful I feel."
Memorable transformations
"When I filmed Peter Allen: Not the Boy Next Door... I played [flamboyant Australian entertainer and husband of Liza Minelli] Peter Allen's sister, Lynne Woolnough.  Lynne appears in the TV show from the age of six through to 42. I played her from 15 through to 42, which felt crazy because I was 29 at the time! It was a really incredible experience and so much fun working with the makeup and costume department through different decades of fashion and style.
From 15-18 years old it... was the 1960s and they put very little makeup on me, mostly just concealer and a tiny bit of mascara and had my hair long and simple in pigtails and plaits. As I went through my 20s we played with more 'fashionable' and on trend hair for the late 1960s early 1970s. I had a lot of bold colours and really playful outfits and a lot more stylised makeup including wing-tipped eyeliner. In my 30s it was the 1980s so I sported a super curly perm and some amazing more powerful outfits. When I was in my early 40s I went back to straight hair and wore power suits. The best thing was the ageing makeup we worked with where they put a silicone cream on my forehead, around my eyes, and a little on my neck and then stretched the silicone and dried it with a hair dryer, so that when it was completely dry and relaxed it gave me wrinkles. It was so amazing to witness myself age up and down.   
The biggest stage transformation... was probably in my first show ever, Fiddler on the Roofback in 2005-2006.  I played Sarah who is a ghost and I had a full face of aged/ghost makeup with a crazy grey wig and a massive costume that had me flying around the stage! I was 20 at the time, so it was a huge shift from my usual young girl self in the rest of the show!"
Favourite look
"In a show called Everybody Loves Lucy... where I played [American comedian] Lucille Ball.  I had the most awesome red wig and incredible 1950s dresses. I almost didn't recognise myself -- in fact my dad didn't until I pointed out the image I sent him was of me! Ever since, I've been convinced I was born in the wrong era. I wish I could have been a 1950s girl!"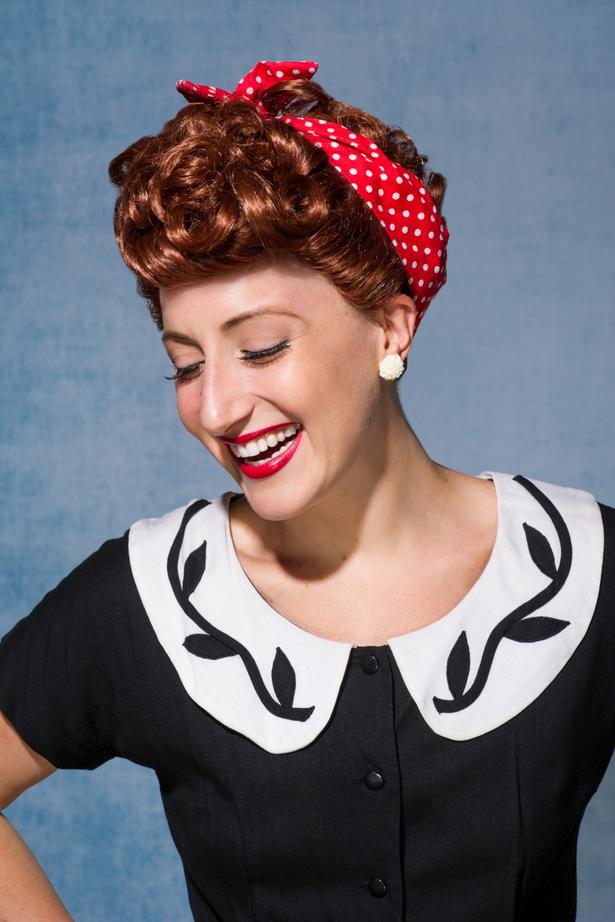 Makeup memories
"When I was 7-years-old... I played Dorothy in an amateur production of The Wizard of Ozin Sydney. My mum would put my hair in rollers and do my makeup for me for every show. I felt so special going to school during the day with my hair in rollers and tied up in a bandana. I would beg her to let me keep my makeup on from the night before, but alas she always made me wash it off! I have one of those faces that looks completely different with and without makeup. I stay out of the sun a lot and so I have quite pale skin, with natural freckles. I have big eyes but they change colour between blue and green depending on what colours are on my face or what I am wearing.
One of my dear friends -- a brilliant actor from New Zealand actually, Mr Hayden Tee -- is also a professional makeup artist and about nine years ago he took me to M.A.C cosmetics and helped me pick out a palette full of all the colours that would complement and work well for my complexion. It was one of the best things I ever did, and I still call Hayden whenever I have makeup questions or need some tips!"
Tricks of the trade
"When you work in TV... you always have other people doing your hair and makeup, but when you are working on a professional play or musical you have someone teach you how to do the makeup necessary for your character, and then you do it for each show. We often do eight shows a week. One of the things I am most grateful for having learnt through work and having to do my own makeup is how to blend concealer and foundation and shade the face. It is so useful and means when I even need just a little makeup I can quickly and easily correct and maximise my skin tone. The second thing is how to apply false eyelashes and create a great smoky eye. I love a smoky eye! I don't wear makeup a lot in day to day life, and if it's a big event I often have a makeup artist that does my makeup, but when I have some publicity or a smaller event or I just want to go out and look fresh I will do my own makeup. I will throw on a lash and do a smart smoky eye and it always makes me feel like my eyes pop and I look good."
Real-life reveal
"In everyday life... I'm not too disimilar from Miss Honey -- except for the hair! A little bit of natural eyeshadow and mascara under glasses, and a little bit of light pink lipstick. It's simple, it doesn't take long, it leaves me looking natural, but put together and elegant and I feel fresh and pretty. But as Miss Honey I wore a beautiful blonde wig that was pretty straight with some gentle curls and a fringe. My real life hair is very curly! So you will see me with a mass of blonde beach curls. That said If I have been to the hairdressers they always offer to blow dry my hair and I always take them up on it. I am terrible at blow drying my own hair so I love having a few days with smooth tresses."
Daily routine
"I don't do a lot to be honest. I shower in the mornings and usually just moisturise with an ultra moisture rich moisturiser as I have quite sensitive skin. I use a brand called Arbonne which is a botanical, vegan-friendly skincare line. If I have somewhere to be and want a little makeup I will put on a little concealer and sometimes some M.A.C Studio Fix powder. I will always do a little eyebrow touch up as I have quite fair eyebrows -- so I just put a little brown eyeshadow, or Benefit Gimme Brow Volumising Gel in and brush towards the centre of the eye rather than the outside, so you maximise volume.  If I have the time I will throw on some mascara and a little M.A.C Gingerly Blush and Mineralize Highlighter.  
At night I am religious about... cleansing and then moisturising again. I occasionally use a toner also, but I mostly just wash my face with a great cleanser and then moisturise again, but with a night repair cream. I always try and do my neck as well as my face as you put makeup on your neck when doing a show also, and I always try moisturise by brushing the skin upwards towards the head rather than down towards the shoulders."
Hair and its care
"My hair is... very curly naturally, but it is also very fine and can get dry. So I don't wash it too often as it dries it out even more and isn't great for the curls. I tend to use a leave-in treatment called Olaplex once a week overnight so that I can help repair any dry and damaged hair.  When I am doing TV they tend to style and straighten and blow dry it a lot, so it can get quite heat damaged.  When I am doing a play or musical I mostly wear a wig so have to put my hair in pin curls daily, and then pin strongly at the top, sides and base of my hairline.  After a lot of pinning, the hair line can get quite weak and frail.  So using treatments and trying to not over colour and or over blow-dry or straighten my hair are essential so that it doesn't all fall out on me! I am a little lazy on a day-to-day basis and tend to just throw the curls into a pony tail, or a top knot and get it out of my face.  If it's freshly washed I will wear it out and maximise the curl factor."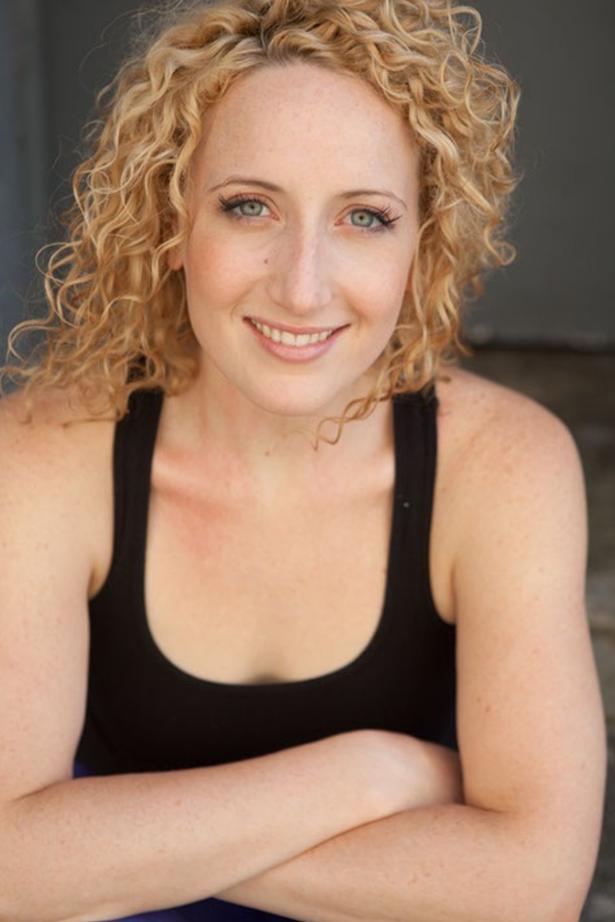 Day-to-night tip
"For me it's all about the lipstick. I will throw on a bright red or mulberry lipstick at night and pair that with my simple mascara rich eye makeup and brows from the day and it instantly changes my face, is super quick and elevates the look to a more stylish, punchy evening fiesta!"
Five favourite products
My daily cannot go withouts are:
1. M.A.C Pro Longwear Concealer: It has the most incredible staying power but is lightweight and gives incredible coverage.
2. M.A.C Gingerly Blush: A peach tone blush that I have been using for close to 10 years now. I can put it on with only some basic concealer and nothing else and I look like I am fresh and bright and healthy and it really brings out the blue in my eyes.  I love it!
3. Benefit Gimme Brow Volumising Gel: It's amazing. I use the lightest shade, but it really pumps up my eyebrows. It's so super easy to apply and comes with an inbuilt tapered eyebrow brush which gives great precision for shaping.
4. Olaplex No.3 Hair Protector: A leave-in treatment that strengthens the hair and reduces breakage.  It literally re-bonds the broken hair follicles and has drastically improved the look and feel of my hair!
5. Arbonne RE9 Extra Moisture Restorative Cream, SPF15: It's an extra hydrating cream for drier skin and not only moisturises my skin but supports collagen building and protects my skin from the sun. 
Treatment to try
"I have a few friends who swear by LED Light Therapy and Laser Treatments. I have never tried them but would love to give a go to remove any dead skin and help promote skin rejuvenation and elasticity!"
Beauty to you is… 
SO many things. It is happiness, it is kindness, it is living life with joy. In fact I think Roald Dahl put it perfectly when he said: "If a person has ugly thoughts, it begins to show on their face.  And when that person has ugly thoughts every day, every week, every year, the face gets uglier and uglier until it gets so ugly you can hardly bear to look at it.  A person who has good thoughts cannot ever be ugly.  You can have a wonky nose and a crooked mouth and a double chin and stick-out teeth, but if you have good thoughts they will shine out of your face like sunbeams and you will always look lovely." – From Matilda, by Roald Dahl
Share this: