Musician Theia's Beauty Routine
Theia, the Kiwi singer-songwriter with the unique look, gives us a glimpse into her beauty routine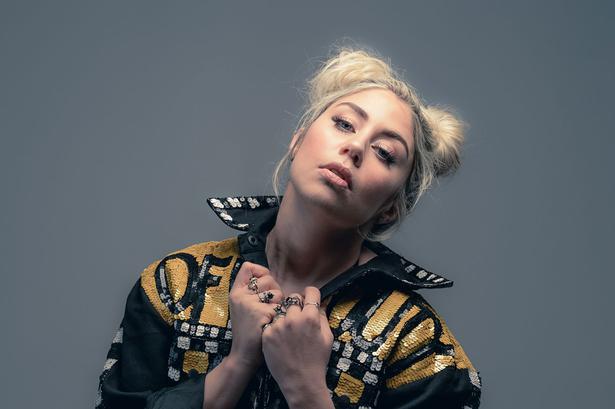 Tuesday Jan. 17, 2017
You've probably been humming along to Theia's ethereal, glitter-pop hit single Roam all summer - especially if you saw her perform with Broods and Kings during the Electric Coastline tour which took place around the country over the New Year break.
Theia is the moniker of up-and-coming singer-songwriter Em-Haley Walker, and her break-out hit has had over 3.5 million streams on Spotify. The 25-year-old Auckland-based musician, who next performs at ZM's Flochella on February 5, will release her debut EP early this year, while her next single Champagne Supernova will be released next month.
When it comes to style and beauty, the musician explains that she likes to keep things interesting. "I still experiment and incorporate an eclectic range of influences into my style. It's about what I'm loving at the time. It's feminine, elegant and edgy - sometimes unpredictable."
First makeup memories
Watching my mum get ready in the mornings and thinking my grandmother was absolutely resplendent in her ballroom dancing dresses, makeup and diamantes. My mum let me use her lipsticks and mascara and I learned from there.

Beauty ethos
I basically learned everything from my mother. Beauty starts from within - eating healthily, exercising and sleeping well. When it comes to skincare, handle your face gently; use organic, natural and paraben-free products. Moisturise and apply sunscreen every day - face, neck, back of the hands and anywhere else exposed, so you protect yourself against wrinkles and sun damage.

Day-to-night beauty look
I always try to look as glam as I possibly can, no matter what time of the day - so not much changes. If I'm off to a special event, then I'll work with a makeup artist and we'll have a think about what sort of look I'm after. I always apply perfume again to freshen up
WATCH: Roam by Theia
Daily beauty routine
There are quite a few steps in my daily makeup routine. But I've now got into the rhythm of it and I enjoy it.
Face: Once I've cleansed and moisturised I apply mostly all M.A.C products starting with Strobe Cream and Yellow Prep & Prime Natural Radiance, then it's Studio Waterweight SPF Foundation, Pro Longwear Concealer, Prep + Prime Transparent Finishing Powder, which sets the makeup and then Soft & Gentle Mineralize Skinfinish to give that dewy glow.

Eyes: I use M.A.C Layin' Low Pro Longwear Paint Pot. Some days I'll just stick with that because it's got a nice colour but on other days, I'll use something from the Warm Eye Shadow palette. I use Rapidblack Penultimate Eyeliner, Studio Chromatic Liner, Great Lash Maybelline mascara and M.A.C Clear Brow Set.

Lips: I use M.A.C Lip Conditioner and my favourite colour lipstick is 'Blankety'.
Top five beauty products
1. Sunscreen, particularly the one I use (Elta Md SPF 46 UV) because I'm very aware of the damage that sun can do.
2. Moisturiser is a must. A good one, which is paraben-free or organic, is very important to me. I couldn't go a day without my moisturiser.
3. Perfume gives me an extra perk in my step. My perfume is vintage Femme by Marcel Rochas.
4. Lipstick finishes off every look. Never leave home without it.
5. Mascara! I love long lashes.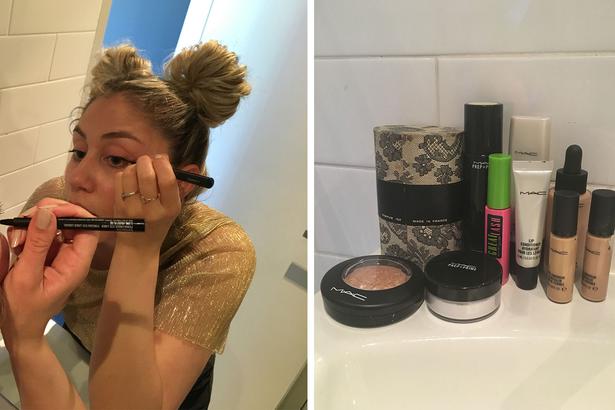 Theia applying eyeliner and her favourite beauty products. Pictures / Supplied.

Skincare routine
I have normal/dry skin so give it as much moisture as possible. I cleanse with a charcoal soap then apply Karen Farley serums (Age-Defying Collagen Booster and Skin Tone Corrector and Age-Dyeing Cellular Eye Serum), Sukin Organic Rosehip Oil and Age-Defying Intensive Moisturiser, then Elta Md SPF 46 UV Clear Broad-Spectrum sunscreen on the face and SPF 50 Banana Boat on my neck and back of the hands. In the evening, I cleanse and remove my makeup with Rosehip Micellar Water, and after applying serums use Karen Farley Night Renewal Creme.


Style icons 
Edie Sedgwick, the Olsen twins, Rihanna, Alexander McQueen, Isabella Blow, Lady Gaga and Zoe Kravitz.


Best beauty trick picked up on the job
Take care of your skin first by moisturising well, then by putting on a primer, so you have a great base for your makeup. This way it won't slide or seep through to your skin.

Share this:
More Beauty & Wellbeing / Features & Profiles