Australian Blogger Nadia Fairfax on Wellbeing, Beauty and White Shirts
Nadia Fairfax is doing her bit for ovarian cancer research, fronting this year's Witchery White Shirt Campaign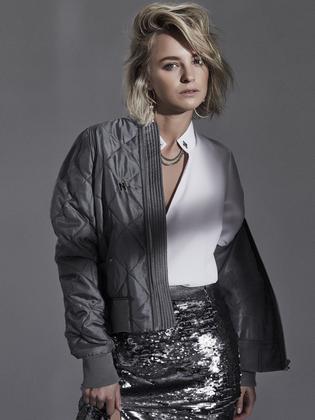 Quintessentially Sydney, blogger Nadia Fairfax of Fairfax Journal has a polished yet playful way of dressing that sees her mix everything from ruffled dresses and pirate hats to sweaters and slip dresses.
Boasting 173,000 followers on Instagram, she splits her time between Sydney and New York - with no shortage of holidaying in exotic locations along the way.
This year she appears in the Witchery White Shirt campaign for the Ovarian Cancer Research Foundation's White Shirt Day on May 8. Other Australian influencers involved include Megan Irwin, Annabella Barber and Bambi Northwood-Blyth.
Tell me about shooting the Witchery White Shirt Campaign? How does it feel to be involved?
The reason I chose to be a part of this year's White Shirt campaign was due to the shocking statistics. A woman dies every 10 hours from ovarian cancer! When I heard that figure, I was with my 10 closest girlfriends having lunch – I thought to myself, this could happen to any one of them, or even me. This is definitely a cause I need to get behind.
I recently had a woman who was diagnosed with ovarian cancer comment on my portrait on Instagram. I was overwhelmed that my image reached her. She was beyond grateful that we were supporting the cause. It really touched me. Sometimes you can forget that donating a small amount of time can make such a difference.
How can people get involved?
Simple – run to Witchery and buy a white shirt from its White Shirt Collection. All proceeds, except GST, go to the Ovarian Cancer Research Foundation (OCRF). I am also encouraging customers to share an image of themselves in their white shirt, to help spread the word about this fabulous initiative that Witchery has created. No one can ever own too many white shirts.
How do you keep a balanced lifestyle and stay fit and healthy?
I consider myself to be in great health, and I have never taken exercise and dieting too seriously.  Exercise should be done for enjoyment, not weight loss. I also find if I am happy I tend to crave healthier foods, but it is important to remember that there is nothing wrong with a little induldgence here and there.
What are your top five ways to style a white shirt?
1. Under a sweater – I love the preppy look.
2. With blue jeans and a vintage belt – nothing beats classic.
3. Tucked into an ultra-high waisted black skirt – office attire 101.
4. With a big black ribbon tied in a bow, as if it was a bow tie. NO bow is ever too big!
5. White on white – pair a crispy white shirt with a pair of white palazzo pants ala Bianca Jagger.
What are you reading, listening to and watching at the moment?
Listening: I cop a lot of flak for the music I listen to. Think Simply Red, Van Morrison and Frank Sinatra, with a hint of bad 90s pop.
Watching: I have a deep love for sports, so VICE World of Sports series has been on my hot list as of late.
Reading: I am not in the middle of any books at the moment, but I have found myself reading a lot of news. There is so much going on in the world and to stay on top of it takes up a lot of my time.
What are the top five beauty products you swear by?
1. Elizabeth Arden 8 Hour Miracle Mist – a perfect face spritz for travelling.
2. The Moisturiser by Scott and Sullivan.
3. EVO Builder's Paradise – working spray for hair.
4. Lanolips 101 Cream for the lips.
5. Neosporin Antiseptic Cream. I use it on EVERYTHING!
What does self-care mean to you?
Rest! I run on adrenalin and sometimes when I get excited I forget to rest… I exert so much energy and then I find myself in a heap, I am so exhausted that I can barely get out of bed for two days. Taking time out for myself is something I have learned is not a luxury, it's a necessity.
Who has inspired your style and why?
My mother. It's a cliche I know, but it's the truth. She always taught me that less is more, and although I believe my style sits somewhere between eye-catching and classic, I can still hear her voice in my head telling me to "tone it down".
Where do you go when you want to get away from it all?
I live between Sydney and New York, so I definitely need to "get away from it all". Miami is my favourite place to do that. I love the humidity, the water is warm, and the hotels are great. I am a true Aussie girl, I love to laze on the beach!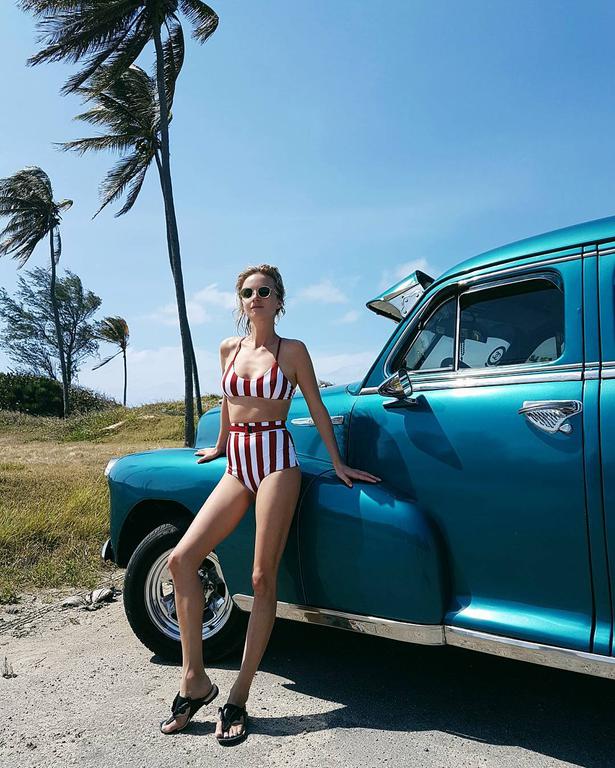 Share this:
More Beauty & Wellbeing / Features & Profiles