Multicolour Manicures & Other Nail Trends For 2022
From cute charms and three-dimensional designs to American manicures, here's how to quite literally nail it this year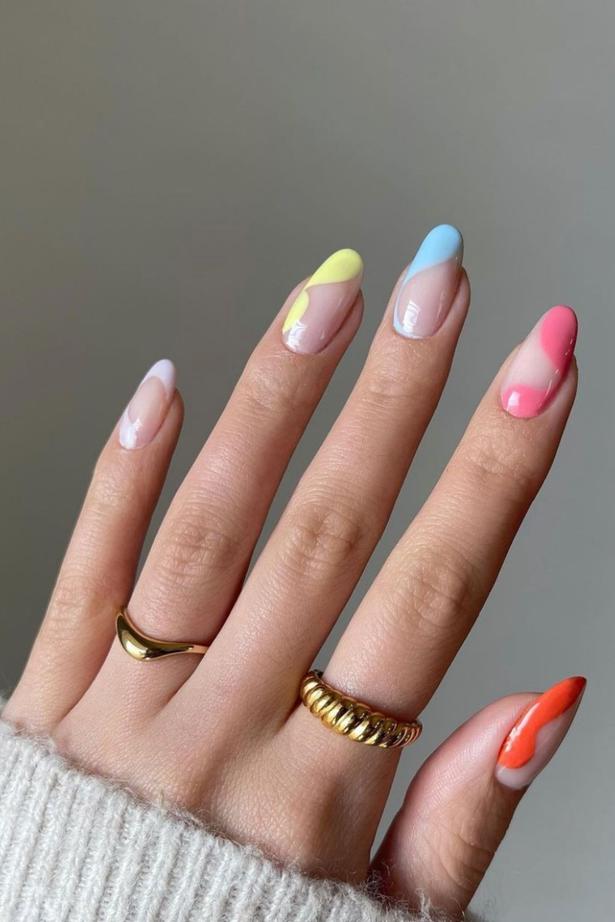 Sunday Jan. 2, 2022
In the same way that your makeup look speaks volumes about you, your manicures act as another avenue of self-expression. 
Whether you keep your mani minimalist, with short, squared-off nails in neutral hues, or have a penchant for the wildly dramatic a la coffin-style acrylics adorned with glittering gems — these tiny canvases offer countless opportunities for experimentation. 
As we look ahead to the New Year (and relish the return to our preferred nail salons and manicurists), a number of nail art trends look promising to try both in the chair and at home. 
Below, we share our top predictions of the colours, shapes and styles that are set to dominate in 2022. 
Multicolour Manicures (above)
Mix and match mood-boosting shades of canary yellow, duck egg blue, watermelon, burnt orange and blush pink in block colour or negative space designs for added visual interest. 
Expect colour palettes to shift with the seasons, however, and while the above shades seem fitting for an endless summer, oranges and browns will likely crop up come autumn, while crisp blues, greys and whites will take over for winter. 
Not sure where to start? Check out Pinterest for some multicolour mani inspo. 
American Manicures
French manicures will always be in vogue, but in 2022 there's a new kind of French mani that's threatening the original off its perch. Cue American manicures, a riff off the OG in statement shades and arch shapes. 
It's a popular trend with celebrities, loved by Megan Thee Stallion and Beyonce who have both adopted the style. 
Try it with a block base colour and contrasting tip colour to keep things interesting, and if you're one to DIY — consider investing in a half moon guide to paint a perfect tip. 
Luxe Press-Ons
Local beauty business Teddy Lane was ahead of the curve when brand founders Sandra and Lauren Banks first revealed its range of press-on nails. 
With nail salons closed for so long due to the pandemic, the resounding cry for a luxury manicure that can be easily applied at home was deafening. 
Not only are press-on nails fully customisable to whatever nail shape, length and style you desire (not to mention you can change up your look on a whim!), but their ability to be reused time and time again gets a big tick in the sustainability books from us. 
One such nail artist created bespoke press-on nails for her valued clients throughout lockdown, and we expect services such as this to only continue to grow in popularity next year. 
Cutesy Stickers
Kester Black continue to lead the charge with its range of cute, kitschy nail stickers in Aotearoa, but expect to see a whole lot more of them crop up in 2022.
Tiny nail stickers easily elevate any manicure, with a variety of patterns available to create accent nails or to customise a full set. If stickers aren't your scene, consider nail wraps, which easily mould to each nail and can be trimmed to fit perfectly for a manicure minus the mess. 
A number of prominent nail artists from abroad have also collaborated with nail polish brands on a collection of bespoke patterns and styles sure to show your digits a little international love. 
3D Designs
Tanya Barlow always knows how to push the envelope when it comes to nail art designs that defy the realms of possibility. There are many designs she does well (too many to name, in fact) but one such style that's stuck with us is this three-dimensional textured style.
The inspiration behind it? "Hard candy/vintage glassware/Ang Ku Kueh" Tanya captioned her post. 
Abstract Swirls
Swirling designs appeared our on radar late in 2021, but they're not going anywhere next year either. Popularised by TikTok and its many nail hacks, cool swirls covering the entire nail or just on the tips act as an homage to the trippy designs of yesteryear.
Modernise the look by opting for swirls in seasonal shades (muted browns and warm berry shades will be everywhere in autumn) to really help make the trend your own. 
Landscape Designs 
This is one nail art trend best left to the professionals. 
Painterly designs go a step further with undulating waves, sprawling galaxies, speckled deserts and erupting volcanoes being just a few of the landscape-inspired styles to expect from ultra-talented nail technicians. 
Share this: