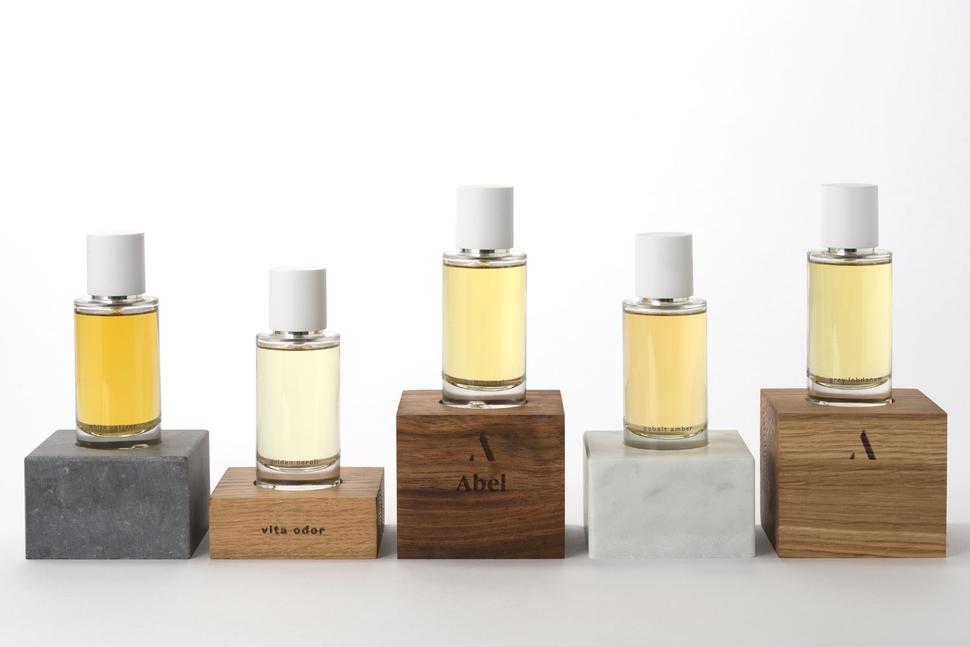 10 Natural Perfumes For Fragrance Fans To Try
The interest in crafted fragrances made without synthetic aromas and fixatives is fast growing
Wednesday Aug. 1, 2018
Fragrance fans are seeking out alternatives to the aromatic equivalent of fast fashion. Interest in ingredients echoes the move in food and skincare for healthy options. Boutique, luxury and niche scents are on the rise and while many of these cannot claim to be wholly natural, they reflect a desire for individual choice and authentic indulgence in the face of Big Perfume's marketing and price-led campaigns to woo consumers with the latest variation on a theme in a fancy bottle.
READ: How To Find Your Signature Perfume & Popular Scents Right Now
Natural perfumes remain a subset of the new wave of fragrance, but their increasing sophistication is a sure indicator the category is growing. They range from simple essential oil blends to more complex concoctions, such as those created for clients by Brazil-based New Zealand "nose" Isaac Sinclair (including for Abel Odor) and by Auckland-resident French perfumer Yves Dombrowsky, both of whom have enjoyed the challenge of revising the standard industry approaches they are familiar with. Substitutes for tricky solvents (used to help breakdown aromatics into oil) and fixatives (to provide longevity) are key as, of course, is ensuring scent sources are plant-derived not chemically replicated.
Local maker Purity Fragrances found in a survey last year that women were looking to naturals primarily because of a concern about synthetic ingredients and toxins, rather than due to sensitivities or allergies. Parabens and phthalates topped the list of ingredients of concern. "Your skin is your largest organ and what you put on it, goes into your bloodstream," says Purity founder Debbie Cope.
READ: How To Make Your Own Perfume Balm
Purists debate exactly what should be in a natural fragrance. A Natural Perfumers Guild has been set up in the United States and provides trade guidelines and for those who pay to belong, a stamp of endorsement.
At its most basic, you can easily make your own natural fragrance using a neutral carrier oil and a few drops of the essential oils that most appeal to you, decanted into a rollerball vial. For something more sophisticated and rather more expensive to create, flower absolutes and hydrosols, plant resins, balsams and gums, and natural isolates (the single aroma molecules of botanicals extracted by distillation) come into play.
To get a greater appreciation of what is involved in using these sorts of ingredients consider a perfume workshop, such as those started in Auckland by Samantha Copland and now run by her Perfume Playground across Australasia. (The next one is a ticketed pop-up in St Kevin's Arcade on August 29). Perfumeplayground.co
For non-DIY types, we've sniffed out 10 interesting options.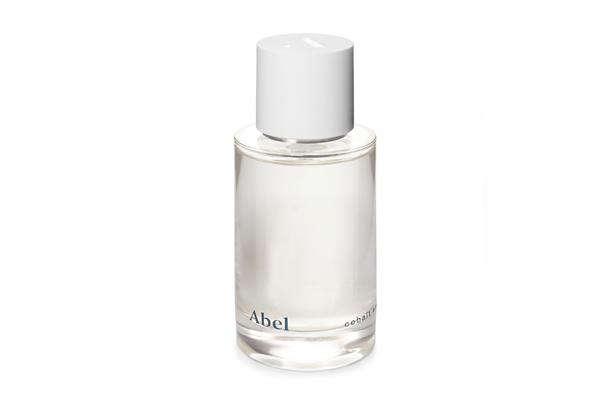 Abel Vita Odor Cobalt Amber 50ml Fragrance Spray $185 (25ml for $85)
This is the best-selling of the five scents in Abel's Living Fragrance collection. It shows why this brand, started by New Zealander Frances Shoemack when she moved to the Netherlands and contacted French-trained perfumer and fellow Kiwi Isaac Sinclair, is at the forefront of sophisticated science-based natural fragrance making. The fragrances have significantly more staying power than most naturals. Cobalt Amber is modern oriental in style, with a warm amber base enlivened with pink pepper, juniper berry, cardamom, cacao and tonka bean. Abel is sold here and overseas in selected boutiques and at Smithandcaugheys.co.nz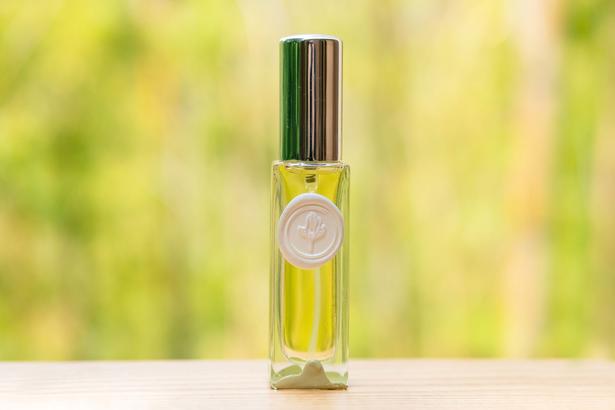 Circe Shiso Verte 50ml fragrance $160 (10ml vials for $45)
A fresh Japanese-inspired scent that shows a conceptual clarity that bodes well for a Hamilton-based start-up with ambitions to expand beyond the market circuit to exports. Amber Lenihan credits her background studying wine-making and working in vineyards and as a sommelier for sharpening her palate and sensory skills. She has created six fragrances to date, three floral, three unisex and all available in Circe sampler packs. Experimenting with using New Zealand botanicals, ranging from kowhai and harakeke to kawakawa and totora extract is part of her ethos. One to watch. Circe will be at the General Collective Lifestyle & Design Market at the ASB Showgrounds on Sunday, August 5. Circe.co.nz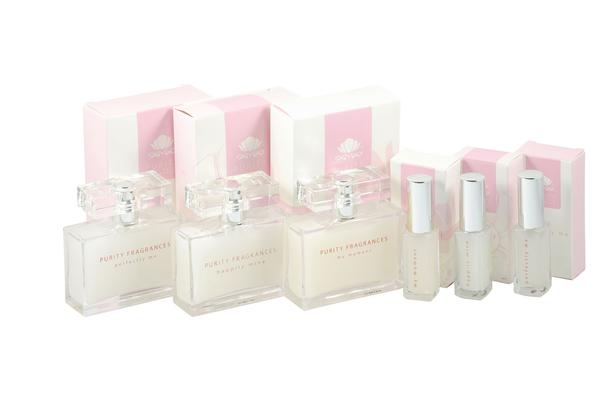 Purity Happily Mine 50ml eau de toilette $129 (9ml for $35)
Auckland woman Debbie Cope wanted to share her desire to enjoy beautiful fragrance without having to put unnecessary chemicals on the skin. She created three light feminine florals with differing moods and sought out eco-certified essential oils, an Eco-Cert validated preservative and natural dispersants for them. Perfectly Me, My Moment and Happily Mine are spring water based and ethanol free. Choose from sparkling, lush or graceful notes for a gentle embrace befitting of a bride. Sold in health and lifestyle stores, for stockists see Purityfragrances.co.nz

100Bon Neroli & Petit Grain 50ml eau de parfum $68
From the home of traditional perfumery, this is France's first 100 per cent natural fragrance brand. It wears its eco-credentials seriously, with ingredients that aren't just natural, they're harvested from sustainable sources and sold in refillable bottles in recyclable packaging. There's half a dozen 100Bon fragrances available here, in three sizes, with this mid-sized one being a zesty and luminous citrus-floral. From selected Mecca Maxima stores or at Meccabeauty.co.nz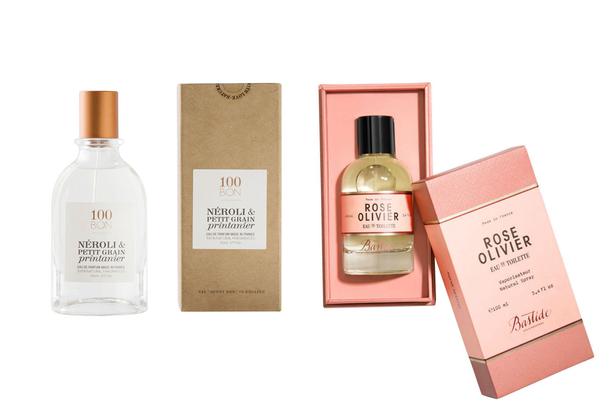 Bastide Rose Olivier 100ml eau de toilette, $207 
This evocative green-floral scent melds juicy fruit, a rosy heart and woody base notes into an olfactory exploration of the vision of olive trees with roses entwined around their trunks. The sight drawn from the Provencal landscape is typical of the approach taken by Bastide, a "slow" beauty company that believes in local harvesting and has a Black List of ingredients it won't use. You won't miss them, with Bastide indulging the senses nicely, including in fragrant body care and candles. From Mecca Cosmetica or at Meccabeauty.co.nz
Weleda Jardin de Vie Natural Perfume in Pomegranate $39.90
The Swiss company uses nurturing natural aromas as part of its approach in skincare and has spun a few of the favourites off into 50ml eau de parfum sprays. Rose is a perennial favourite, but the warm appeal of pomegranate is enticing. From selected health stores and Weleda.co.nz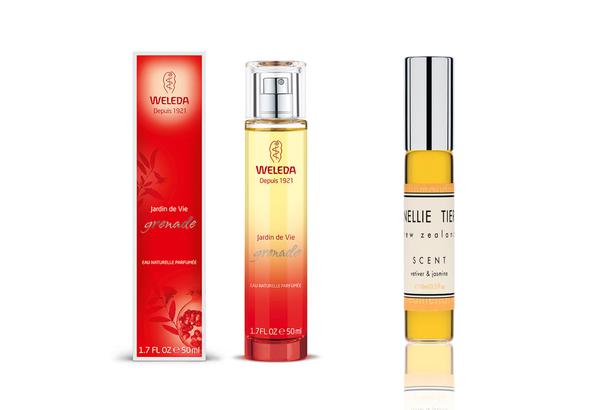 (From left) Weleda Jardin de Vie Natural Perfume, Nellie Tier Vetiver & Jasmine Scent. Photo / Supplied

Neat Perfume in Little Petal, $58
Head down the garden path with this spray on of rose, jasmine, vanilla and bergamot. Made by an enterprising New Plymouth mother looking for a more natural lifestyle. As well as two other floral fragrances, she makes Iffy Wood, a natural cologne designed for men, but with unisex appeal. (Roller oils available also for $38). Ohnatural.co.nz

Nellie Tier Vetiver & Jasmine Scent, $20.50
Intriguing warm and seductive blend, this is one of six varying mixes from the Auckland company known for its skincare and fragrant gift items. All have a jojoba base and feature interesting juxtapositions of essential oils. From selected boutiques and at Nellietier.co.nz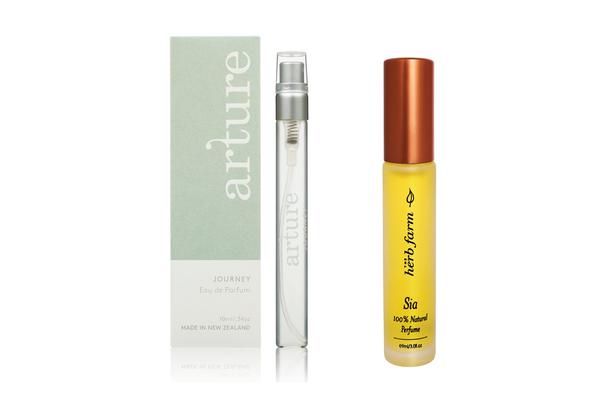 The Herb Farm Sia perfume, $25.90
This is a light fresh floral and the first standalone fragrance from the Manawatu-based natural skincare maker. It comes in a jojoba carrier oil, with ylang ylang, geranium, jasmine, vanilla and cedar notes. From Health 2000 and selected other health stores or at Herbfarm.co.nz
Arture Journey eau de parfum $50
When Arture founder Yun Liu wanted a fragrance she turned to Yves Dombrowsky to help her encapsulate the serenity and sweeping scope of the New Zealand landscape she grew up with. So we get a top note of grassy fields, a hear note of woody native forests and a base note of sweet ocean breeze, for a takeaway of Aotearoa. Arture.co.nz
Share this:
More Beauty & Wellbeing / Trends