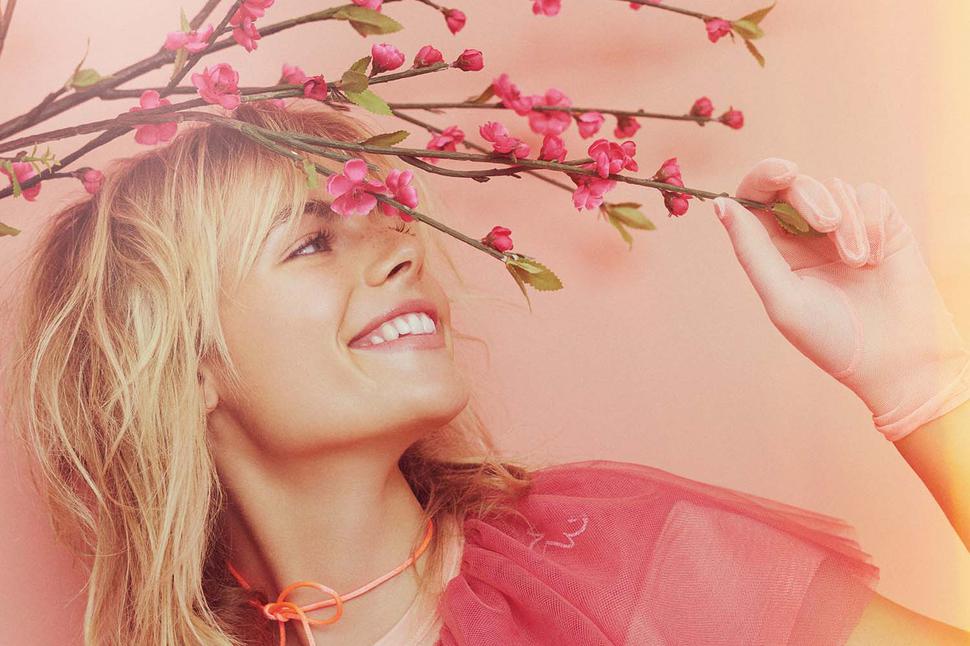 Blooming Beautiful New Fragrances For Mother's Day
Give her a bouquet that won't wilt by choosing a gorgeous new floral perfume from this season's prettiest picks
Thursday May 3, 2018
Like walking into a florist, it is easy to be confused with choice when selecting a new floral perfume. There are so many beautiful blooms. Should the flowers be a sprig of blossom or a colourful bouquet; the fragrance a delicate single note or a lush symphony?
There is no right answer of course; it comes down to a question of taste, to matching the perfume purchase to the personality and preferences of the lucky recipient. Florals range from softly feminine examples to voluptuous expressions of scent-making. They can soothe or scintillate, intrigue or allure.
The best of them manage a medley of effects as different notes emerge with the fragrance's development on the skin. The classics are loved for good reason — the likes of Chanel No. 5, Joy, Fracas, Diorissimo, Rive Gauche and J'Adore — but being open to experimenting enhances our appreciation of both the old and new.
Right now, sparkling citrus top notes and woody base notes are proving particularly popular floral accompaniments. White florals continue to entice, but are being given fresh interest by the counterpoint of cool and warm notes, such as lily of the valley with gardenia. Lovers of fruity and gourmand touches will still find plenty to satisfy their olfactory appetites, and so too those who prefer a spice, amber or musk trail.
To make navigating the varied newer designer options a little easier, we've lined up some that caught our eye to list by type. We're not using technical labels of floral fragrance sub-categories, but rather a descriptive word that conjures a mood — for what is fragrance if not a way to evoke emotion.
OPULENT
The new floral opulence isn't over-powering, but it is omnipresent in richly enveloping scents that radiate a luxurious depth.

Elie Saab Le Parfum in White is an excellent example, taking the designer's signature orange blossom and patchouli accord in a radiant modern direction. At its bright white heart, a mix of jasmine, ylang ylang and creamy vanilla settles into sheer musk, creating a virtual "scent gown" from the couturier. The 50ml White eau de parfum costs $170 from selected departments stores and Life pharmacies.
Giorgio Armani Si Passione's fabulously weighty lacquer red bottle contains a fragrance much less intense than the look and the name suggests. Like the original Si, this is blackcurrant tinged and rose centred with a patchouli base, but its overall effect is lighter, with a citrusy start and jasmine replacing freesia. Love, love the bottle, but the fruity floral juice may be more passing passion than grand amour. The 50ml eau de parfum costs $175 in selected department stores and pharmacies.
Tom Ford Private Blend Vert de Fleur recalls the 1970s penchant for wearing green florals and with it the off-kilter excitement of that hedonistic era. It's as radiant as the Moroccan sun, with hyacinth, neroli and iris underpinned by a resinous bite and a light touch of vetiver. The earthy woodiness isn't hippy heavy, this is more about sunlight and sensuality combining. The 50ml eau de parfum costs $378, exclusive to Smith & Caughey's in Auckland and David Jones in Wellington.
ELEGANT
An appreciation of the art of understated sophistication and timeless design is encapsulated in these subtly stylish selections.

La Femme Prada L'Eau is defined by its airy mix of green frangipani flower and green mandarin oil, but the overall impression is of a grown-up white floral bouquet, including tuberose and ylang ylang, with a woody base. This eau de toilette interpretation has a fresher quality and pared back spicy and fruity notes, than its original parfum predecessor, meaning it is more approachably floral in character. The 50ml costs $173 from selected department stores and Life pharmacies.
Bottega Knot Eau Florale, is, as its name indicates (and like the Prada), a more floral version of its parent scent Knot. It's well-rounded from the fashionably sunny citrus and neroli start which eases into a lavish heart of peony and rose and settles in the warmth of tonka bean and cedar. Traditionalists will enjoy a touch of lavender. The 75ml Florale eau de parfum costs $210 from Smith and Caughey's.
Ralph Lauren Woman presents as a celebration of clean lines and pulled-together charm, as you would expect from this American classicist. This floral woody melding, with tuberose and sandalwood to the fore, is a confidently feminine combination. The 50ml eau de parfum costs $165 from department stores and pharmacies.
PLAYFUL
The appeal of feminine and fun fragrances that make you smile is a reminder that girls of all ages like sweet treats.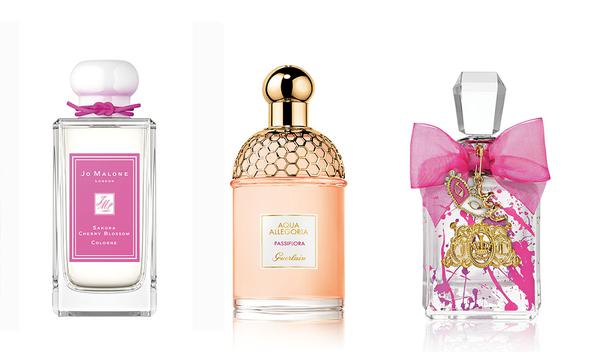 Jo Malone London Sakura Cherry Blossom is one of a trio of fragrances celebrating how the seasonal sight (and smell) of blossoms lifts our spirits. These airy florals each have their own charm, nodding to the flowering of Japan's juicy plum, then its prized cherry and lusher nashi pear trees. The pale pink queen of blossoms is the Sakura cherry, a delicate ode to spring, subtly layering blossom, rose and violet notes. The cologne is a 100ml size, priced at $232 from Jo Malone Britomart, Westfield Albany, Smith & Caughey's stores and online at www.smithandcaugheys.co.nz, and also at farmers.co.nz, David Jones, Wellington and Ballantynes, Christchurch.
Guerlain Aqua Allegoria Passiflora is the refreshing hit of summer we all crave as winter approaches. Think of it as a sorbet for the senses. This sparkling scent is sunny and invigorating, with the smooth charms of ylang ylang flowers balancing succulent passionfruit. The 75ml eau de toilette costs $113 and is available at Smith & Caughey's, David Jones and Ballantynes.
Viva La Juicy Soiree may look like the sort of OTT spritz to splash out on for a teenage slumber party, but this Juicy Couture fragrance franchise has earned its adult following for doing musky white florals rather well. The Soiree update caught our eye with the unusual addition of kiwi in its fruity top notes. These lead to a creamy jasmine and amber confection. The 50ml eau de parfum costs $150 from Farmers and selected other department stores and pharmacies.
PRETTY
Pretty is high praise when it comes to florals, descriptive of delicate disposition and pleasing symmetry rather than anything too showy.

Coach Floral is a lovely composition that will hit the right notes for romantics young and old. Like the original Coach fragrance, Floral has tea roses as a signature, with jasmine joining gardenia in the bouquet. A light fruity opening and musks and woods to linger on, may sound like the usual surrounds, but here there's nothing screechy or heavy-handed, just a delectably fresh top of citrus pink peppercorn and pineapple and the lightness of crystal musks to round out something rather sweet, but also quite sophisticated. The 50ml eau de parfum costs $125 from selected Life pharmacies, Smith & Caughey's, David Jones and Ballantynes.
Miu Miu L'Eau Rosee avoids the old-fashioned trap that rose scents can fall into, thanks to a dewy freshness. There's citrus and cassis for a start and a hint of lusciousness from peach and pear, plus a certain lightness of touch from peony and, of course, the lily-of-the-valley that gave the original Miu Miu its signature note. The 50ml eau de toilette costs $150 from selected department stores and pharmacies.
Van Cleef & Arpels Collection Extraordinaire Gardenia Petale is a graceful exploration of the life cycle of the gardenia. This is expressed in fresh green notes that open into lily-of-the-valley and jasmine before the gardenia unfurls in all its glory - graceful and feminine. The 75ml eau de parfum costs $230 and is part of a collection of florals introduced exclusively in New Zealand at Smith & Caughey's.
FLORESCENT
This is a fancy word for the state of flowering, borrowed from botanists by perfumery and handy to describe full-blown florals.

Dolce Garden is an exotic offshoot bloom. The original Dolce was a musky white floral in a green bottle, then came a rosy interpretation, with Garden being an overt homage to Italian seductiveness. Sophia Loren would have worn it well. Think sun-kissed mandarin, white florals, including frangipani, all cascading into a floriental gourmand embrace of potent vanilla, almond milk and sandalwood. The 50ml eau de parfum costs $134 from department stores and pharmacies.
Bulgari Splendida Magnolia Sensuel is richly enticing. The fragrance celebrates the short life and intense aroma of the magnolia flower, and is the fourth Splendida, after iris, rose and jasmine editions. The stealth wealth burgundy bottle is a signifier that this has velvety depths, with white florals, musk and moreish vanilla. This is one for winter evenings out. The 50ml eau de parfum costs $172 from department stores.
Viktor & Rolf Flowerbomb Bloom doesn't surprise with quite the olfactory assault as the original grenade-shaped Flowerbomb. That exploded notions of what a floral should be, with its sweet-shop addictiveness. The new Bloom eau de toilette follows the current mode for amped-up fruits, using juicy pomegranate, and a squeeze of citrus, but retains the heart of rose, freesia and jasmine. The innovation remains, however, with the debut of a synthetic molecule said to capture pure mountain air and used to inject a fresh note into this floriental. The 50ml costs $139 from department stores and pharmacies.
Share this:
More Beauty & Wellbeing / Features & Profiles