Olympia Le Tan x Lancome Collaboration
Designer Olympia Le Tan has a passion for books, embroidery and retro style, all of which come together prettily in her first cosmetics collaboration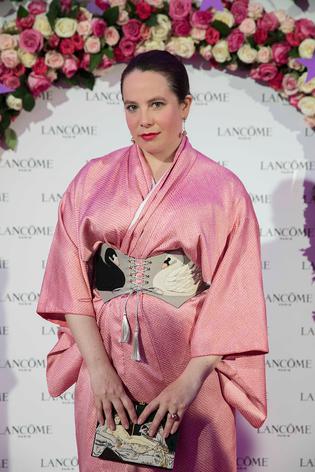 Quirky French designer Olympia Le Tan is best known for her minaudiere. These charming little box-like clutches have become highly collectable and often feature book covers, picked out in embroidery.
The combination is explained because reading and sewing are two of her favourite pastimes. Now her crafted approach has found a new outlet in another of her passions — makeup.
Olympia has worked with Lancome on a gorgeously girly limited edition collection of cosmetics. It includes minaudiere-style compacts and palettes that open like an illustrated storybook.
These are embroidered and in her favourite shade of pink, decorated with her drawings. The name of the collection is Olympia's Wonderland and its lead character is the designer's reworking of a 1935 Lancome symbol of a cherub into a cheeky bespectacled angel.
Here, Olympia elaborates on her inspirations.
Lipstick love
My love affair with lipstick started when I was 14. But never in beige shades — it has to really stand out. Apart from very red lipstick every day, I put on a bit of mascara and blusher.
I was pleased to find [in the Lancome archives from 1980] a lipstick called Olympia. There was also a gorgeous powder compact from the 1950s, with a ribbon, which inspired the design of the blusher that's in the palette.
GALLERY: 12 Plush Powder Compacts
My vision of femininity is a bit retro. I get that vibe from Lancome as well. It does glamour in the Hollywood vein. I love that 50s aesthetic that veers towards the pin-up.
I really like Veronica Lake, Bettie Page, Marilyn Monroe, and Lauren Bacall. These women I came across in films and books. I grew up in a household where there was this sense of nostalgia.
The 1980s also really appeal to me because, again, they were channelling that 50s thing, but with a sexier undertone.
By the book
The idea for the book minaudieres first came because I really like the graphic covers of American novels from the 40s and 50s. My dad had loads of them, and I thought they'd look great in embroidery.
I have reinvented a few, but generally I prefer to reproduce the authentic covers.
There are different kinds of customer. Some buy a design because they like the graphics, some want a minaudiere because they're in fashion, some choose their favourite book — these people make up the biggest group.
[For the makeup palette] I didn't think we'd manage to create such a pretty piece made from embroidered fabric. In all the [brand and fashion design] collaborations I've done so far, this is the first time we've managed to produce an embroidery. It really does look just like one of my minaudieres.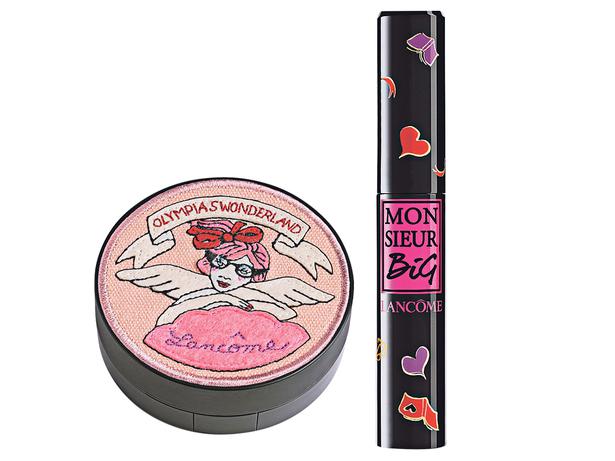 Where it began
My grandmother taught me to sew and I learned to paint from my grandfather. My grandfather was a Vietnamese painter called Le Pho. He did traditional painting on silk. I'm the third generation of my family that draws.
When I did a work placement in a big-name fashion house I picked up the fabric remnants to make myself some bits and bobs, and then one day some of my parents' friends asked me to make them bags and accessories. That's how it all started.
The notion that runs through all of my collections is the connection with craftsmanship, expertise, and the quality of things made by hand. There's also that combination of naivety and cheekiness. And every season I add a theme. I guess my inspiration just comes from life, really.
"I like having pretty porcelain and embroidered cushions. I've been told my home reminds people a bit of being at their granny's. There are all sorts of things, like toys, Bettie Page figurines and children's drawings.
READ: Hatmaker Lindsay Kennett's Star Quality
"I find sewing and embroidery relaxing. I also really love getting stuck into the tiny detail, doing painstaking work to see how far I can go with it, making things that are so tiny you can't even see them — but you yourself know that they exist.
I give each collection and garment a name.
Wearing it well
I design for my fantasy of myself! I come up with loads of things that I could never wear, that wouldn't suit me at all — but that I'd love to be able to get away with.
Luckily I'm starting to know myself better and I'm more aware of my age and my body shape, so I add little things that I really can wear. It would be a shame if I couldn't dress in my own brand.
Men don't always understand what you can and can't wear. They don't realise that corsets aren't very comfortable.
READ: How Flamingo Fashion Went From Kitsch to Cool
I prefer to have 'real women' [in my campaigns] with personality and character, rather than conventional models.
But I'm not making a point about body shape or size. It's just that the women who capture my interest have bodies that suit who they are, that's all.
• The Olympia Le Tan x Lancome collection is on counter in selected department stores and pharmacies from Monday.
Share this:
More Beauty & Wellbeing / Features & Profiles