How to Get in the Mindset of a Winner
Sporting success isn't only about muscles and diet - real victories are made in the mind. Find out how strategies used by athletes in the Olympic arena can help the rest of us to win in life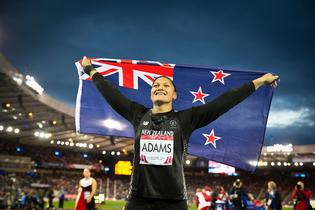 "Get out strong. Commit" were the words that runner Lynsey Sharp had written on the back of her hand in bold black marker pen just before she ran the final of the 800m Commonwealth Games in 2014. Prior to the race, she hadn't slept for 12 hours, having spent the night throwing up, with a drip in her arm. And yet, she went on to bag silver for Britain.
Meanwhile, cycling super-hero Chris Froome, who just last week brought home the Tour De France for the third time, attributes his wins as much to mental attitude - his by-words are 'hunger' and 'determination' - as physique. "It's about the body only up to a certain point," he has said. "There comes a point that you're so far into the red and so far over your limit that it turns mental. It's a mental game."
But is such mental grit something only an elite few of us are born with, or can it be learned? As the 2016 Olympics kick off in Rio, athletes and their psychologists share tips on thinking yourself to victory.
Forget the competition 
Dr Steve Peters, psychologist and author of The Chimp Paradox has provided mind training to Chris Froome, along with Sir Chris Hoy and Bradley Wiggins. He tells riders: "You cannot say, 'I want to be the best cyclist in the world', because you have no influence over your opponents. You can say, 'I want to be the best I can possibly be and devise a plan to achieve that aim'."
Winning your own race is something Team GB sprinter Martyn Rooney knows only too well. Last month, he won gold in the 400m in the European Championships, bringing him closer to a medal dream for Rio. But then, there's Usain Bolt.
"There are superhumans out there and if I try and race them, I would die a horrible death," says Rooney. "I can only focus on my own lane and my coach [Rana Reider] has for a long time worked on getting me to focus on myself and running the way I trained to run.
"Being honest with yourself about the competition and your own level is important for any athlete. For me, getting to the 400m final will be as good as winning the European championships - that's my goal. Though amazing things could happen."
In fact, forget winning altogether
All the athletes will have their own pre-performance routines to help them cope with the extraordinary pressure, says Dr Kate Hays, Head of Psychology at the English Institute of Sport. Part of their psychological preparation environment, is daily 'pressure training' in which the competitive situations at Rio are enacted to help the athletes develop the psychological responses and coping mechanisms they will need in competition.
For each athlete, that will look different and could involve anything from thrash metal music (Metallica's St. Anger still gives Rooney goosebumps: "As soon as I hear it, my heart rate starts going up wherever I am," he says) to mindfulness meditation or positive visualisation.
READ: Gemma Flynn's Morning Routine
Visualise winning
What that usually won't involve, however, is imagining themselves winning - at least not at the last minute. "In the immediate point where you're about to perform, it's not helpful to focus on winning but about the performance you want to elicit," says Dr Hays. "It's not ideal to visualise the outcome of the event because that is something you can't control and just creates uncertainty and anxiety."
Anatomise your goals
There are three factors athletes use in setting their intentions, explains Rebecca Symes, a sports psychologist currently working with Team GB Paralympics. Outcome goals, which are about the long-term and might be about winning or getting to the 400m final. Performance goals, which are more specific, for example, a particular time they want to achieve by a certain date. Finally, process goals, the small daily things they need to do such as their pre-race routine, the amount of water they need to drink and how much sleep they will get.
"You need all three goals to feel you have control but as you go along, you would focus much more on the process goals and trust that if you achieve the smaller goals, that will help you achieve your performance goals which will then help you achieve your outcome. You can't focus on the winning day-to-day but the tiny things you have to do in the process of getting there."
Cement true confidence
When twice world champion triathlete Helen Jenkins finished fifth at the London 2012 Olympics because of a knee injury, it was a terrible blow to her confidence. "I was battered emotionally after that and there have been moments when I didn't know whether I could keep going," remembers Jenkins, who has worked with sports psychologist Louise Jones for ten years. "That's why I have been focusing on only the next block of training, or the next race, and not really allowed myself to even think about Rio."
But in April this year, that all changed when the 32 year-old won the World Triathlon Series on Australia's Gold Coast, qualifying her for the Olympics. "That race was a huge confidence boost for me and proved to me that I can compete at the highest level again. For me, confidence is about using every victory - big or small - to give you the motivation to do it again."
READ: Sport-Friendly Beauty Products
Indeed, three things can help increase confidence, says Symes, and this applies not only in athletics but also in life. "Having a degree of control over what you're doing, which for athletes means being involved in their training; feeling connected to those around you with a good support network, so you know who is in 'Team Me'; and using past experiences in which you have succeeded to boost motivation. Remembering victories from the past allows you to instantly access confidence through pain or difficulty."
- The Daily Telegraph
Share this:
More Beauty & Wellbeing / Wellbeing