Our favourite fragranced soaps
There's something simply charming about sweet-smelling soap, writes beauty editor Janetta Mackay, whether to wash with or tuck away in a drawer.
Thursday Sept. 25, 2014
When I was a little girl, shopping for my mother, grandmother and aunts usually involved a trip to the chemist to dig about among the bath salts and soaps for an inexpensive prettily wrapped gift. These items are harder to find nowadays, with the shift to using body wash in the shower, but they still make terrific little tokens.
Better yet to buy if the fragrance has a nostalgic aroma. Lemon verbena is one of my personal favourites.
From memory, Granny usually got landed with lavender, maybe because she grew it, so I figured she must like it. It still holds true that lavender is a comfortingly familiar fragrance, especially to the older sector of the market, although beauty companies tell me vanilla appeals more to younger consumers. The latest thing is for fragrances across all body cleansing products to echo trends in perfumery, meaning we are seeing a move away from fresh single-note citrus scents to more complex blends.
New Zealanders have been slower to forgo soap for liquid wash than Australians, with the sales split here about 50-50. Soap sales are, however, melting away year on year.
Before finding soap becomes a stretch, why not remind your loved ones that it can be a treat.
If you're feeling flush you could splash out on a cake of Chanel but there's plenty of choices to be had that aren't at designer prices. Seek them out in pharmacies, department and gift stores. If you're not choosing on fragrance, then packaging is likely to be the decider, here's some options that caught our eye.

Claus Porto Aguia Vetyver Bath Soap and Claus Porto Argus Sandalwood Soap$20 each
This much milled, air-dried soap is made in Portugal in traditional style and contains shea butter for added softness. The choice of wrappings and fragrances, from a company that has been making soap since 1887, have an old-fashioned appeal. From World Beauty stores and Isabel Harris, Newmarket.

Fragonard soap $22.50
The boxed French soaps from long-established Grasse-based Fragonard are beautifully presented, embossed with botanical imagery and infused with the perfumes the company is known for. From Isabel Harris, Newmarket.

MOR Blood Orange Triple-Milled Soap $24.99
This tissue-wrapped soap comes from MOR's Emporium Classics line, which also includes hand cream, body wash and lotion and home fragrances in five choices from a Melbourne maker. The blood orange is softened with floral notes from jasmine, rose and lily-of-the-valley. From Redcurrent, selected gift and department stores and morboutique.com.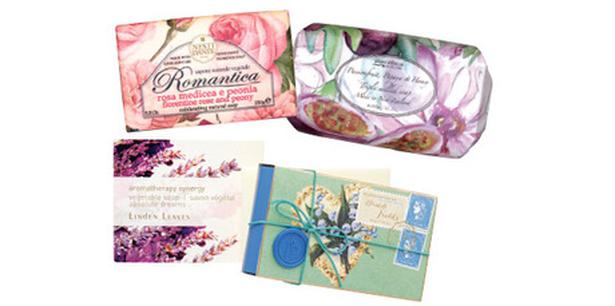 Nesti Dante Romantica Rose & Peony Soap $14.95 
Florentine-style floral paper is used to wrap these Italian-made soaps, which would slip prettily into a lingerie drawer. The company was founded in 1947 in the city where soap-making became a recognised craft with a soap-makers' guild set up on Via dei Saponai (Soapmakers St) during the Renaissance. From Isabel Harris, Newmarket.

Pacifica Passionfruit, Papaya & Honey Soap $15.95
This large-sized soap is enriched with almond and jojoba oils and cocoa butter. For stockists, including Acquisitions and Flying Saucers stores, 
see pacificaskincare.co.nz.

MOR Correspondence Bluebells Fields Soap $19.95 
Celebrate another sadly contracting art with this soap, which recalls the era of letter writing. There are nine differently enveloped fragrances. From Smith & Caughey's, selected gift stores and online.

Linden Leaves Absolute Dreams Lavender Soap $14.99 
Eco-friendly vegetable inks are used on the paper that wraps this vegetable soap, which features added organic rosehip and avocado oils and a lavender, cedarwood and orange fragrance. There's matching body products and several other fragrance choices from this Christchurch-based gift company. Find stockists or buy online.

Banks & Co Citrus Cassis Soap $9.20
Along with shea butter and almond oil this soap gains moisturising properties from New Zealand manuka honey and flax seed oil. Cassis intermingles with citrus top notes, lavender and a base of clove and nutmeg. See pacificaskincare.co.nz.
Share this:
More Beauty & Wellbeing / Wellbeing