Surfer Paige Hareb's Beauty Routine
New Zealand's top female professional surfer tells us how the ocean has influenced her casual approach to beauty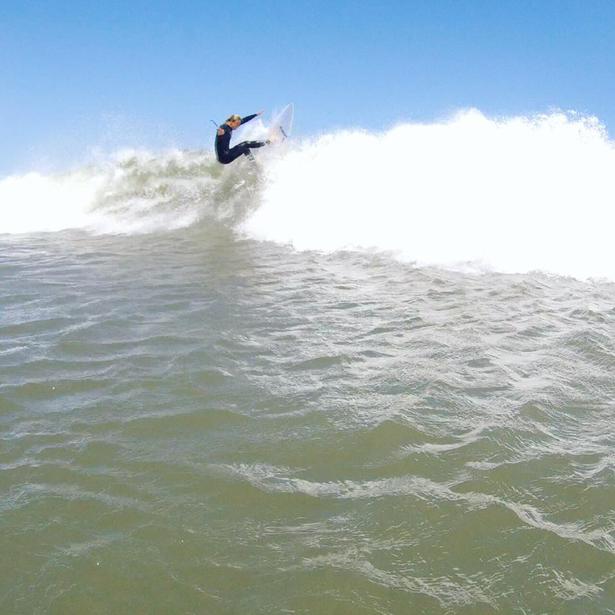 Tuesday June 6, 2017
Beachy hair isn't a beauty trend for Paige Hareb, it's an occupational hazard. "The amount of actual dreads I've had over the years from surfing and ripped them out would make a hairdresser scream," she laughs. "It gets very knotty and very dry."
The 27-year-old professional surfer from Oakura Beach in Taranaki was the first New Zealand woman to qualify for the ASP (Association of Surfing Professionals) women's world tour, back in 2008. She has since ranked in the world's top 10 and has made a strong start to overseas competition this year to snare a place on the elite World Surf League.
The sun-bleached natural blonde, who has a relaxed approach to her look, is passionate about the ocean environment she spends so much time immersed in. She has teamed up with Trilogy to speak out about microbeads - tiny polluting plastic particles still widely used in beauty products. Trilogy has never used these particles, and while a number of companies have stopped formulating with them ahead of a New Zealand ban that takes effect in mid-2018, many products containing the beads are still on the shelves. With World Ocean Day falling on June 8, Paige is keen to raise awareness about the issue.
"As a professional surfer, I have a special connection and respect for the ocean and the animals that call it home. I've surfed around the world and have seen some crystal-clear oceans, as well as some water that is horribly polluted with plastic waste. If everyone did their little bit to help, it would make a huge difference," she says.
Paige is urging a more eco-conscious message in making microbead-free product choices. Her own awareness about beauty choices has led her to favour a natural approach for a relaxed surfer-girl style. 
Beauty ethos
Growing up I didn't think too much about beauty. I was a bit naive and just used whatever my mum had or what I could find on the supermarket shelf.
As I've gotten older, and after spending so much time in the ocean, I've realised that it's pretty important to look after my skin. It gets both oily and dry, so it was hard to find the right balance in products. Now I'm all about natural skincare. Natural just feels better on my skin, and I feel better for it because of the minimised impact it has on the environment.
Dealing with the elements
Yeah, it can get pretty tough dealing with constant sun and wind exposure. As a surfer, I'm in the water and elements every day. You just have to do the best you can to look after your body and skin as much as you can. I always make sure I put sunblock on my face every single day, sometimes up to four times a day.
I use Ella Bache foundation zinc to protect my face. It's thick, so I spread this over a base sunblock. I also swear by Trilogy's Everything Balm for my lips and hands and any dry spots. This really helps. I'm now getting bad eyes from too much sun exposure too. This is called Pterygium or "surfers' eye" which I may need an operation on at some stage, but I wouldn't change my lifestyle because of it.
The first time I wore makeup was ...
When I was 16 and went to my high school ball. It was super plain but I remember being pretty impressed about how much of a difference just some mascara made. I think [it was partly] because my eyelashes had become so blonde from being in the sun and sea.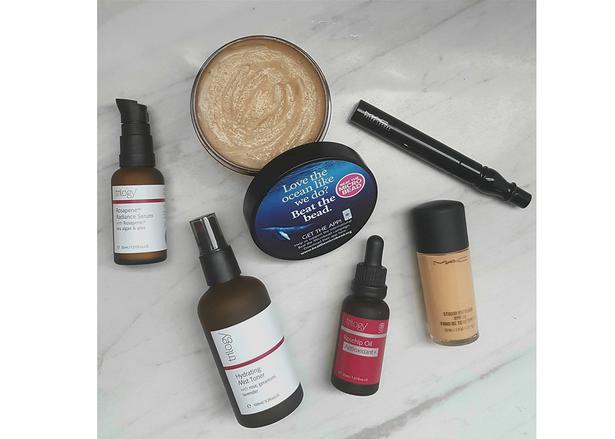 Top five beauty products
1. Trilogy's Gentle Facial Exfoliant – This one I use every time in the shower. It helps get my sunblock off and clean my pores.
2. Trilogy's Exfoliating Body Balm – I've been through a bunch of other products like this, but this one instantly makes my skin feel so unbelievably smooth. I love it!
3. Trilogy's Rosehip Oil + Antioxidant – After a big day on the ocean and in the sun my face can feel pretty dry and crispy, so my skin loves soaking this product up.
4. M.A.C Studio Fix Fluid – I like M.A.C makeup, its foundation provides a natural look, but makes a difference. It's quick and easy to put on too. I like to keep it simple. 
5. M.A.C False Lashes Extreme mascara and Technakohl Liner in the Broque colour – I like the contrast it has with my blue eyes. Again, another quick and easy go-to that makes a subtle difference to my look.
Everyday care routine
I've got my morning and night routine down. First step is using the Trilogy Gentle Facial Exfoliant to clean my skin, followed by the Trilogy Hydrating Mist and Trilogy Age-proof Eye Recovery Concentrate. I just roll it on around my eyes and on my crow's feet, hopefully to stop them from getting worse.
Then I use Trilogy's rosehip oil and its Rosapene Radiance Serum. This last one really seals the deal. I feel like my skin is a lot more radiant and glowing after using these products. I absolutely love and recommend them.
Day-to-night beauty look
I'm a pretty casual dresser - I am a surfer after all, and currently answering these questions in my trackies and Ugg boots. I do like to wear a dress and heels occasionally though. Style-wise, I like New Zealand brand Moochi, and also can't go past Zara. My beauty look is still pretty minimal. Clean skin, M.A.C foundation, a little bit of mascara and Pixi bronzer, and I'm good to go.
Style icons
No any icon in particular. I do think I end up dressing a lot like my mum. She has cool style - casual but always looks smart. I like to pick up style inspiration from places I visit through surfing, such as Spain - I find myself adapting to how they dress there. I was in Japan recently and they have some pretty funky ways of dressing too; although probably a bit too crazy for me. 
Best beauty trick
Because I wear so much sunblock and zinc every day, the best thing for me and my skin is to cleanse. Zinc and sunblock can be pretty clogging, so it's important to clear my skin at the end of the day. I also drink lots of water. I find it crazy how much of a difference drinking water can keep my skin feeling healthy.
Style and beauty evolution
My approach to beauty has definitely evolved in later years. It's gone from grabbing whatever was the cheapest product on the shelf, to really taking note of what I put on my skin and the impact products have on the environment. I am very conscious of choosing natural products for my skin, and avoiding products that contain plastic beads. These go straight from the drain to our oceans which doesn't sit well with me. 
Hair
I was born with jet-black hair. By about the age of 3 I was blonde, after going through a quick strawberry transition stage. My hair dries dead straight, so I don't really do anything to style it. I do go through a lot of conditioner though, to get knots out of my hair and keep it feeling moisturised. If I had a dollar for every time someone asked me if my hair is natural or if I dye it, I would be a very rich lady.
Travel beauty tips
I'm casual when I travel because I like to be very comfy and let my skin breathe. It's hard on long plane rides to look after my skin with all the products in my routine, and I travel light. I find face wipes are really handy - they keep my skin feeling fresh. I also use a moisturiser and spritz hydrating mist for a pick-me-up. And I always drink lots of water.
Share this:
More Beauty & Wellbeing / Features & Profiles