How to Achieve the Perfect Party Lip
A great lip look is the easiest way to perfect your party makeup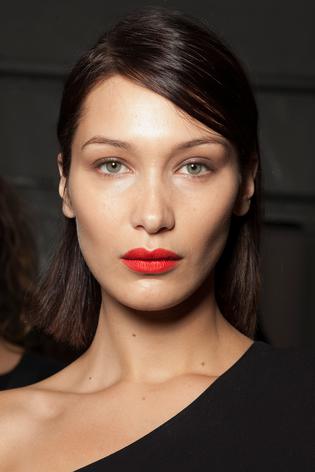 A black top, a red lip — evening sorted in an instant. Call it the lazy woman's way out, or the busy woman's smart standby, but the reason the classic look is so enduring is it "pops".
Switch the red for nude and add a little eye interest for more subtle sophistication. Of course, you could also spend an age contouring, but if your skin is in good nick, a light face base and a little illumination is all you'll need to go from day to night.
The advent of liquid lipstick has made evenings even easier, thanks to this impactful formula's ability to deliver strong, lasting colour with a light feel and a plush look.
Lining, blotting and powdering all have their place in lip land, but unless you're going under the zoom lens, it's easier to swipe and go. That's why our focus for this party season is so lip-fixated.
Super shiny lips continue to pop up on the runway, but easier by far for stickability is the more matte approach to liquids. At their best these dry down to a velvety or suede-like allure.
The metallic trend also translates from fashion to functional, offering sheen, without stickiness, making it perfect for parties.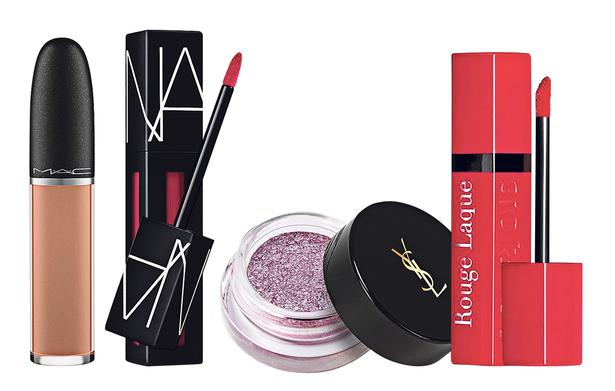 M.A.C Retro Matte Liquid Lip in Cafe au Chic $50
New muted and deep colours have been added to this range, which was one of the first of the liquid lipsticks to market. Nude fans will be pleased with the widened selection of brownish taupe through to pink-mauve shades for a lasting neutral lip. Of course, the retro brights and just bitten reds remain. The formula is very fluid, so requires care when filling in the lips.
Nars Powermatte Lip Pigment in Warm Leatherette $41
Once you lock lips with this, you'll love it. With 20 colour-saturated liquefied pigments — extending to black — to choose from, you'll want more than one shade. The feel is flexible, the wear impressive and the packaging sexy — just like the campaign images, featuring Bella Hadid.
READ: How to Be Bold with Makeup
YSL Couture Hologram Powder $56
A dusting of this over the lips or lids adds a whole new dimension in sparkle and shine, but its primary purpose is to lift your complexion into the stratosphere. Influenced by disco days, it's part of YSL's fun Night 54 collection, reason enough for us to say add it to your dance party hit list.
Bourjois Rouge Laque in Framboiselle $23
French brands always do good reds — they're a Parisian girl's staple. Bourjois do it economically as well, first with the matte finish of Rouge Velvet, and now the satiny shine of Rouge Laque, which delivers an especially light-feeling slick of saturated stain.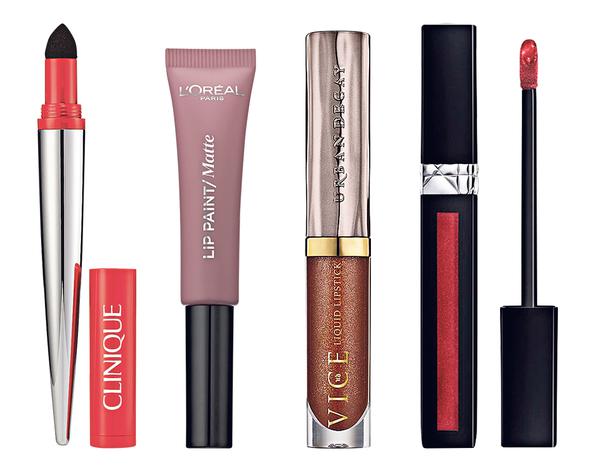 Clinique Pop Lip Shadow in Crimson Pop $49
Surely one of the newest lip effect products around, this cushion matte lip powder gives the on-trend diffused velvety look without all the makeup artistry faffing around with dual colours or powdering down. A fat foam tip dispenses a vibrant creamy pigment with a powdery lightweight finish that doesn't cake.
L'Oreal Paris Infallible Matte Nude Lip Paint in Nudist $24
Four opaque nude shades give neutral options for varying complexions in an extension to a range that already boasts brights. Like the Bourjois, this is not the longest-lasting of the liquids, but the flip side is it's less drying. And, perhaps, French girls are just more prepared to do touch-ups.
READ: Victoria Beckham's Makeup Tips
Urban Decay Vice Liquid Lipstick in Shadowheart $32
The disruptor brand's favourite Vice Lipstick has gone fluid in a comfortable, yet waterproof formula with good transfer resistance. From soft to statement, there are 24 adventurous shades to select from, in finishes ranging from matte to metallic. A bronzed option like this nicely bridges the gap between neutral and bold.
Rouge Dior Metallic Liquid Lipstick in Poison Metal $62
Dior's new matte and metallic liquid lipsticks have a great creamy feel. This will appeal more to wearers of traditional lipsticks than those who favour the lighter fluid feel. A well-shaped doe-foot applicator gives good glide-on. While the lush lipstick isn't completely budge-proof, importantly it doesn't bleed at the edges. The comfort factor and classic colours, some with subtle metallic sheen, are a big plus.
Stockists: M.A.C, Bourjois from selected Farmers, YSL, Clinique, Dior and L'Oreal from selected department stores and pharmacies. Nars from Mecca Cosmetica and Mecca Maxima stores; Urban Decay from Mecca Maxima.
Share this:
More Beauty & Wellbeing / Trends