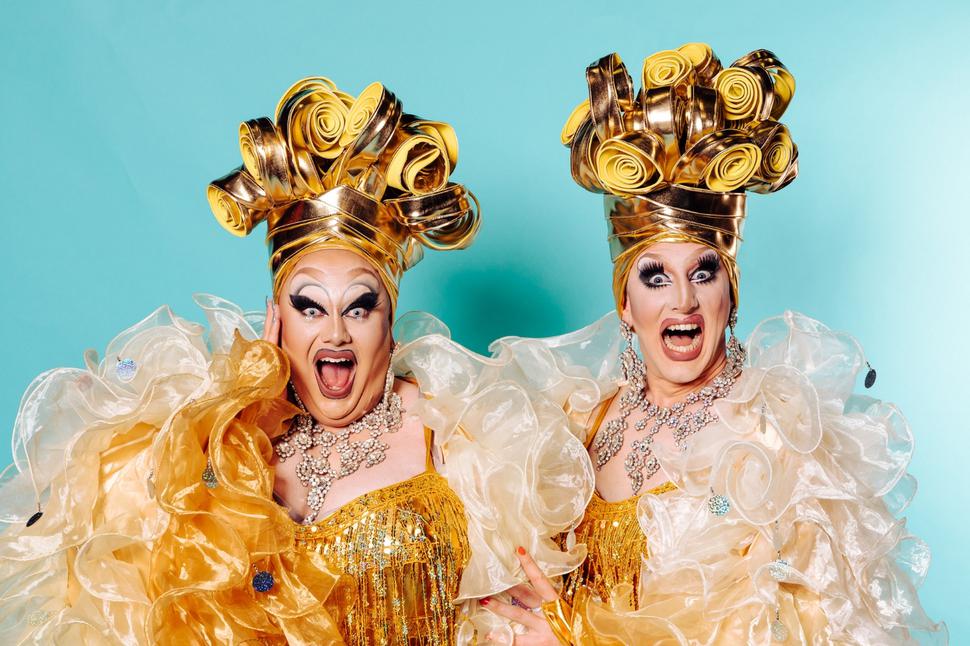 Party Makeup Tips From New Zealand's Top Drag Queens
There's no shortage of glitter, gloss and glamour inspiration from these House of Drag stars
Tuesday Dec. 11, 2018
They make their living out of looking good. They're no strangers to sequins, glitter, false lashes and acid-bright hues. Going bold is a drag star's business.

More than that, they're used to dancing under harsh club lights, and belting out ABBA tunes until the early hours — meaning it takes some serious time and skill to keep their makeup intact.
There's a lot we could learn from New Zealand's drag community when it comes to makeup. Given that the party season is upon us, we figured there's no better time to glean their tips and hacks to perfecting a beauty look — both on and off the stage.
Viva beauty writer Ashleigh Cometti shoulder tapped four Kiwi drag stars from TVNZ On Demand's new reality series, House of Drag, on how they prep their makeup to last as long into the night as they do.
KITA MEAN
On her signature drag look
A traditionally campy drag face with blended eyebrows positioned somewhere in the middle of my forehead, an OTT black winged liner paired with a dramatic black lip line and matte lips.
Five favourite products
1. The original beauty blender. If your beauty blender is clean and damp, you will get the most flawlessly blended contour you could ever imagine.
2. Inglot Duraline. This mixing liquid is epic. It will turn any of your favourite products into a liquid makeup that will dry to a waterproof finish.
3. Kryolan TV Paint Stick. This is the best makeup I have found for drag makeup application. It is super heavy coverage, comes in so many great shades and lasts forever.
4. Urban Decay All Nighter Setting Spray. I am a serial sweater and this setting spray will keep my face on from the cocktail mixer at 6pm right through the nightclub performance at 1am.
5. Ben Nye Lumiere Eyeshadow Palette. This palette comes in all sorts of bright, fun colours that all have an intense shimmer to them. Super fun to play with.  
Beauty motto 
More is more!
Chiselled cheekbone secrets
I use three shades of blended foundation for my base, then I will set it with translucent setting powder before re-carving it out with a dark pressed foundation powder.
Hiding a hangover
Fake it 'til you make it! With drag makeup, you can literally cover your panda eyes with a heavy coverage foundation and paint on an upturned smile. For everyday situations, I would use a gentle makeup cleanser to get all of your makeup off and squeeze in a face mask before you have to face the world again. 
Words to live by
"It's all about self-expression; you know if you feel like a troll then you should look like a troll. It doesn't matter what you look like. I mean, if you have a hunchback just throw a little glitter on it, honey, and go dancing!" – James St. James.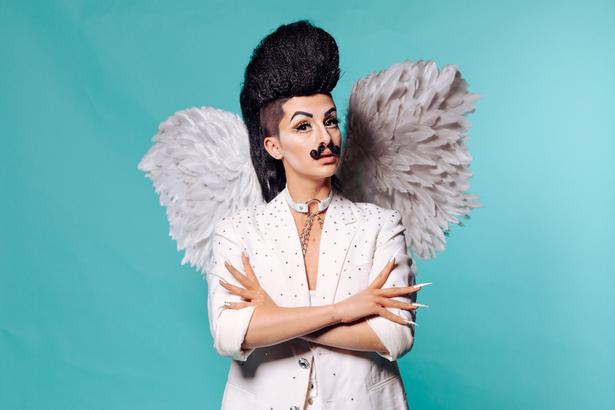 HUGO GRRRL
On his signature drag look
Glitzy, camp, circus ringleader is probably the best way to describe my look. I'm all about sharp contour, harsh hairline, and lots of highlighter. 
Spend or splurge
A good black liquid liner and foundation are a must, but for everything else I go cheap. I use a BH Cosmetics palette for contour and I buy my eyeshadow as singles to save money. 
Colour palette picks
I swear by orange. Drag king makeup can very easily start looking dusty and grey (as masc contour drags the face down) so orange is a great way to keep your face warm while not making it too feminine. 
Beauty motto
Do it fast. Saving time is always smart on a show day. Bad things happen if you over analyse your face for too long and add too much or try something different last minute. You'll look the same (if not better) doing a 40-minute face as you will a three-hour face.
Chiselled cheekbone secrets
After bronzing, I go in with a dark warm brown eyeshadow on a small fluffy eye brush to carve out the deepest point and then I feather up to blend it into the cheek. A great tip for a masc face is to pop out your jaw bone and I do that by making a half circle of bright highlight underneath that contour and I use a pearl white by Kryolan on a packing brush to get that shape nice and clean.
Beauty icon 
Right now, Ezra Miller. 
ANITA WIGL'IT
On her signature drag look
I try to look equally feminine and OTT, I use a whole range of products to achieve this, I start with basics from Kryolan and Ben Nye (spirit gum, foundations, setting powder) and then finish with a variety of products usually purchased from dollar stores and discount makeup shops.
Five favourite products
1. Kryolan Paint Stick. A heavenly thick foundation. Forget Covergirl, this is cover boy.
2. Ben Nye Setting Powder. This powder locks your foundation in and is great value for money.
3. Kryolan White Eye Shadow. Very pigmented and therefore very vivid.
4. A trusty beauty blender. It creates a stunning blend and makes you feel that you are back in primary school doing a sponge painting!
5. Jeffree Star Lipsticks. They offer incredible colour and lasting results.
Spend or splurge
I'm Jewish, I skimp on everything! My guilty pleasure, though, is using an obscene three pumps of Urban Decay silicone-based primer; it makes my skin feel protected and comfortable.
Colour palette picks
I'm quite a neutral gal with autumn tones (rusty orange being a current favourite). However my eyes change between grey and blue depending on what colour eye shadow I use so I also keep blues, purples and smoky colours on hand.
The key to contouring
I love secrets! I use a of a lot of medium brown and burnt orange tones under my cheek and then highlight with a pale cream colour (taken from various LA Girl 'Glow' palettes). My secret is then using some white Kryolan eyeshadow on the apples of my cheeks and on top of the ridge of my cheekbones, finishing liberally with Ben Nye highlight powder — but shh! Don't tell anyone!
Hiding a hangover
Paint your face like a drag queen, with that many layers no one can see how you feel!
Long lasting beauty must
Urban Decay All Nighter Setting Spray is simply heaven! It feels like you give your face a spritz of refreshing water and it keeps your makeup on in the hottest of nightclubs.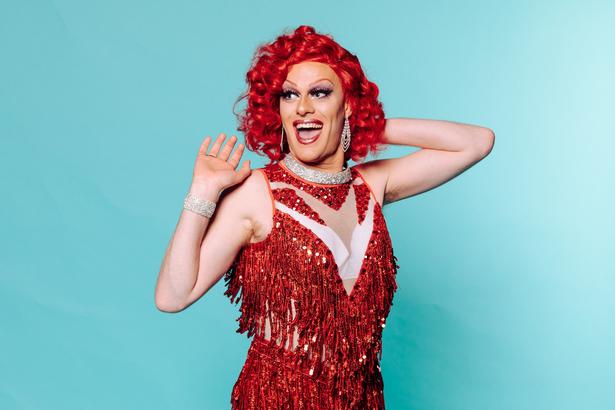 LOLA BLADES
On her signature drag look 
I don't think I have a signature look as such. I always like to play around a little and it depends on time available. But overall my style is exaggerated femme with a punch of masc.  
Spend or splurge
I would spend all my money on foundation, as I wear several coats in several shades. I tend to skimp on lip products because I normally just wear a glitter lip. I'm a magpie!
Colour palette picks
Purple seems to be a flattering eye colour for everyone, and goes well with most other colours.  
How do you ensure your makeup lasts? What steps do you follow to ensure you don't have a makeup meltdown?
I keep makeup lasting through thick coats of foundation baked with powders and finished with setting spray!
Beauty icon 
My beauty icon is @medulla420 across all social media. She has taught me much!
Share this:
More Beauty & Wellbeing / Features & Profiles