One-on-One with British 'It Girl' Poppy Delevingne
Poppy Delevingne, the older sister of supermodel Cara, tells Polly Dunbar how she has developed a thick skin and is now ready to take on any challenge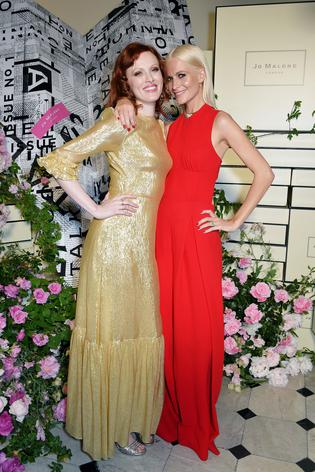 Poppy Delevingne is reclining on a cream sofa, surrounded by scented candles. The vision of cool, calm collection, however, is punctured the second she begins talking, darting from one topic to the next at dizzying speed, waving her hands around and frequently emitting a throaty, unselfconscious laugh.
It's this combination of her fine-boned, aristocratic beauty and free-spirited, up-for-a-party persona that have made the socialite and sister of supermodel Cara so in demand as a model in her own right, for brands including Chanel and Burberry.
Today, though, the 31-year-old insists she's renounced her party girl ways to focus on new priorities. We're here to discuss her collaboration with Jo Malone London, but she can't help talking about her efforts to transition from modelling to acting. Her latest film, King Arthur: Legend of the Sword, has been panned, but for Poppy, her small role as the hero's mother is proof she's finally getting somewhere with her long-held ambition.
"I've been acting for five years now and I've just started getting the work," she says, fixing me earnestly with her wide blue eyes. "I'm still trying and learning, auditioning every day and sending off tapes. I'm happy because I've always wanted to do it."
READ: Behind Jo Malone's Bloomsbury Collection
She caught the acting bug at Bedales when she played Gertrude in a production of Hamlet. In her early 20s, she moved to New York to live with her close friend Sienna Miller and take acting lessons.
Initially, she juggled acting with her modelling career, but at 26, she began taking it more seriously, training with a coach and acquiring an agent. Today, she says: "Modelling has taken a huge back seat and I'm really focusing on acting full-time. You have to be humble; you have to show it respect and just work away."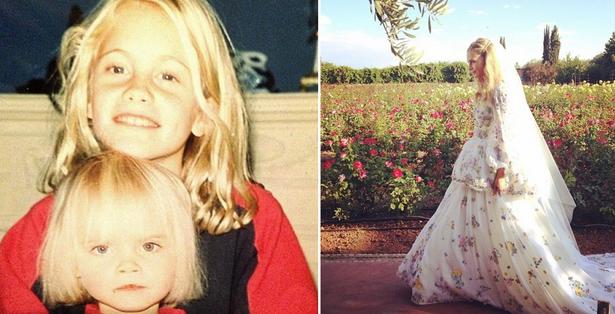 Poppy with sister Cara as children; on her wedding day in Marrakech, wearing a gown by Peter Dundas for Emilio Pucci. Pictures / Instagram

Luckily, she says, she already knows how to cope with rejection as a result of her years of modelling. "You learn to grow a real thick skin. You learn to accept the rejection and move on. And of course it can become a little grating after a while, but overall it's taught me that it's not personal."

The model-turned-actress path is so well-trodden it's become a cliché, but Poppy has a role model who has managed to tread it with more success than most: her 24-year-old sister Cara, who is currently in Cannes and whose turns in films such as Paper Towns have been well-received by critics. Poppy says: "She's a good mentor. She's taken on the big sister role now, which is amazing."

Poppy is extremely close to Cara and to her older sister, Chloe, 32, a married mother of two. Their bond was forged by the difficult circumstances of their childhood. Their mother, Pandora, was a heroin addict in her youth. After the birth of her three daughters, she struggled with depression and medication dependency, and Poppy has previously spoken of how Cara slept in her bed for years for comfort.

Nevertheless, her family's background is one of privilege. Poppy's late maternal grandfather, Jocelyn Stevens, was publisher of Queen magazine and chairman of English Heritage; her grandmother Jane Sheffield was lady-in-waiting to Princess Margaret; and her father, Charles is a former deb's delight and now a Belgravia-based property developer. Her childhood was a whirl of international travel and visits to Kensington Palace.

It was her family who inspired her love for Jo Malone London, with whom she is set to launch her own collection, called Poptastic. (Poppy was named as a face of Jo Malone London in 2015). It encapsulates two of her favourite scents, Tuberose Angelica and Orange Blossom, which she wore at her 2014 wedding. "It's a brand I grew up with," she says. "I have memories of my mother wafting in wearing Red Roses when she was going somewhere to say goodnight. I'd be in my PJs and I'd think, one day I hope I'm that glamorous."

READ: Karen Elson on Style, Beauty and Music

From Pandora, Poppy learned "to always be myself, that it's okay to be a bit weird. Well, not weird, but a little kooky, a little bonkers. When I was a kid I felt that sense of it being good to conform and be like everyone else, but my mum taught me you should do what you want as long as you're always kind and polite. If you want to go out in a ballet tutu or a leopard print catsuit, just do it."

Until the age of 12, she was a tomboy, but the Spice Girls transformed her. "I thought, hold on, I'm going to have to ditch the dungarees. I want to be like Geri Halliwell and wear Buffalo boots and fake eyelashes. Every weekend my friends and I were making up dance routines to their music."

WATCH: Being British with Poppy Delevingne:

Now she is 31, she admits part of the attraction of acting over modelling is "thankfully, with acting, age is less of an issue. Actors are every age because they're playing human beings." Before turning 30, she experienced a minor crisis. "Thirty was great, but 29 I was not happy about," she says. "It was that sense of impending doom."

She also started experiencing skin problems and took herself to the Lanserhof Lans spa in Austria. "They teach you about the types of face you can have - the sugar, the dairy, the alcohol face. If you take eight weeks off alcohol your liver restarts, so now my husband James and I do that two or three times a year."

She says she still enjoys a martini at the weekend - as evidenced by photographs of her and a sozzled-looking David Beckham stumbling out of a Hollywood club in February. But she's careful not to overdo it. "With the acting, you can wake up in the morning and get a text saying a director wants to see you, so I can't risk a hangover."

Three years ago, her London and Marrakech wedding to James Cook, who works for his family's aerospace company, was documented via social media in all its lavish glory. Now, she winces slightly at the memory and says: "If you just had one room with amazing music, all your favourite people, one fabulous dress and your favourite cocktail, that would be all you need."

She's embracing her 30s. "I thought, 'Ha, you're a grown-up'. And then all this confidence that's been somewhere inside you comes out, and you can say the things you want to say, and it feels like people are listening to you."

And when it comes to acting, she is taking her father's advice. "He always says, 'Perseverance — you have to hold your head up high and keep going'," she says. "I want to do something that's completely out there, and hopefully prove I can do it."

Few would bet against this charmed — and charming — woman getting exactly what she wants.

— The Daily Telegraph

Share this:
More Beauty & Wellbeing / Features & Profiles