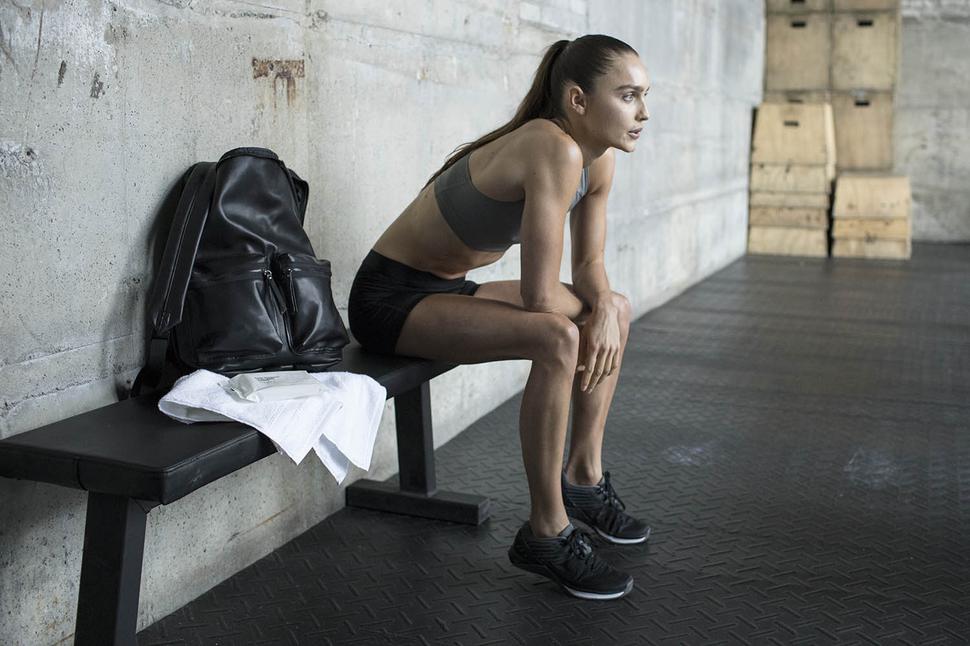 Kirsty Godso's Latest Career Move
Our global poster girl for fitness is taking her career to the next level with a new beauty collaboration
Saturday March 24, 2018
When fitness trainer Kirsty Godso was approached to be the face for an international brand's "active beauty" range she soon shared the news with her New York bestie and fellow New Zealander, top model Georgia Fowler.
Georgia was quick to point out that scoring a contract with Clinique was a big deal — as well as a role reversal. "I'm cracking up," remembers Kirsty of the conversation. "My makeup routine is really low maintenance, but I need it to be high performance. I want to apply it once and that's kind of it."
She's often on the go from 5.30am until well into the evening, training sports stars, celebrities, business bigwigs or a roomful of Victoria's Secret models, including Georgia.
SEE: Miranda Kerr's Best Beauty Moments
As a Nike master trainer, the former Les Mills Auckland instructor fronts videos, develops programmes and appears at events. These range from NBA All-Stars weekend to sneaker conventions to Grand Slam tennis tournaments.
At Paris Fashion Week, she is on hand to help editors and models fit workouts into their frantic schedules. Kirsty is not one to name drop, however. She has built a large Instagram following in her own right and says: "I don't showcase everyone that I train. A lot of trainers like to do that, but it's not for me."
She particularly enjoys training creatives and fellow instructors. When it comes to athletes it's more a matter of supporting their own routines. But what Kirsty — who describes herself as "batshit crazy about fitness" — really relishes is imparting some of her own passion to private clients and through social media.
"I really want to share the way I feel about training with people and find a way to make them connect with that. I get it, that training is not for everyone, it's not going to be everyone's favourite thing to do, but there's going to be something that you love. I like it if someone is a challenge. It's like a game we have to figure out."
Kirsty sees her role as being in partnership with those she trains and isn't afraid to call out anyone mucking about in class. Effort in, effort out, but that doesn't equate to repetitively flogging yourself. "So many people fall into the trap of thinking they have to go to the gym and like die, but not at all."
Her own daily workouts now mix high-intensity sessions with yoga and Pilates and even walks with her boyfriend's dog. Getting out into nature and de-stressing is, she has realised, part of the programme.
READ: Workout Trends Throughout the Decades
People need to approach exercise for a holistic purpose, she says. "The mirror will lie to you consistently, you might even be in incredible shape and looking amazing, but you might not see that because of other things.
But if you're just going into the gym and using it as a way to feel like you can refresh yourself, you can totally change your day in the space of a workout. And I know people will say, that's easy to say because you love exercise, but no, you really, undeniably, can change your day."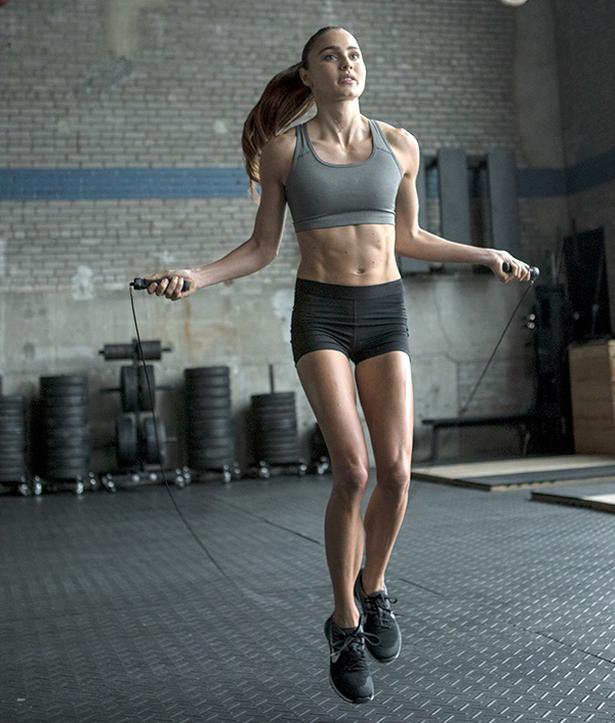 One person whose day she didn't get to change was designer Riccardo Tisci, when Nike headquarters rang to ask if she could be at his hotel gym in 15 minutes. "I went: 'Love to, but I can't because I have four clients booked.' I regularly train these people, so I'm not just going to go 'no', to train someone else," she explains.
Luckily, she got a piece of Tisci anyhow, through his design collaboration with Nike, whose garments, including special limited edition pieces, she gets to wear.
The other thing Kirsty has been wearing lately is CliniqueFit, a range of high-performance skincare and makeup. Yes, makeup especially developed for the gym is a new thing. It's engineered to provide light coverage, be breathable and kind to skin.
READ: Workout Tips From Top Fitness Trainer Kirsty Godso
CliniqueFit is at the forefront of the trend. New Zealand education manager Tracey Pederson explains that the range has been quite a few years in the making and is both for the gym and general lifestyle use.
"It's not just around the fitness thing, it's if you want to go for a walk, shoot down the road and just want to put on something that's quick and easy. It's also making your skin feel comfortable and look nicer when you're working out, but it's definitely not that heavy made up look."
Polymers make the lightweight yet long-wearing "Workout Foundation" with sunscreen adhere to skin without blocking pores; a tubing mascara doesn't smudge, yet washes off with water; the mattifying post-workout moisturiser is an oil-free gel hydrator; gentle wipes and a spray help cleanse and calm skin and for those who want to step out with a natural glow rather than in a red hot mess, a neutralising face powder and a lip and cheek tint finish the look.
"It's a very personal choice to wear makeup while exercising," says Tracey. And it's not uncommon.
Kirsty admits, however, that when she sees women turn up to class wearing a lot of makeup, the first thing she thinks is: "I hope you're going to spend as much time in the gym as you did on your face."
"You often see a lot of worst case scenarios, where it's so much makeup, and you think, can your skin breathe through that? You should be able to sweat. If you can't break a sweat through your makeup, that's a problem, because that's definitely not good for your skin."
READ: Les Mills Trainer Rachael Newsham's Beauty Routine
Blessed with not perspiring heavily (to the extent that when she is being filmed in videos with other trainers she's been sprayed with glycerine to match their shine), Kirsty is nevertheless conscious of wanting to look the best she can — without resorting to caking on the layers.
"When I'm getting up and going to work, I will put some form of makeup on … you want to look on point. You run into so many people."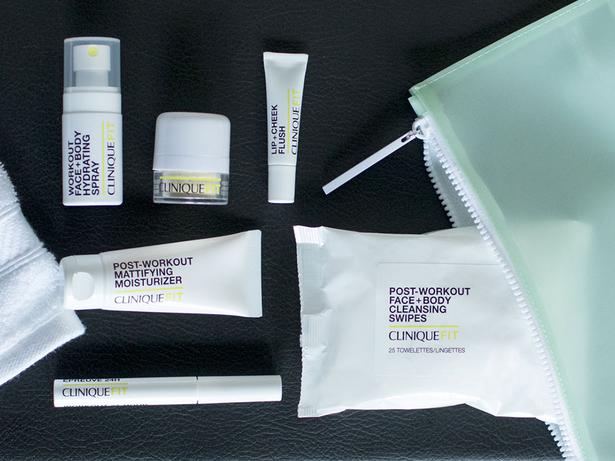 To counteract tiredness and boost self-confidence she likes to have a bit of colour on her face and use mascara to open up her eyes.
"But you're never going to see me in the gym looking overdone, or in general overdone, that's just not me. If I've been on a shoot, sometimes my friends will be like 'oh, that's a different look for you', and I'm like 'it's coming off'."
For the CliniqueFit campaign, shot around New York over two days last year, Kirsty ran back and forth across the Brooklyn Bridge for two hours in the rain. "I had to change my hoodie, but I didn't have to change my face," she says.
Seeing her image in American department stores is, she says, surreal. "I'm such a tomboy, I never thought I'd be in a beauty campaign or that anyone would look at me twice for it." Posting crazy moves on video, climbing a rope and doing pull-ups is more her usual style.
READ: Skin Saviours to Beat the Humidity
At 29, though, Kirsty is keen to try new things. She has a protein powder in the pipeline and down the track would like to live in Los Angeles, although she reckons her time in New York has a while to run.
With a business degree under her belt, she manages her own career. Fitness will always be at the heart of what she does, she reckons.
So too, working only with brands and people she relates to. The Clinique connection, like the one with Georgia Fowler, goes way back. Georgia's older sister was a friend and introduced her to City Block sunscreen and the pair also taught the schoolgirl to put on makeup before she was shoulder-tapped for modelling.
"She's such an amazing hard worker, she really is," says Kirsty. "Every time she comes to my class, she's front row, she's the most voluble person in the class, she's so supportive. It's kind of funny to be in the middle of New York and to have these two crazy loud Kiwis and everyone's like 'what?'"
During Georgia's first Victoria's Secret show, Kirsty says she was beside herself crying, videoing the runway to relay the event to the Fowler family Downunder.
READ: Kiwi Model Georgia Fowler Walks in Victoria's Secret Show
As lithe and lean as any show-ready supermodel (albeit quite a bit shorter), Kirsty says much of her work with those whose bodies might already seem in perfect shape is about internal conditioning.
"The thing for people to know is the VS girls do the same [negative] talk to themselves too. It's the biggest thing that we work on actually."
Sometimes it would come down to eyeballing them and saying: "You're a really powerful, brave woman and you're such a voice for a lot of young women out there, but before that you need to be a voice for yourself."
Getting women of all types to realise that they could set their own goals, could try the hard moves and feel better for it, rather than have to live up to a projected impossible pressure of perfection, was a key part of being a successful trainer.
"We should all be strutting down Broadway, let's go…, she laughs, "but with more clothes on than a sparkling bikini."
Share this:
More Beauty & Wellbeing / Wellbeing