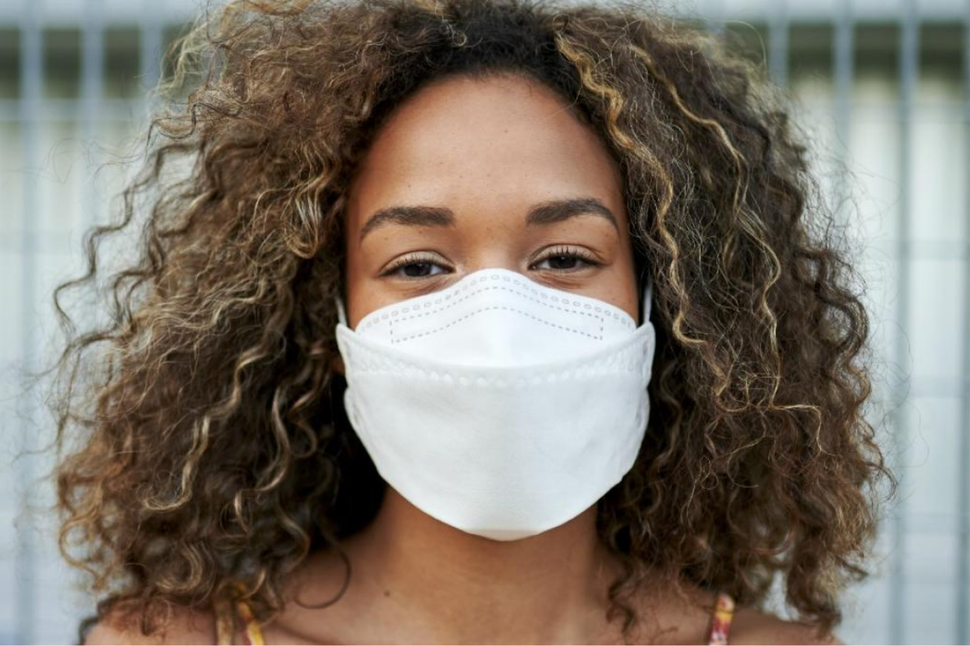 Prevent 'Maskne' Breakouts With These Simple Tips
It's now de rigueur to wear a face mask, but with it comes the risk of acne
Friday Aug. 28, 2020
Who would have thought face masks would become the essential accessory of 2020?
Functional — for obvious reasons — and fast becoming the quickest way to make a sartorial statement, these layered fabric face coverings have gone hand in hand with lockdown and the new normal.
Although some have become fixated on whether the mask perfectly pairs with a chic ensemble, my biggest concern since first wearing one was what it was doing to the skin sitting beneath it. And now my concern has gone into overdrive.
As essential as they are in helping to quell the spread of Covid-19, throughout lockdown masks have built up a questionable rep in the world of skincare. I for one haven't enjoyed the stifling feeling that comes with the territory of maskwear, but what's worse is the hostile environment they can create for your skin (especially when you're already sensitive and acne-prone).
In fact, the impact masks can have on the skin has become so notorious, there's now an entire term for it: enter "maskne". "Maskne is the term given to acne and breakouts which are caused by wearing a mask," says skin specialist Lucy Xu.
"From friction of the mask causing irritation, to bacteria transferring from the mask on to your skin, there are many ways in which wearing a mask could mean your skin will start to suffer, becomes irritated, congested and could potentially promote acne around the cheeks and chin area."
READ: The Local Fashion Brands Making Face Masks
I haven't yet experienced a bout of mask-induced breakouts but I have found my skin becoming drier and more irritable. Of course there's no two ways about it, as troublesome as they may be, we all should and need to be wearing masks, not least on moral grounds, but how do you mitigate the skincare risks involved?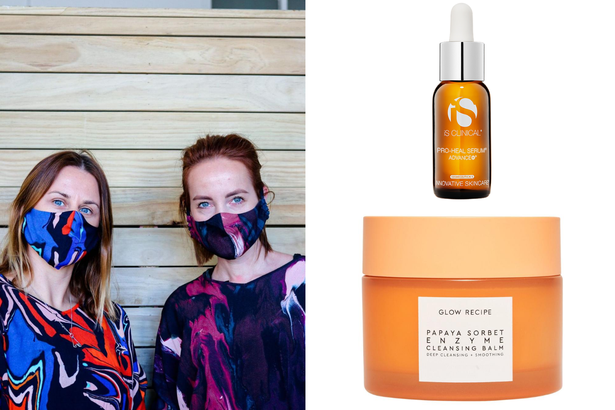 Clockwise from left: Maaike Marble Face Mask, $30; iS Clinical Pro Heal Serum Advanced, $292; Glow Recipe Papaya Sorbet Enzyme Cleansing Balm, $56. Photos / Supplied

Lucy points out that you should start by investing in the right type of mask, one with natural fabrics like cotton or silk, and wash after each use. Maaike's Marble Print Mask, $30 from Maaikeandco.com, is naturally hypoallergenic, breathable and doesn't cause friction, meaning it is kind to skin. You'll also appreciate the cool feeling of silk on your face — a world away from some semi-suffocating variations.

READ: How To Wear A Face Mask With Glasses 

Next, kick your skincare up a gear, double cleanse every evening with a balm, milk or oil and muslin cloth to remove impurities. Glow Recipe's Papaya Sorbet Enzyme Cleansing Balm, $56 from Meccabeauty.co.nz, is a brilliant balm-to-milky oil cleanser which dissolves makeup, dirt and oil while gently resurfacing skin.
And finally, add in an antioxidant like the iS Clinical Pro Heal Serum Advanced, $292 from Inesstore.com, to protect the skin against free radicals and pollution damage while you're out and about.
Sure, I've added a few extra steps and minutes to my previously stripped-back basic routine because of the impact of face coverings, but I've worked far too hard even in the best of times to get my skin in check, and I'm not about to sacrifice years of serious grooming to maskne, or anything else that comes with prolonged maskwear.
—Telegraph Group Ltd
Share this: