8 Innovative Products & Treatments Designed For The Delicate Decolletage
Caring for the neck and chest area requires particular attention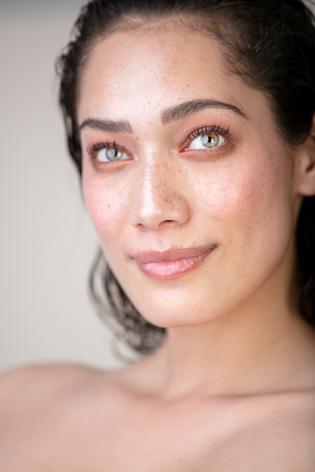 In the beauty industry, the neck and decollete is informally dubbed the 'neck and deck' and this exposed area, prone to early weathering, is coming in for increasing attention.
The French have long advocated taking skincare from the face down to the nipple line but for those of us less assiduous in application, perhaps it's time to follow suit.
Extend the use of your facial serums, moisturisers and masks to this thin-skinned area or look into products designed specifically to use from below the chin, down and across the chest.
There are more coming on to the market, recognising interest in targeted treatment, especially of sun damage and crepeing.
The simplest way to preserve this delicate skin is to avoid over exposure to the sun.
READ: Caroline Hirons Wants You To Winter Proof Your Skin
Once deep-seated damage is done, lasers and fillers become costlier correction options than applying sunscreen and wearing a beach cover-up. But it's the incidental damage we do that is often overlooked.
Many of us end up with a V-shaped tan line from summer tops or dresses. Over time this exposed area can develop sun spots and as collagen and elastin within the skin degrade, lines etch in.
Blasting perfume across our chests and then walking around in the sun increases the risk of pigmentation forming.
Hot showers can dehydrate and increase redness. Then there's how we sleep. Those who lie on their sides may find deepening indentation to the cleavage.
Try lying on your back or using lower-friction satin sheets. Gravity's pull eventually takes its toll but good posture — try to avoid hunching over screens — will help slow this.
In winter, when scarves and polo necks are more appealing than halter tops, it is easy to overlook neck and deck problems. But now is the perfect time to lavish extra attention on this area.
Choose products that help encourage signs of premature ageing and sun damage to fade and others that support firmness and collagen formation to reduce wrinkling.
If the texture of your chest is causing concern, approach exfoliation with caution. You don't want to rub up your cleavage the wrong way, exacerbating unevenness.
READ: Simple Winter Wellness Ideas
Avoid grainy exfoliators in favour of chemical peels containing AHAs and BHAs to gently encourage cell turnover.
Going natural with a wipe of apple cider vinegar will clarify the area or use a home-made moisturising mask made of oats, honey and milk.
Caci clinic says it advises customers not to overlook dealing with their decolletage. Using Retinol (by evening) and a vitamin C serum (in the morning) may help with lines and pigmentation.
Dermal rolling could be considered. Photo rejuvenation can lessen the look of pigmentation and laser can help tighten skin. Injectables can soften obvious neck banding.
Best of all, like the French, step in early with preventative care so when it is warm enough to unveil your neck and deck, you will feel confident in taking the plunge.
Here are some innovative helpers: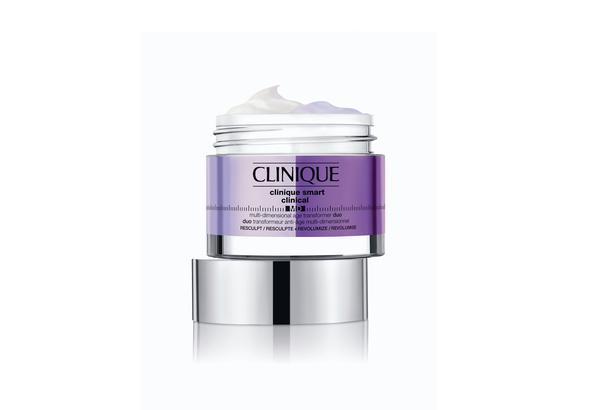 Clinique Smart Clinical Age Transformer Duo $130
One side contains Resculpt to tighten and contour, the other Revolumize to plump and resurface, for a more resilient facial profile, plus jawline and neck.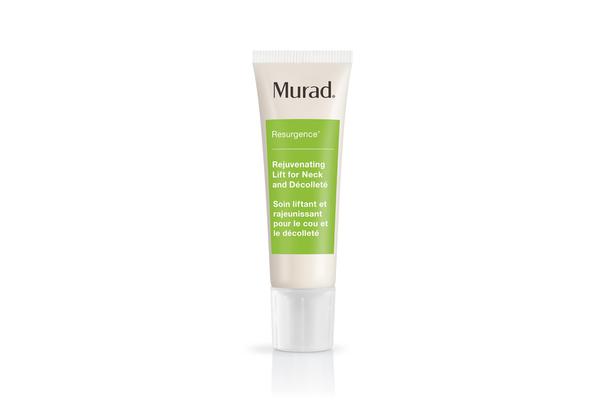 Murad Rejuvenating Lift for Neck and Decollete $125
To help firm, even and smooth skin sagging from hormonal ageing.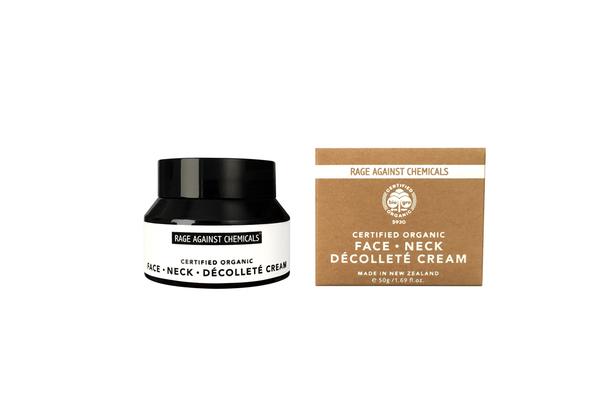 Clarins Extra-Firming Neck & Decollete Care $143
This melting treatment is non-greasy and absorbs well. It helps firm and includes Clarins anti-pollution complex to protect while nourishing.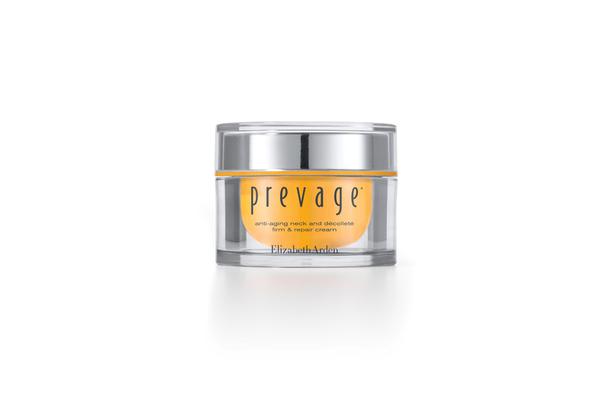 Rage Against Chemicals Face Neck Decollete Cream $50
NZ made and 95 per cent certified organic, this multi-area natural cream in a glass jar relies on plant oils, butters and manuka honey to revitalise skin.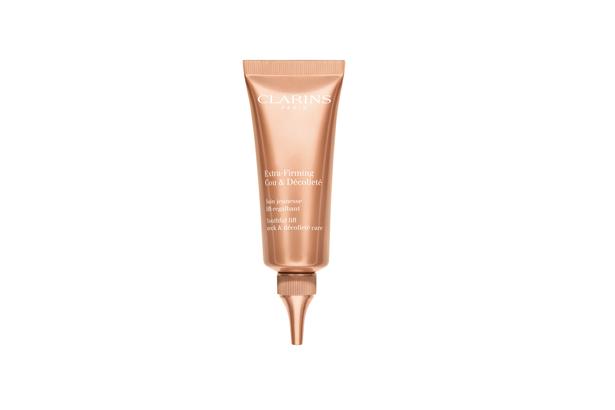 Elizabeth Arden Prevage Neck & Decollete Firm & Repair Cream $176
This idebenone-infused cream, is an energetic antioxidant effort against ageing, combined with high-tech tightening polymers and a vitamin A derivative to help retexturise skin.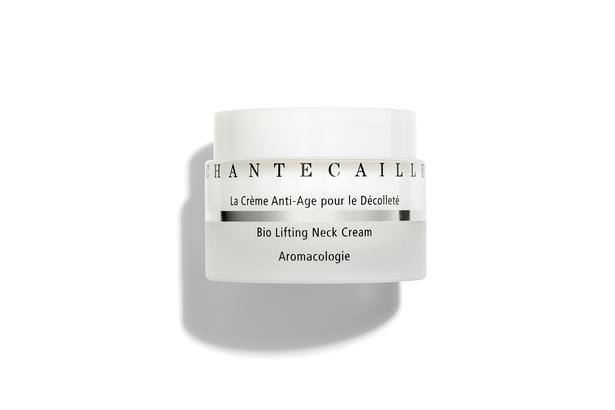 Chantecaille Biodynamic Lifting Neck Cream $293
Targeted approach to tightening the net on the neck by strengthening skin, through hydrating, firming and brightening ingredients, with a botanical bent.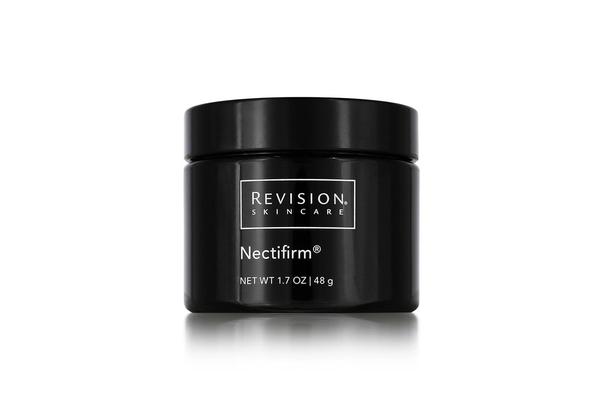 Revision Skin Care Nectifirm $165
Keep turkey neck at bay with this clinic favourite. With plant extracts, antioxidants and unique biotechnological blends that combine to make the neck and décolletage look fresher and less lined.
Treatment to try
Test Drive: IPL upfront, reviewed by Janetta Mackay
The promise: About Face clinic says Intense Pulsed Light (IPL) is ideal for the neck and chest. It will clear up surface pigmentation (brown spots and sun spots) and diffuse redness while generally rejuvenating skin. It also stimulates cells making collagen to improve texture and lines. Only senior skin therapists trained to use state-of-the-art machines will perform the treatment.
The process: I've had a preliminary assessment for suitability by About Face's high-tech training manager, but my therapist is thorough in talking through what to expect. Having had IPL before makes it easier to relax through the pinging passes of flashing light across my skin. Across the collar-bone, I'm a bit jumpy but it's otherwise uneventful. The slightly stinging after-effect soon subsides. As is the usual way, the first treatment didn't reveal much difference, but after the second my V-shaped pigmentation is fading as is the dappling down the side of my neck. The third treatment makes more inroads but, as I'd been told to expect, it won't budge all the deeper underlying brown spots. I'm sent on my way from the friendly small clinic with sunscreen samples and I use them diligently.
The price: A course for IPL Rejuvenation (three treatments) is $1050.
The place: About Face, Mairangi Bay,
ph (09) 479 4147. For other Auckland clinics see Aboutface.co.nz.
The verdict: I've become bothered, over time, by how my fair skin has amassed a mass of speckled pigmentation. The contrast with my usually under-cover shoulders and face is too pronounced. Age-old sun damage hasn't disappeared but around half the sun spots have been nixed and others faded. Now I'll just have to be extra diligent over summer to stop them reappearing. Next time I wear a wide-neck, lower-cut dress it won't look so tell-tale that I've spent too many lazy days being delineated in V-neck tops. If you're a suitable candidate and choose a good operator like About Face, then IPL can be a terrific tidy-up every few years.
Share this: