Best Buddies: Pua Magasiva and Sela Alo
Flava hosts Pua Magasiva and Sela Alo have lots of laughs together but also a mutual respect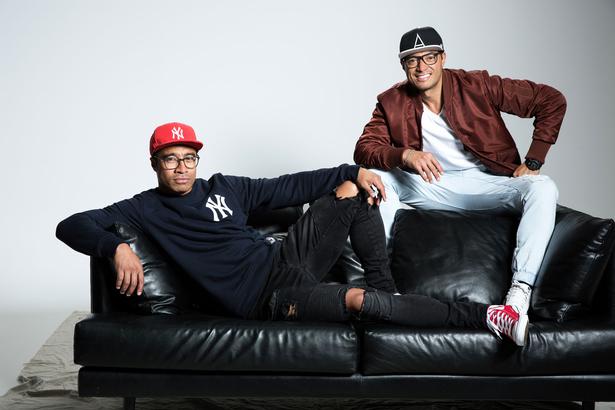 Tuesday Sept. 5, 2017
THE RADIO HOSTS: PUA MAGASIVA AND SELA ALO
Tell me about your friendship. How did you meet?
Sela Alo: We've known each other for a while but we never worked with each other until I asked Pua to work with me on radio back in 2012. He's a naturally talented guy who I saw had similar traits as me. We've built up a close friendship ever since.
What about each other do you admire the most?
Pua Magasiva: Sela's honesty. He can be real straight up with me even at the worst of times. He keeps me humble and tells me like it is, but the one thing I admire the most about Sela is the way he treats me like a brother and that's a real friend. But I hate it when he always tries to copy me, haha.
SA: I really admire Pua's genuine character. He's a real and close friend who would be there for me at the drop of a hat if I needed him. He's not that typical 'celebrity' who might try and put on an act and he's a real family man, who puts his daughter and family first. However, I really hate it when he tries to be funnier than me. Sometimes he should just shut his mouth!
Who was the male role model in your life that you looked up to?
SA: My dad has been my day one homie and a massive influence on me, more so through his values. In general though, I don't tend to admire male celebrities as much as I admire everyday people who chase their dreams regardless of the obstacles in their way. 
PM: I can't say I have just one, I have many that have influenced me in my life including Sela, who works hard to chase dreams. One day I hope to look and be exactly like him (SA: I can say that because Pua sent me his answers first and I'm writing this piece so he won't see this haha).
Men's health and mental wellbeing is an important issue. What advice do you have for guys out there who look up to you when it comes to being proactive about their health?
PM: Don't feel ashamed or embarrassed of where you're at because I believe it's the one thing that holds everyone back from doing what they want in life.
SA: I agree with Pua on this one. As cliched as it sounds, a healthy body equals a healthy mind. I've been in a position where my mental health has been tested, but with great support from family and close friends I was able to talk to, I was able to commit to my health goals. It starts with sharing and talking, then getting stuck in.
Do you think men have become better at communicating in our age of social media?
SA: Social media tends to send mixed messages for some guys — gaining more followers or more 'likes' drives their motivation more than sending 'what's real'. You might look happy in a picture or video, but what's inside will possibly tell a different story — but that's in some cases. In other cases, it's opened up the door for those who wouldn't normally pick up the phone to hold a conversation.
PM: Just adding to what Sela says — in some cases social media has given people a voice, but what use is tapping on a keyboard when you can't speak for yourself? Although social media has been great in opening up people's lives for us to be a part of, it's also holding a lot of us back from actually communicating and holding conversations.
Do you think there a pressures on men now to look good? What are your thoughts on these changes in society?
PM: Yes, because of the pressure of social media
SA: Yip, I agree with Pua, but if you know and understand that and can get your head around it in a positive way, then that could be a driving influence for you to change. However, the majority of us are exposed to all these glamourous Photoshopped pictures of people and some get caught up in trying to be like someone else. If it doesn't happen, in some cases it could lead to broader issues round mental health and wellbeing including depression.
As two high-profile Samoan role models, what has your culture taught you about navigating your roles as media personalities in New Zealand?
SA: I love the fact that I'm a Samoan New Zealander who could possibly influence other Pacific men in a positive way. If that happens then job well done. It's the main reason why I got into radio in the first place.
PM: My culture has always taught me to be humble and respect others, which is one reason I guess I connect with listeners and people in general. If you stay grounded, people will appreciate and value you more.
What do you do to relax and unwind off duty?
PM: I catch up with close friends and family which usually means anything and everything from a quiet night at home to a big night somewhere fun :) and my daughter, Jasmine plays a big part in how I unwind when off duty as well.
SA: Family is everything to me, so for the most part I hang out with my lovely wifey and three beautiful kids Kyan, Kaitlyn and Josh. Depending on the season, that usually that means Friday night mall or take out dinners, kids sport on Sat, Netflix in between - while they're watching Netflix Daddy's watching Rugby or League - a Must!
What do you do to stay in shape?
PM: Regular exercise and being active throughout the week
SA: I try and commit to regular exercise and eating well. I want to be active with the kids, so I have to commit to regular exercise. But hey, we're not all super athletes so do what you're able to, but just make it regular.
What are you looking forward to for the rest of the year with your roles at Flava?
SA: Just making sure that as a team, we work hard to bring smiles to whoever's listening and that we don't forget to smile along the way.
PM: Not stuffing up and being better than Sela (SA: That will never happen haha).
• Listen to The Wake Up Call with Tarsh, Sela and Pua every week day on Flava between 6-9am.
Share this:
More Beauty & Wellbeing / Features & Profiles