Pure Mama Founder Lara Christie On Her People-First Approach To Business
The motherhood maven shares how her family-first philosophy has influenced her brand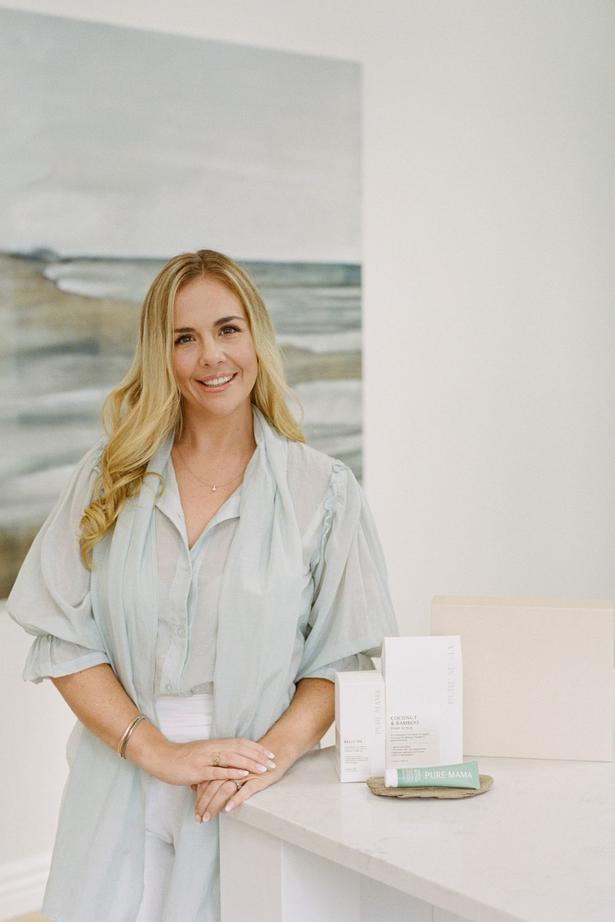 Friday March 11, 2022
Lara Christie has an unsual hiring strategy for a start-up beauty brand.
Run by mothers, for mothers was Lara's plan for her business. She sought to surround herself with highly skilled women who challenge, excite and support her vision for Pure Mama, a range of products designed to support women throughout their pregnancy.
"The people behind our brand are part of the brand itself. We are the ethos of the brand, and this will always be a key part of our business," she says. "We all have children [the team has seven children between them and one on the way], we all come from corporate backgrounds, and we all believe in the Pure Mama vision, but we bring totally different skill sets to the table — we encourage each other to stay on top of our game."
READ: Girl Native Founder Rawinia Rimene On How Her Maori Heritage Has Shaped Her Brand
Flexible working hours and a "family-first" philosophy means her team can work around family commitments – making the struggle of achieving work/life balance less so.
Like many beauty brand founders, Lara's own experience as a first-time mother inspired her to formulate a range of 100 per cent natural, pregnancy-friendly body care which encourages women to connect with and celebrate their changing bodies.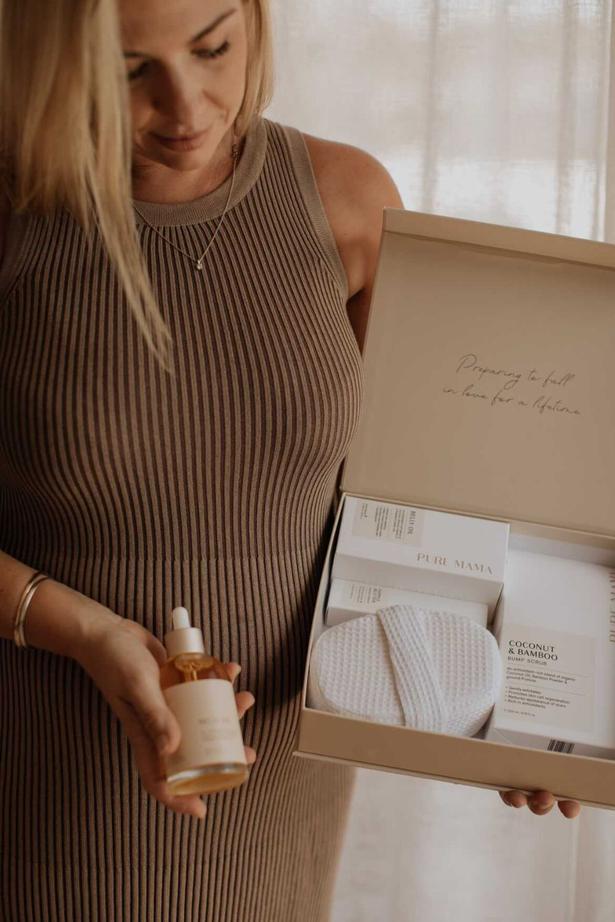 Lara was blown away by the response to her inaugural product - Pure Mama Belly Oil - which sold out within months of launching. Photo / Supplied

"Pregnancy is such a personal and intimate journey and woman understand that there are real people behind our brand that have been through what they have. I think this makes us unique and relatable at the core which is powerful," she says.  

Within the first three months of launching, Pure Mama sold out of its Belly Oil, which was all the confirmation Lara needed that her business venture was going to fly.

"It was proof of concept; that other women felt the same way I did when they were pregnant," she says.

"Professionally, it gave us the confidence to really push ahead and go all-in with new product development and market expansion. We haven't looked back."  

The future of Pure Mama is bright, with Lara teasing five new products will be added to the range by year end, including a revolutionary concept designed with mothers recovering from C-sections in mind.

"This will make us Aotearoa's first skincare brand that takes people through the whole journey from trimesters 1-4, including caesarean recovery," Lara says.

When did you decide to be your own boss?
There were some pivotal points in my career when I realised that the corporate world wasn't quite right for me. I once was told in a review that I wasn't cut out for corporate. While I was pretty shellshocked by someone telling me this, I managed to turn it around into something positive and do some self-discovery to find out that maybe she was right. It didn't mean I wasn't going to be able to be successful in my own right, but perhaps climbing the ladder wasn't going to be the way I got there.

What gave you the confidence to go out on your own?  
I had just finished up 12 months of maternity leave and was ready to go back into a part-time role. I had been working on Pure Mama for around 18 months at this point but wasn't quite ready to take the plunge. I met up with a mentor of mine who is very well respected as a leading CMO in Aotearoa. He was asking me what company I would like to work for. We discussed a few options, then I started telling him about Pure Mama. He literally saw my eyes light up and said to me point-blank: "You need to do this, look how excited you are". This was a pivotal point where I decided to start seriously investing in the business, financially and mentally. 
Pure Mama Belly Oil contains a blend of coconut, almond, vitamin E and raspberry seed oils to nourish stretching skin. Photo / Supplied

What do you love about the beauty industry?  
I think the beauty industry is an incredibly interesting and exciting one. Whilst often being perceived as a hyper-cluttered space with thousands of players worldwide, it also has so much room for opportunity due to continual developments in technology and discoveries around ingredients, research, and results. I also love the fact that most successful independent beauty brands often came from the founder discovering a friction point in their own beauty or skincare regime.

In my case, this was when I was newly pregnant and breastfeeding. I thought "I can't be the only one with this problem". Now I am lucky enough to be able to genuinely help other women throughout their pregnancy journey with 100 per cent natural, trusted, and safe skincare and I absolutely love it.  

What are some of the challenges you've faced as a woman in business?  
When starting out, it is so important to ask for feedback, do research and listen to what people have to say. The challenge then becomes filtering out what you take on board and what you don't. I don't think being a woman in my industry (being pregnancy skincare) has presented me with any great challenges that are gender-related, which is probably not that surprising. I like to think it will stay this way.  

What words of advice would you give to someone wanting to launch their own brand?
Don't tell others what you think first, ask them what they think and then you can give your opinion. As a leader, you can often sway people's opinions without meaning to if you project your own. You get a lot more honesty when you ask first, so it's something I try to do often. Be prepared to say no if we are presented with an opportunity that's not part of our strategic plan or is going to derail too much time or focus from our team.

We were recently approached about a Southeast Asian market and after a bit of back and forth, had to stand our ground as strategically this wasn't the next move for us. It was exciting and got us thinking, but after critically evaluating it, we knew it wasn't right. Dive into new technology and continually learn. We are largely focused on e-commerce which is an evolving beast. You cannot get complacent in this space otherwise you will be left behind.  

What's next for your brand in 2022? 
We have so much planned for 2022 and we cannot wait. We have 5 new products launching in 2022/2023 that will help support women not only during pregnancy but both pre- and post-birth. This will make us New Zealand's first skincare brand that takes people through the whole journey from trimester 1-4, including caesarean recovery.

We are also moving quickly into the Australian market and starting to think about markets further outside of this as well. Our business practises will remain much the same, but we are always ready to adapt, and quickly when needed. Personally, I currently have baby number 2 on the way (due early May) which will open a new chapter entirely. I don't think ill be able to switch off from Pure Mama, but I wouldn't want it any other way. I genuinely love what I do and am so excited about what the future holds.   
Share this: