Rachel Hunter Shares Her Wellbeing Secrets
New Ti Ora tea ambassador Rachel Hunter tells us how she relaxes — and what she treasures about New Zealand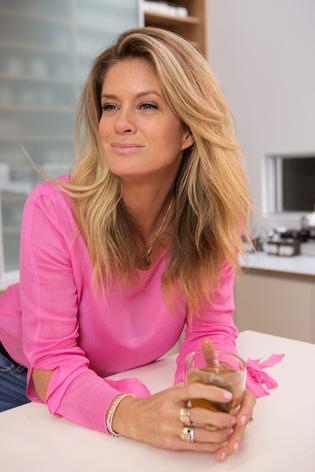 Rachel Hunter has just been annouced as the ambassador for Ti Ora tea, a premium brand of locally made tea blended with fruits and native New Zealand botanicals including manuka leaf, horopito and kawakawa. Here, she shares some of her wellbeing tips, how she relaxes, and what she treasures most about New Zealand.  
What are some things you do to look after your health and wellbeing — whether it's physical, mental or emotional?
Yoga and meditation is an essential part of my wellbeing. And I'd like to look closer at doing a tea ceremony — maybe find a great tea ceremony set.
If you're having a bad day, what lifts your mood?
Talking to my kids and cooking.
What are your favourite things to do in New Zealand?
Investigating new places, hikes, beaches, going to the dairy to buy traditional New Zealand naughty things like Pineapple Lumps. Anything Kiwiana!
What do you do when you're having "me time"?
Netflix, hang out with my dogs, meditation and yoga, relaxing and having times with friends laughing. All of this makes me happy.
What essentials do you pack when you're travelling for Tour of Beauty?
My pillow always goes with me.
You've discovered a lot of beauty secrets on Tour of Beauty — what's been the most memorable moments for you?
It's the places that I've been to that have been so memorable and the people that I've met who have opened my mind and been inspirational.
Is there anything you take from New Zealand back to the US to remind you of home?
New Zealand chocolate.
What did you think about the new Ti Ora teas?
I was really surprised about the different tastes left in my mouth. The lemon and honey camomile was really fragrant and soothing. The peach and passionfruit green tea had a great after-taste — I loved the kawakawa. This would make an amazing iced tea with a dash of fresh mint. The Cinnamon Chai was refreshing and it's nice that it can be served with milk. It had a nice homely taste and reminded me of home. Apple and rhubarb would also be great with ice. This is a terrific celebration tea perfect for Christmas, or Thanksgiving in the US, and would also be great in a mulled wine.
The beauty of these types of teas is that there are different flavours, but one for every time of the day. I couldn't tell you which was my favourite — they would all have a place.
What does "having a cup of tea" mean to you?
It depends on the mood – after dinner – herbal or especially in NZ more of a good ole cup of gumboot tea as my morning drink.
Milk or no milk in your tea?
No milk and mostly herbal.
What are some things from New Zealand you miss when you're living in California or travelling elsewhere?
The idea of home, and the beautiful scenery, walks and beaches.
What's trending in tea in California at the moment?
California is very coffee-centric — a bit like New Zealand. But iced tea is readily available and very soothing on a hot afternoon. 
Running or yoga? Yoga.
Coffee or tea? It's dependent on time of the day, but both.
Sweet or savoury? Savoury!
Cold weather or warm? Warm.
Morning or night person? I'm both!
Makeup or bare-faced? Bare-faced.
Sneakers or heels? Sneakers.
Wine or spirits? Spirits.
Night out or night in? Night in!
Metro or rural? Rural.
Dad bod or rippling muscles? NEITHER.
Small talk or deep and meaningful? Definitely both.
• Ti Ora teas, $6.50, are available from good grocery stores across the country.Visit Tiora.co.nz 
Share this:
More Beauty & Wellbeing / Wellbeing