Rainbow Hair is Here to Stay
Celebrity colourist Guy Tang says social media is driving individual hair looks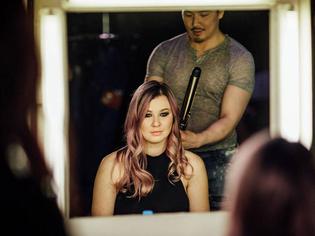 Hollywood hairdresser Guy Tang has made a bunch of new besties on his short but colourful trip to New Zealand. His demonstration show in Auckland drew a big industry crowd and saw six models transformed with his signature rainbow shades. Afterwards many of the audience stayed for selfies with the American who has used social media to build a strong community of #hairbesties.
Tang loves the online interaction and credits the selfie culture with doing much to drive hair colouring trends, saying: "People want to make a statement."  
He uses his profile to help bust hair myths and reject online hate such as "your hair is frizzy, cut it" and "blondes are dumb" into conversations celebrating natural texture and promoting individual choice. Asked about what colours he was now liking best, Tang told Viva: "I like them all."
He is known for achieving a multi-dimensional look with his colouring, bringing fashionable metallics into play as well as pastel tones, such as lavenders and mints. "It's almost like the colours you want to see in your wallpaper and interior." Shades that interplay and offer subtle tonal variety, for instance taking blonde to blush to rose. Then there's the neons and the rich reds.
Tang first made his name with blondes and has transferred his balayage and foiling skills to applying other colours. "If you're just another blonde, you're not standing out any more and everyone wants to stand out." That said he has clients who happily stay blonde or brown and says some trend-setting celebrities are actually wearing coloured wigs.
He demonstrated his eye-catching techniques, including using colour placement to provide flattering facial contours, at the Olaplex-sponsored show. Tang uses the product as an aid to hair condition in his extreme transformations to keep the integrity of the hair intact. "Beautiful colour starts with healthy hair."
When people first saw looks such as Kelly Osbourne's purple hair, it created more demand for them among regular clients. Celebrities still drove fashion crazes, but Tang said so too did the number of regular people posting innovative looks.  
WATCH: Guy Tang on 'Unicorn Hair':
Much as though he loves Instagram and Pinterest, he is happy to see a resurgence in Facebook, allowing more in-depth conversations. He also uses video clips to demonstrate ideas. "I love my followers, it's like a family to me."
He says passion to do something new drives his work. He bases his colour choices off a client's personality: "Because they have to own it."
For those looking to choose from the paint chart of hair colours now available, Tang says: "You have to find something inside that reflects you."
The colourist's skills come into play in refining the shade to suit the style and skin tone of the wearer, meaning a pink could range in tone from fuchsia to flamingo to blush. "We're becoming more individual now."
Share this: