SPONSORED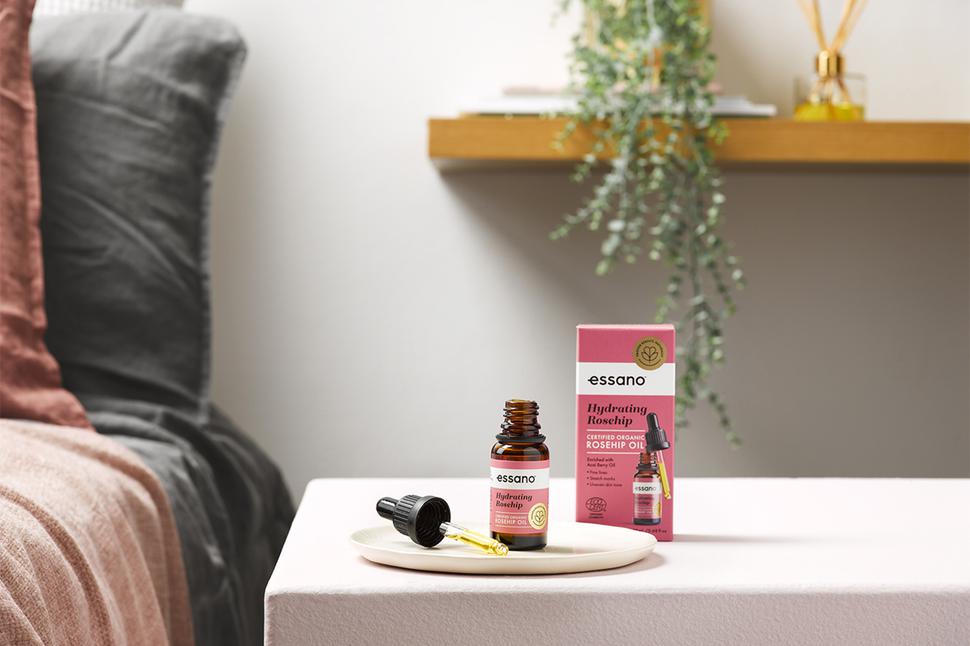 From Field To Bottle: Five Reasons Why You Should Refresh Your Skincare Regime With Essano
Armed with a new sustainable source, here's why you should rediscover the skin-loving benefits of Essano's rosehip-rich skincare
Friday May 28, 2021
If you've always wanted to dabble in rosehip oil but have never made the switch, Essano is here with a very compelling reason as to why it's high time to make the change.
Essano has cemented its commitment to sustainability by partnering with a small, organic farming community in Patagonia Austral in the southernmost part of Chile, a region renowned for the quality of its rosehips.
Essano's rosehip oil has always been organically grown and cold-pressed, but now it's taking things up a notch by sustainably sourcing its rosehip oil from farmers and their families, who handpick the rosehips before they're sent on for cold-pressing then formulating into your favourite skincare.
Upping the feel-good factor, the supplier who manages these Chilean producers also works with the local government and organisations to create positive social change and support the local economy.
The benefits of including rosehip oil in your beauty routine are many: it helps to support the skin's own regenerative processes; hydrates and nourishes; promotes an improved appearance of scars and sun-damaged skin; boosts the skin's elasticity; reduces fine lines; and improves skin tone and overall radiance.
Still not convinced? Keep reading to discover five important things you need to know about adding Essano Hydrating Rosehip products to your regime this season.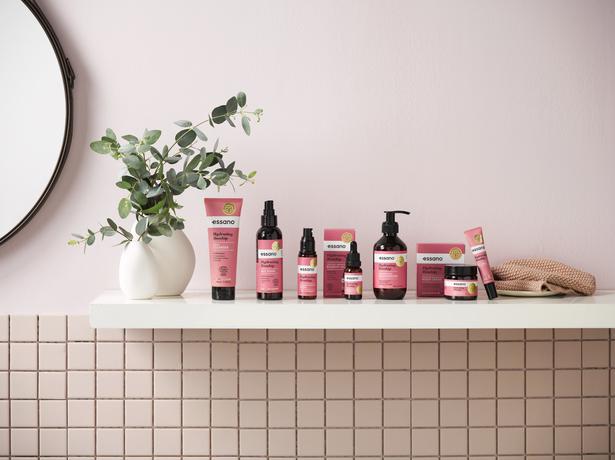 Rosehip oil is obtained from the Rosa Canina plant species
Contrary to popular belief, rosehip oil isn't sourced from roses; rather it's extracted from the fallen fruit of the Rosa Canina plant (also known as the rosehip bush). Its seeds are where rosehip oil is extracted from.
It takes a lot of seeds to produce one bottle of rosehip oil
A lot of fallen fruit is needed to produce just one 30ml bottle — in fact, it takes roughly 210,000 rosehip seeds. No additional chemicals are added during Essano's cold-pressing methods, meaning the rosehip oil extracted remains in its most virgin state: unrefined and nutrient-dense.
Chile is world-renowned for the quality of its rosehip
It's in this mountainous region that rosehip bushes flourish — it's been said that the high altitudes glean better anti-inflammatory and anti-ageing properties than bushes harvested in European crops. Experts have also cited that rosehip cultivated in Chile contains up to 45 per cent less oleic acid (which can clog pores and cause congestion when used in a too high concentration).
The benefits of rosehip oil are scientifically proven
In a two-year clinical trial of 180 patients suffering from scarring in its different forms or those combatting premature ageing, it was discovered that the continuous application of rosehip oil helped reduce the appearance of scars and wrinkles, halted the ageing process and restored skin tone.
Cold-pressed oil is naturally darker in colour
How do you know whether your rosehip oil is cold-pressed or not? Check its colour. If it's cold-pressed it'll range in hue from light amber to reddish, depending on the way buds have been milled and cleaned. If your rosehip oil is clear, it typically means it's been extracted by way of adding nutrient-stripping chemicals, so it pays to double-check the ingredients list to ensure you're getting what it says on the bottle.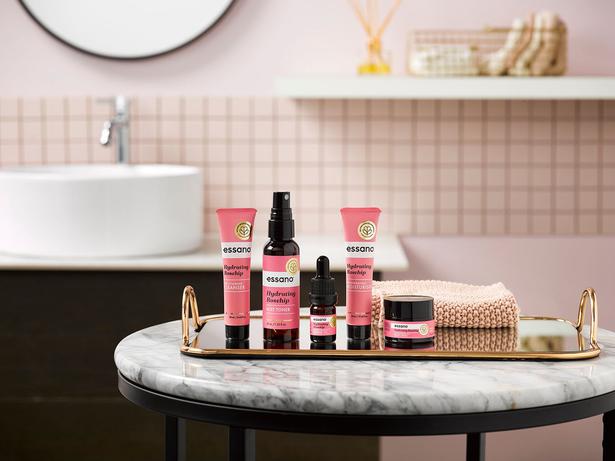 DISCOVER ESSANO'S HYDRATING ROSEHIP RANGE
Cleansers
The rudimentary step in any skincare regime, selecting a cleanser that washes away makeup, dirt and impurities without interrupting the skin's delicate skin barrier function is a must. Essano boasts two cleansing options sure to appeal based on preference — the Hydrating Rosehip Gel Foaming Cleanser and the Certified Organic Hydrating Rosehip Crème Cleanser. And at only $15 each, you can afford to incorporate both into your nightly double cleanse.
Exfoliator
Gone are the days of microbead exfoliants, instead reach for a gentler option like the Essano Hydrating Rosehip Gentle Exfoliator, $15. It harnesses the clarifying powers of rosehip bio-exfoliants (it is actually little parts of the rosehip plant) to lightly slough away dead skin cells and debris to reveal a more radiant complexion.
Toner
Refresh a tired complexion with a spritz of the ph balanced Essano Hydrating Rosehip Mist Toner, $13, which revives and hydrates skin with a blend of rosehip oil, Kakadu plum, aloe vera and witch hazel.
Serum
Delivering bang for buck is Essano's Hydrating Rosehip Hyaluronic Moisture Serum, $30, which gives tired or dry skin a much-needed wakeup call with its potent blend rosehip oil, Pentavitin®, and four different sized molecules of hyaluronic acid to deliver hydration for up to 72 hours, leaving skin smoother and more resilient to environmental damage.
Oil
Forever a skincare staple, Essano's signature Certified Organic Hydrating Rosehip Oil, $23, can be used on different areas of the face and body to a multitude of effects. Used here in its purest state, rosehip oil is brimming with polyphenols, essential fatty acids and vitamins to boost skin health while combatting the visible signs of ageing, boosting brightness and improving tone and texture.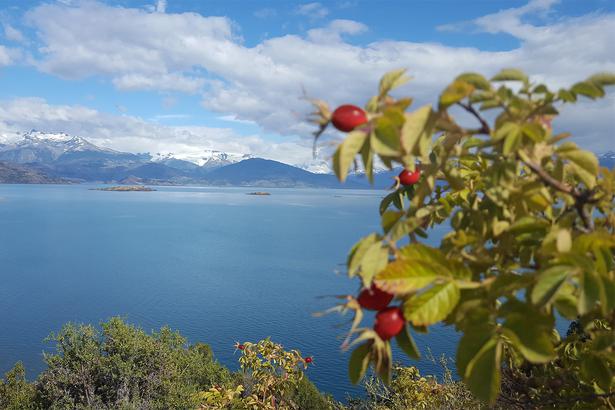 Moisturiser
A moisturiser with SPF protection, Essano's Hydrating Rosehip Pure Defence SPF15 Moisturiser, $20, couples active botanicals and vitamin E with UVA and UVB protection so you can step out into the sun with confidence (just remember to reapply every two hours — more often if sweating, towelling or swimming — and to wear a hat and cover up during the hottest points of the day).
Night Crème
Slather on Essano's Hydrating Rosehip Moisture Restorative Night Crème, $20, before you slumber and wake up to skin that's more radiant and youthful-looking come morning. It's thanks to a blend of rosehip oil, aloe vera, jojoba oil and shea butter, which is proven to help hydrate and nourish skin at a cellular level.
Eye Crème
Your under-eye area deserves a little TLC too, so why not use Essano's Hydrating Rosehip Eye Crème, $20, to help firm, soften and smooth fine lines for a more wide-awake look.
Masks
Whether you're a fan of sheet masks or prefer to slather on a creamy formulation, Essano has a mask to suit. Help a congested complexion with the Essano Hydrating Rosehip Detoxifying Pink Clay Mask, $17, or rehydrate a dry or dull visage with the Essano Hydrating Rosehip Biodegradable Sheet Mask, $6.
Hand Crème
Consider this nourishing hand crème as your winter skin BFF — it'll help soothe and nourish dry skin thanks to its combination of rosehip oil, shea butter, jojoba oil and lanolin. Perfect if you're regularly applying sanitiser or frequently washing your hands.
Much to the delight of rosehip oil devotees and skincare aficionados across the globe (the brand is a New Zealand success story, sold in Australia, Singapore, Malaysia, the United Kingdom, Canada and now the USA), Essano's relaunch of its Hydrating Rosehip range means that it's pretty pink packaging is instantly recognisable on the shelf!
Essano skincare is available from supermarkets and Chemist Warehouse stores nationwide, or online at Essano.co.nz. Find out what product is best for you by taking Essano's helpful quiz.
Share this:
More Beauty & Wellbeing / The Latest