Rose Petal Power
Our lineup of some of the best products incorporating real roses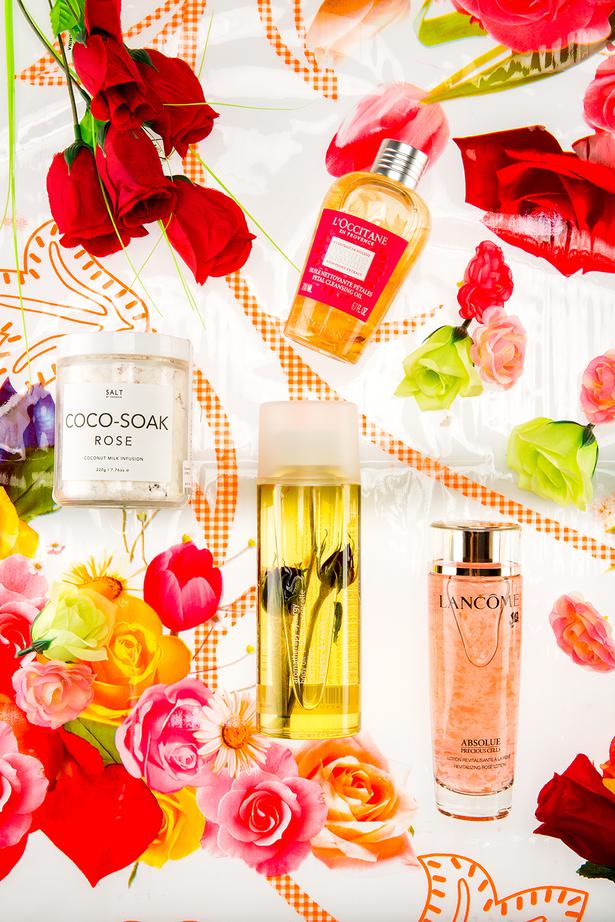 Saturday Feb. 10, 2018
If you're trying to guess what's real and what's not in this clever floral tableau, you may be surprised by the answer.
Each of these bottles contains actual roses, differentiating them from both the background and the many beauty products that are fragranced with essential oil distilled from roses or that contain a wholly synthesised "rose" perfume.
Rose extracts, said to have a calming and anti-inflammatory caress, are sometimes incorporated into skincare. This is usually done invisibly, whereas here the favourite flower of love is celebrated visually.
Whole rosebuds have been freeze-dried by Christchurch maker Linden Leaves to preserve them as stars in the rose-fragranced Memories Body Oil ($56).
French brand Lancome has the rose as its signature: as a company emblem, with its own named rose, and in championing the use of rose stem cells. For the Absolue Precious Cells Rose Lotion ($144), wafer-thin petal parts, which dissolve on contact, appear in the gel-to-water facial treat.
L'Occitane followed an ancient Provencal drying technique for the Pivoine Sublime Petal Cleansing Oil ($55), which uses peonies.
Salt by Hendrix is an Australian antidote to stress with Coco-Soak ($35) which will dot the bathwater with dried, dark red petals in a coconut milk infusion. Vive la rose.
Share this:
More Beauty & Wellbeing / The Latest