Rosie Huntington-Whiteley Is Carving Out A Career In Cosmetics
The model-turned-entrepreneur shares the journey behind her vanguard new beauty brand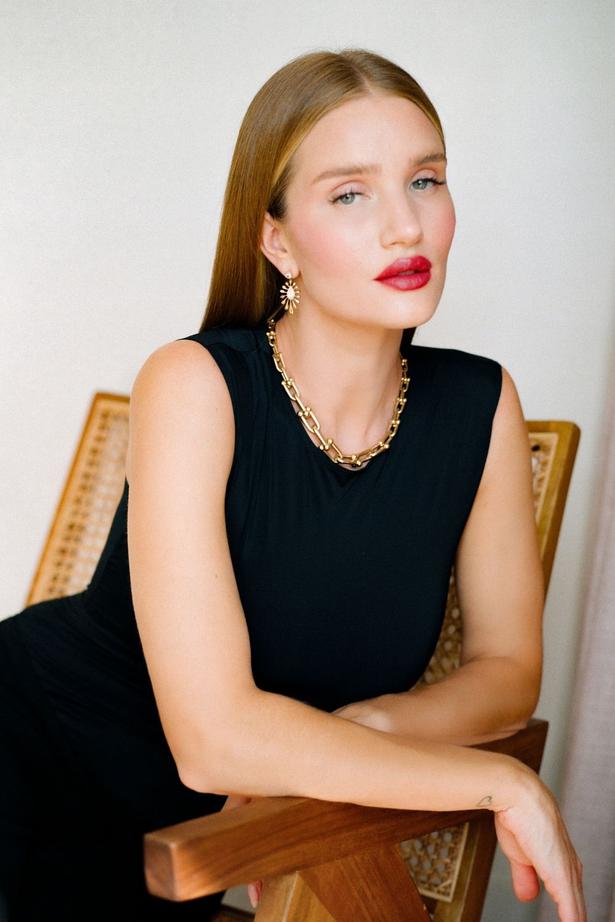 Wednesday Sept. 22, 2021
Rosie Huntington-Whiteley has the kind of mesmerising face you can't stop staring at.
She's dialled in from her Los Angeles home to speak with me about her latest passion project that's been two years in the making — a consciously curated beauty collection by the same moniker as her content platform, Rose Inc., one that reflects her own soft glam aesthetic while offering skincare solutions to acneic skin (which she herself has).
Her signature makeup look over the years has remained unchanged — a minimal English Rose with lightly flushed cheeks and crimson lips — and is one that translates just as beautifully over Zoom.
Warm and affable, our conversation feels more like one between friends than an interview with one of the world's most in-demand supermodels who has spent the last two decades in and out of the makeup chair.
At 34, Rosie is something of a modelling veteran, having started out aged 13 after being scouted while studying at Tavistock College.
Her glittering career has catapulted Rosie from runway royalty to the cover of countless magazines, she's worked as an ambassador for a host of high-profile fashion and beauty brands and starred in blockbuster films including Mad Max: Fury Road and the Transformers franchise.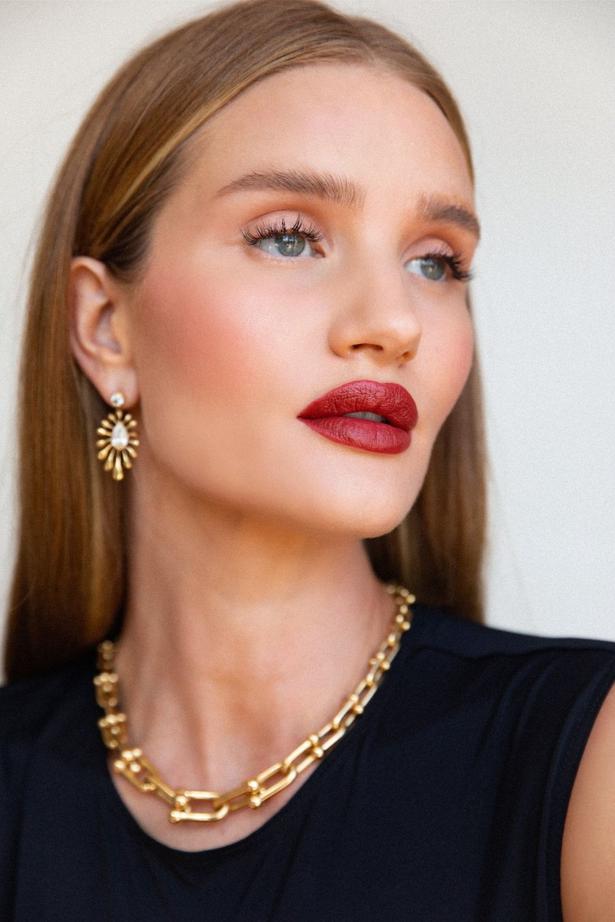 Behind the chiseled cheekbones and friendly demeanor, however, is a whip-smart businesswoman with lofty ambitions for her new multi-category beauty brand.
For those suppressing an eye roll at the notion of yet another celebrity beauty launch, it's far rarer for one to emerge helmed by industry big-hitters in the clean beauty space.
Also on our Zoom is Caroline Hadfield. Her name may not sound familiar, but chances are you'll know her work. The industry trailblazer was instrumental in launching better-for-you brands Biossance and Pipette during her tenure as CEO.
Rosie had previously worked with Caroline in 2018, when she was a spokesperson for mother and child skincare line, Pipette. At the same time, Rosie had launched her own venture in Roseinc.com, an editorial website which sought to further cement her authority in the beauty space.
READ: Top Model Holly Rose Emery On Her Newfound Sense Of Self
What started out as a content platform quickly grew to encompass a community of beauty aficionados who shared a similar passion for expert interviews, makeup tutorials and shoppable galleries curated by the supermodel herself. It was only a matter of time before Rosie's eponymous beauty collection followed.
"Once I launched the editorial site, I went about looking for the right partner to build out beauty with. I was quite strategic and definitive from the start about what I wanted," Rosie says.
That partner ended up being Amyris, a biotechnology science firm which has its roots in beauty innovation.
Two years on since her first meeting with now-CEO Caroline and Amyris, the line is comprised of Rosie's everyday essentials, including four makeup products (concealer, blush, brow mascara and lip crayons), skincare (toner and serum) as well as tools like reusable cotton rounds and brushes, which launches at Mecca stores and online at Meccabeauty.co.nz on September 28.
Both makeup and skincare are enriched with five proprietary bioengineered botanical ingredients, all of which she says are guaranteed to give good-to-glow results while keeping Rosie's acne-prone skin in check.
What you won't find in the range is a foundation, however. In developing the collection, Rosie says she eschewed foundation in favour of buffing in concealer only where it's needed.
"I really don't use a foundation day-to-day now," she says.
"I like to dab the Soft Light Luminous Hydrating Concealer around my face in the areas where I want to build the most coverage and blend it with a brush. It's a bit of a does-it-all liquid concealer — it's blurring, it's concealing, it has beautiful coverage with a luminous finish."
Despite having spent thousands of hours in hair and makeup over the last 20 years, the busy mum-of-one confesses her mornings are hectic enough without spending an hour creating complex beauty looks.
"I don't want to spend loads of time doing intense contouring. I want to smudge something on and be out of the door within 20 minutes," she says.
And life is about to get even busier for Rosie, who recently revealed that her four-year-old son Jack, whom she shares with fiance, actor Jason Statham, is being upgraded to big brother status.
Donning a bump-hugging knit dress, Rosie captioned her series of mirror selfies: "Taaa daahhh!! #round2".
A big deal, no doubt, for the intensely private pair, who seldom share photos of their son or each other on social media.
Meanwhile, the convergence of makeup-as-skincare is the way forward for the colour cosmetics category, Caroline and Rosie concur.
READ: 5 Beauty Products Rosie Huntington-Whiteley Can't Live Without
"It has to be," adds in Caroline. "If we use really good skincare and we don't have colour makeup with that level of quality put to it, you're negating the condition of your skin and the regime you're working with."
Rosie agrees. "I spend so much time on my skincare routine that if I slap a load of heavy makeup on it disrupts all that hard work I've been doing. I've had acne- prone skin my entire adult life so I need noncomedogenic formulas," she says.
It's a sign of the times, she muses, explaining that the impacts of the pandemic and the era of "Zoom face" have resulted in the skincare category skyrocketing.
"We saw such a dramatic shift in skincare through the pandemic — suddenly people were paying much more attention to what they were putting on their skin and the brands they were buying into," Rosie says.
While terms like "conscious" and "clean" are bandied about freely in the industry, Rosie says in the UK the phrase "clean beauty" doesn't hold much weight.
"We're seeing consumers pushing back on that loose term "clean". You see a lot of brands throwing it around and not being transparent about what their definition of clean beauty is," Rosie says.
That's why Rose Inc is walking the talk and aiming to set the standard with 100 per cent pure, plant-derived ingredients that are clinically proven to glean real, visible results.
There's ingredient-of-the-moment squalane, sustainably sourced from sugar cane; antioxidant-rich vitamin E sourced from 100 per cent non-GMO sunflower seeds; detoxifying pink clay powder; hydrating hyaluronic acid and skin-smoothing sea fennel extract.
The formulators threw in a few synthetic ingredients to create more balanced formulas, all of which meet rigorous testing standards. In addition, the brand has banned 2000 non-safe ingredients.
"We've really pushed ourselves to come up with what our standards of clean are. We're transparent. With each individual product we define what's sustainable about it and what we're using within our packaging components," Rosie says.
"It's a closed circle definition and that's what consumers are craving at this time from brands."
Calling for greater regulation within the industry is unrealistic, adds Caroline. "I think it's difficult to put a regulation around the word "clean" because every country is different due to regulatory ingredients they ban or not," she explains.
"People expect us to develop products both in colour and skincare which aren't going to cause harm to the planet. Our philosophy of coupling clean chemistry with propriety ingredients is the way forward."
The holistic approach adopted by the 100 per cent vegan and cruelty-free brand also whittles down to its packaging.
"Our packaging adheres to the highest sustainability practices possible — 25 per cent of it is refillable, and all of the plastic used contains at least 50 per cent PCR," Rosie says.
Pandemic implications aside, Rosie maintains that sourcing packaging which aligned with the Rose Inc ethos was most challenging aspect of developing her line.
"If you want to do any kind of elaborate packaging [foils or embellishments] that makes it instantly unrecyclable. We've gone back to basics — focusing on the elegance of simplicity and minimalism," Rosie says of the beige and blush aesthetic, one which channels luxury in its most simplistic form.
It would be easy to dismiss the range as one that rests on Rosie's celebrity laurels, but unlike many other A-lister collabs, Rosie has been hands-on in every area of its development. "New product development is my favourite part of the whole brand. I skip to those meetings," she says.
"I really wanted to build a brand that didn't just leverage me as a celebrity, but one that was focused on ingredients that have benefits to them and products that would give instant results."
VIVA TALKS PODCAST: What Is It Really Like To Be A Model? An Inside Look At NZ's Modelling Industry
Rosie drafted Amyris scientist Mimi Lu as vice president of new product development at Rose Inc, who holds a deep knowledge of formulations and ingredients. While Rosie tackles the creative side of the business — armed with ideas of the sensory aspect, as well as the glide, colours, shades and textures she wants in a product.
"We really do have this harmonious, seamless working relationship," Rosie says of her "lengthy and fun" benchmarking process with Mimi.
Rose Inc has wrapped its first year of launches and with 2022 pulling into view the team is focussing on feedback about products from the initial launch phase to help inform what comes next.
"We're making sure we're listening to our consumer, but also factoring in what we're seeing trend-wise and what people are really drawn to," Rosie says.
"I'm also making sure that I'm developing products that I know I will love and can speak to. It's been a dream project; I've basically got to create the perfect [range] for myself."
Share this: