Salon In The Spotlight: Get To Know Hare & Hunter
Style with a smile is the motto inside Hare & Hunter's new purpose-built studio, a light and airy space in the heart of Auckland's Remuera
Thursday Oct. 7, 2021
It's been 50 days since lockdown in Tāmaki Makaurau began.
And while it's not a pinch on other cities across the globe who have spent the better part of a year in lockdown, for local beauty buffs its meant 50 days of missed hair, nail, facial or massage appointments — little luxuries that have become so ingrained in our self-care regimes.
Mid-way through Auckland's seventh week of lockdown, the beauty industry is feeling the effects of pandemic more now than ever.
Prime Minister Jacinda Ardern's roadmap stipulates that high-touch services including hairdressers can re-open in the third phase of level 3, but the date on which that will happen remains largely dependent on vaccination numbers and the downward trend of Delta cases.
Our new weekly beauty series serves to celebrate the salons, spas and clinics who are navigating the business of beauty amid such tumultuous times, and how we can best support them until doors open once more.
To kick off the series, Brooke Mann and Nicole Brinsden from Auckland-based salon Hare & Hunter share what should have been a celebratory time — the one-year anniversary of their new build.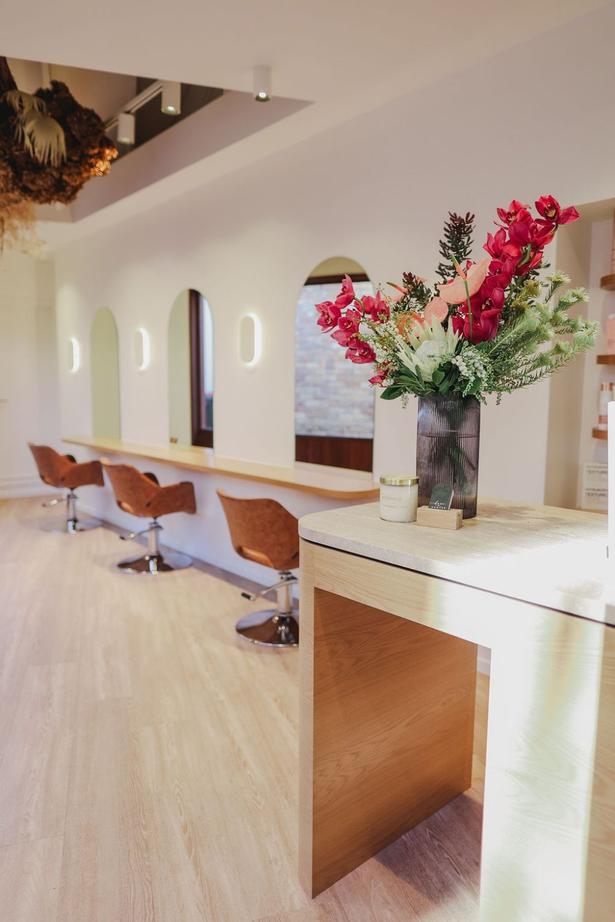 "We walk into our beautiful space and can't believe our dreams finally came true," Brooke says of the custom-built studio, which she says represents both herself and Nicole and what they wanted their brand to look like.
"So much hard work and sacrifice goes into opening a business, and on top of that, we did it through a pandemic. With our first birthday coming up, we find ourselves in lockdown again, reflecting on what a wild year it's been for us. We grew from a team of two to five in our first five months and we are just getting started! We can't wait to smash some more goals and see how far we can take Hare & Hunter."
How is Hare & Hunter different from other salons? What can Viva readers expect when booking a service with you?
With neither of us being from New Zealand, we are bringing in our Australian and Canadian hairstyling techniques and mixing them with Kiwi trends. When booking in with us, you are going to get a unique service that varies in international techniques and trends with a down-to-earth Kiwi vibe. We love to laugh and smile a lot, which makes visiting more relaxed and chill. We ensure our stylists are providing a personalised service which will truly connect with our clients to ensure a friendly, consistent and trusting relationship.
Besides hair, what other services does Hare & Hunter offer?
Since hair is our main service, we do offer other services within the hair industry. Brooke specialises in wedding hair and styled shoots and Nicole specialises in trichology (which is the study of hair and scalp disorders). We both provide education for other stylists and will eventually provide styling education for our clients.
Sit back and relax at one of the two custom-made basins. Photo / Patty Lagera

Talk me through the Hare & Hunter team members and their areas of specialty?

We have five girls in total, including us.

Grace is a third-year apprentice. She remembers the small details about our clients, such as what they like in their tea and how they like their coffee. Grace is amazing with blow drying really curly hair and gets it smooth and shiny like glass.

Megan is also a third-year apprentice. Meg is our tidy kiwi, when she's not doing hair, she is zooming around the salon picking up bits and pieces. Meg is incredible with her speed and her knowledge on current affairs which is great because she can talk to any client that walks in.

READ: Get To Know Lauren Gunn, The Owner Of Celebrated Hair Salon Colleen

Sarah is our senior stylist and is originally from America. You will notice Sarah when you first walk in, she is the one that is always smiling. If you need help with anything, Sarah is always there to help. Sarah is great with naturally wavy hair, big blow waves and knows how to butter up the clients that are an older generation.

Then there's us, Brooke and Nicole. We have 30 years of combined experience in the hair industry. We are both passionate about lived in colours and education, but also have our own specialties (as mentioned above).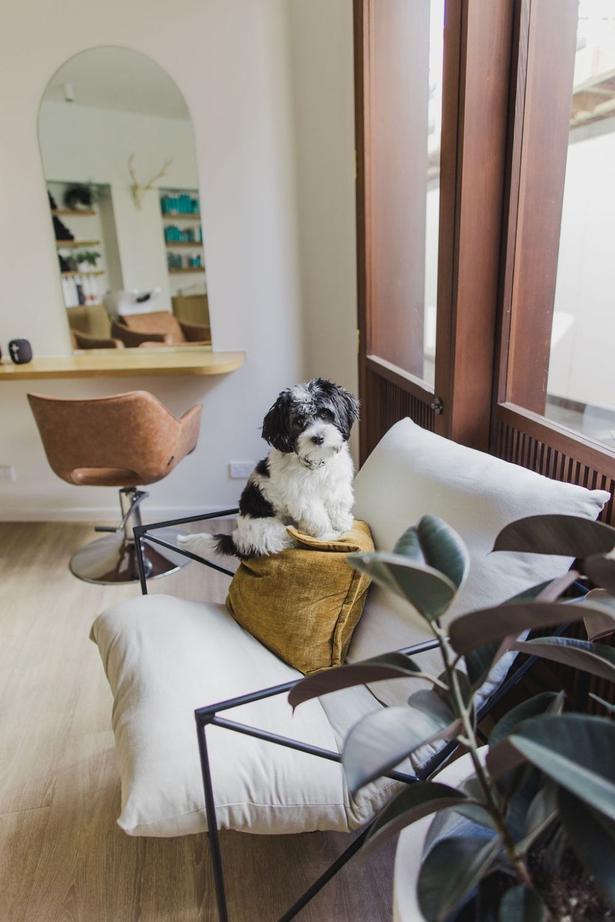 In between foils, enjoy a pat with Hare & Hunter's smallest team member, a fluffy pooch. Photo / Patty Lagera

Can you offer a couple of tips on how Viva readers can maintain their hair's condition while salon visits are off-limits?

We recommend doing a Plex treatment and a hydrating mask. Our go-to products are Wellaplex and Olaplex for the Plex treatments and Davines Oi Butter and Moroccanoil Restorative Mask. The Plex treatments will help strengthen the hair internally and repair any damage that has occurred over time from applying heat and colour, as well as providing insurance for future colour appointments. The hair moisture treatment will help nourish, moisturise, and create softness for the external part of the hair shaft.

What are you most excited about when restrictions ease?

Definitely seeing our clients, doing the new techniques and theory we learnt over the lockdown! Of course, being around our team, we have missed them so much! And let's be honest, back to earning an income again, we can't trade until we are in level 2 so it's a little further away for the hair industry.

How can Viva readers support Hare & Hunter at level 3 and level 4 while the salon remains closed?

With finances being a bit shaky for everyone during these times, simply being active with our Instagram (@hareandhuntersalon) and Facebook (Facebook.com/hareandhunter) accounts by liking and commenting on posts, sharing posts in your stories and even engaging with us via DM's. Especially if you want help with a one-on-one styling, give us a video chat!

Visit Hare & Hunter, 1G/415 Remuera Road, Remuera, Auckland, or phone (09) 281 0662. Hareandhunter.com
Share this: