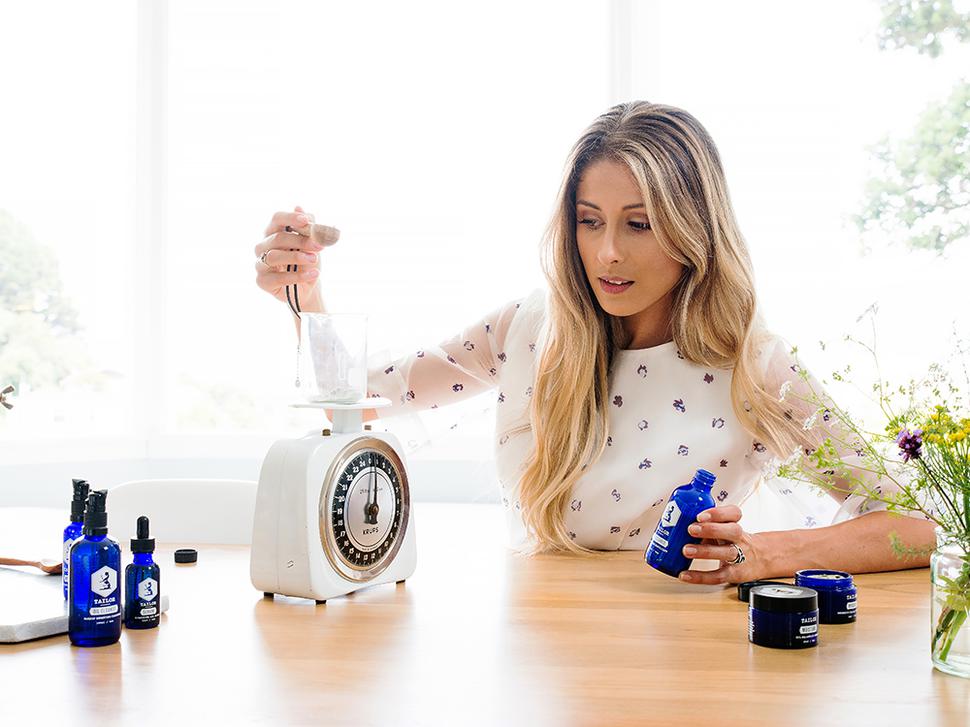 Sara Quilter's Tech-Savvy Skincare
The founder of Tailor skincare makes products that work using natural ingredients chosen by you
Sunday April 1, 2018
From curiosity to customisation, the path of discovery that Sara Quilter has followed is the one she is offering customers of her forward-thinking, green skincare brand.
Tailor skincare uses a digital outreach programme to connect with a growing tribe of enthusiasts, dreamed up by its savvy, Wellington-based 30-year-old founder. But beyond the usual blogs and eco credentials — including distinctive blue-glass packaging, rather than plastic — Sara has come up with a business strategy that taps into the current mood for personalised service and solutions.
An online questionnaire leads shoppers to tailor-made versions of her key products; hence the company name.
"Everybody is different and I wanted to be able to cater for that in some way, but make it scalable," she explains. This casts Tailor as an early local adopter in the skincare realm of the customised approach. The trend also leaves customers with a sense their consumerism is mindful.
Sara has followed a path to becoming more self-aware and positive since the soft launch of her business in 2012. From stressed to strategising, the psychology graduate now seems to have a lot of her priorities sorted.
READ: Your Ultimate High-Flying Skin Guide
Making skin care started as an interest, became an "obsession" and is now a fulltime vocation she passionately believes in. Along the way, Sara has moved from California, where she was working, to Taranaki, where she grew up, and then back to Wellington, where she had studied at Victoria University before heading overseas. She now lives in Lyall Bay, where she walks her dog on the beach and takes time out for yoga and meditation.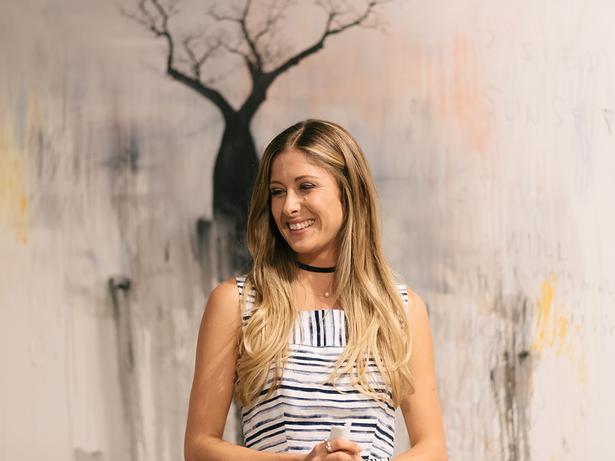 Tailor skincare uses a digital outreach programme to connect with a growing tribe of enthusiasts. Picture / Supplied

At the end of 2014, she made the "at-breaking point" decision to chuck in her busy full-time job in HR recruitment so she could focus more on Tailor. Juggling both had left her exhausted. "I realised I was putting a lot of effort in and not getting the return and it felt very disheartening… but something kept me going." Sara followed her heart, but used her head. "By taking that risk, it really did pay off."

Tailor has now been picked up for wider retail distribution, but Sara keeps the business manageable, employing just a couple of staff. Outsourcing production to a Christchurch laboratory and contracting business expertise has allowed her to focus on developing the brand and her own skills.

She is studying for a Diploma of Cosmetic Chemistry to supplement the extensive research she already does into ingredients with more practical know-how. A good digital strategist has been a boon for a business that first began on Facebook.

"If you can't afford the entire person full-time, then hire a part of that person," she says. Using apps and popular communication tools such as Messenger, which she says are fast replacing long-winded email marketing, is working well.

If that sounds like a marketer's thinking, then, yes, that's part of Sara's skill set. It was while doing market research into the organic horticulture industry in California, that the skincare idea took root.

Through thinking about soil health, chemicals and food, she began questioning the ingredients in her own skincare. "I started going, 'how could I make my own skincare without these ingredients, is there a safe alternative which is natural, what's the ingredient's function and role?'"

Sara wasn't satisfied with simply switching to buying certified organic products — the science had captured her.

"I've always liked making things," is how she explains it. "The obsession was in unpicking what made a skincare product good, both in terms of functionality and the safety of ingredients, not even thinking I was going to start a business, just in making the products for me, just out of pure interest."

When back in Taranaki, she set up a Kenwood mixer in her father's garage and got to work. The clay mask she made went down well with friends, encouraging further experimentation.

From there, it was to Wellington, where she feels most at home. Drawing on what she had discovered about stimulating soil microbes, she pursued the emerging use of probiotics in skincare, launching Renew, a probiotic serum in 2016.

This won an innovation award from the National Society of Cosmetic Chemists. The encouragement of receiving an endorsement "because it works rather than simply because it's natural" spurred her on.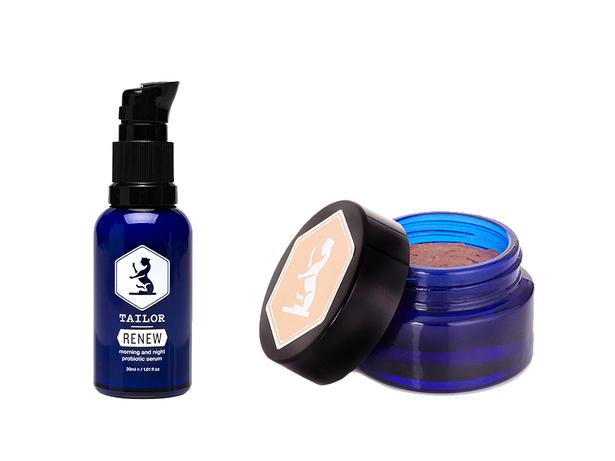 The Tailor moisturiser enables the mix to change to your skincare needs. Picture / Supplied

The serum contains a vegan probiotic lysate, also used in the fermented drink kefir, which she says helps stimulate skin renewal. It's promoted for its anti-ageing and anti-breakout effect.

The tailor-made hero product is, however, the Your Blend Moisturiser. "I created it as a product to be blended for you, by you," says Sara. The concept enables the mix to change with skin care needs or as new active ingredients are developed. "Cosmetic chemistry is just accelerating at such a rapid rate."

Although Sara is fascinated by advances in skincare science, she has drawn a line around using synthetically developed peptides. She's not against them, but believes their use would be counter to her natural brand positioning.

"It's about finding those ingredients that are still natural, but have that activity on the skin." Her Gold Dust product sees users mix powdered vitamin C into their moisturiser to better retain the effectiveness of an ingredient that can degrade quickly in liquid formulas.

READ: Luscious Body Oils Your Skin Will Love

Tailor's ingredients are a mix of locally sourced, plus those from overseas that Sara considers are evidence-based and that have an ethical supply chain. The bottom line for Sara, and what she says gets her out of bed in the morning, is "being able to help people heal and improve their skin, and therefore their self-confidence".

• Visit Tailorskin.co
Share this:
More Beauty & Wellbeing / Features & Profiles