Why Food Blog My New Roots Isn't Like the Rest
Sarah Britton's genuine love for nutrition sets her apart in a crowded market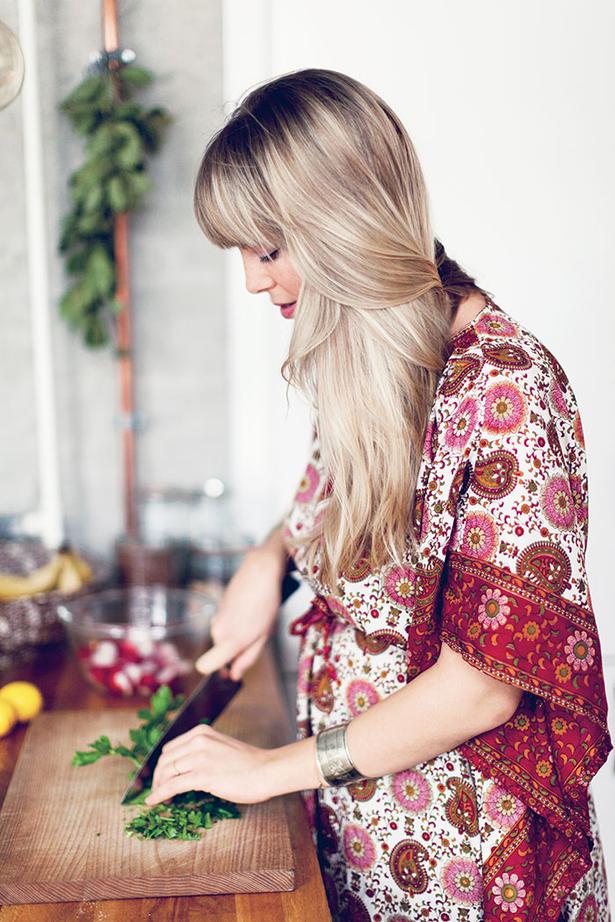 Wednesday June 10, 2015
In contrast to the multitude of modern bloggers whose faces we instantly recognise, Sarah Britton is mysteriously elusive. She prefers to let the food talk for her. The food, and the screeds of information she posts with each recipe. Hers is long-form blogging where, much like a hooded Nigella, her enthusiasm for food is infectious.
After years of trying to sneak a glimpse of her face via the blog, or her almond milk-making video (posted in 2011, before it became mainstream), sitting down with her via Skype feels somewhat akin to meeting Daft Punk minus the masks. One has to admire the decision to not use this glowing blond beauty as click bait, choosing instead to focus on her brain. "My real passion is teaching. I taught high school for a couple of years," she says. "I like to nerd out and the fact I'm a certified nutritionist sets my blog apart from others."
As Sarah tells it, she wasn't always such a beacon of glowing nutritional goodness. In the introduction to her book she explains she was shocked into it after eating an organic yellow tomato during a stint on a farm after completing a design degree. It touched her so greatly she extended her stay and enrolled in nutrition school on return to her hometown of Toronto.
Sarah nods excitedly when asked if the celebratory tone of the blog is intentional. "Yes," she enthuses. "My whole thing about celebrating food comes from a background of scrutinising constantly and feeling really like food is my enemy. As someone who used to be overweight and really conscious about calories and fat grams, it can make you nuts and take all the pleasure and joy out of eating."
Her "light-bulb" moment came when she was studying nutrition. "Women are not supposed to be skinny. That's not healthy!" She sees her philosophy of plant-based eating as "true freedom from the shackles of guilt and confusion and negativity around food. It's so liberating and, yeah, something worth celebrating."
Her joy is both contagious and far-flung; many everyday people (myself included) credit My New Roots for opening their eyes to the deliciousness of a whole-food diet. And many of the subsequent myriad whole-food blogs owe some kind of dues to her bibliography.
My New Roots was launched in 2006, ostensibly as a place to store the information she was buzzing out on while studying nutrition (the way Sarah tells it, it was a boyfriend who suggested she write it all down rather than boring him with it).
With a diet previously heavy in processed and packaged foods, her early recipes were largely experimental; she winces at the thought of them now ("I was a terrible cook back then!"). Then one fateful day she met a handsome Danish man on the streets of NYC. They married and moved to Copenhagen, a perfect love story in every way — except her qualifications weren't recognised in Denmark.
Unable to work as a nutritionist, Sarah immersed herself in the thriving vegetarian food scene and was amazed how quickly her skills and knowledge grew. Working in some of the best kitchens in Scandinavia, including Noma (see inset), developed her technique and fuelled her passion.
The information continued to pour in."I get so excited about these things," she exclaims. "The whole reason I started the blog in the first place was because I learnt so much at school and thought, why doesn't everyone know this? How have we been raised not knowing how to cook or eat properly? We're so disconnected from our bodies — we know how our phones and cars work but have no idea how we work!"
Sarah admits to being somewhat of a luddite when it comes to the modern era of blogging and the subsequent growth of personalities on social media.
"My husband eventually forced me to get a Facebook page and Instagram," she confesses. She is much more at home in the info-rich medium of her blog than other platforms. Her legion of fans came, at first, through word of mouth and more traditional forms of media. She provided Meatless Monday recipes for Martha Stewart's Whole Living, detox advice for O magazine and wrote a column in Bon Appetit.
These in turn generated much-needed cash flow as Sarah resolutely refuses to monetise the blog, which she describes as 100 per cent a labour of love.
"It's borderline foolish with the traffic I'm getting," she acknowledges. "But I feel like we're constantly bombarded with advertising and messages in our daily lives and I just want to have a clean space in which people can focus."
These days social media serves a very happy purpose in connecting Sarah to her audience. "It's phenomenal to know there are hundreds of thousands of people out there making changes, banding together and getting their families involved. It inspires me so much and gives me the energy to keep going."
Her recipes are constantly tagged and replicated, the most popular being the life-changing loaf of bread, the raw brownie and raw cashew dreamcake. She is eagerly anticipating the book tour that will connect her with the community she's created. Her ultimate goal is "trying to change the world, to put it in broad terms. So I need to meet the world."
Working in the Noma Test Kitchen (The Nordic food lab)
"I spent three months working on one dinner. It was for the Scandinavian Fashion Coalition. Their mandate at the time was to be completely CO2 neutral, and to kick off this initiative they held a vegetarian dinner for 300 people with the Princess of Denmark and all royalty from Scandinavia.
We broke the meal down into the seven stages of design. The first stage was gathering raw material; I did a lacto-fermented rhubarb in a gluten sphere with savoury candyfloss — it looked like silkworm eggs.
The last course, dessert, was the catwalk. It was very high and glossy and all different textures so it looked like a haute couture gown. It was a very experimental menu. I don't think people walked out of there full or satisfied — their minds were blown but they were hungry!"

• Read more and buy Sarah's new book My New Roots.
• Make Sarah's recipe for Vanilla Rose Apple Juice
Share this:
More Beauty & Wellbeing / Wellbeing