Sarah Moon and Francois Nars on Their New Collaboration
Acclaimed photographer Sarah Moon and makeup artist Francois Nars have joined forces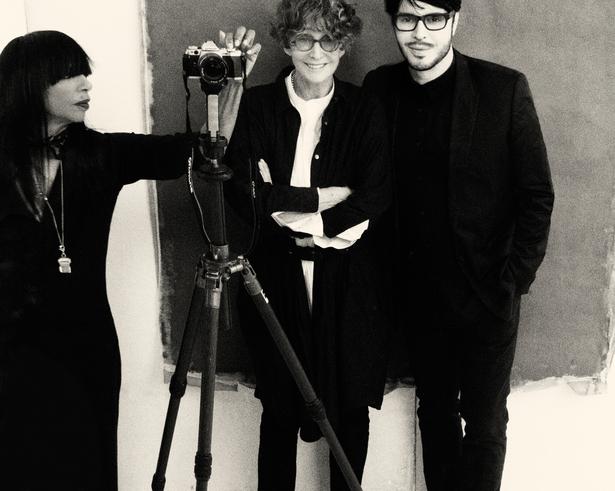 Wednesday Nov. 2, 2016
Francois Nars: I discovered Sarah's work in the early 1970s when she was doing quite a bit of editorial work for Elle and Vogue. It was really incredible to be able to do this collaboration and work with her for the first time after all those years of admiration. Like most talented photographers, she works in a very specific world. It's a very intimate world full of softness and beauty - like a dream world. And she has an incredible love of fashion.
Sarah Moon: It was like I've always known him, without knowing him. There is great trust, respect, and mutual admiration between us, which made it lovely to work together. Also, he's a photographer so he knows how fragile the process is. The concept of his previous collaborations [with Guy Bourdin and Steven Klein] was to use their existing images. When we met I proposed to do something new, which he was totally open to. That made it exciting for both of us.
Nars: Sarah sent thousands of incredible inspiration images to see what I was attracted to and we came up with a concept together. Patti Wilson styled the shoot, she is a good friend of both mine and Sarah's.
Moon: François had asked me to bring an object that could inspire the packaging design, so I brought a very simple transparent square box. For me, the collection was all about transparency. I wanted it to be very modern and feel almost as if the woman is transparent.
Nars: Sarah and I share a common obsession for references from the era of the 1920s and 1930s, so you can really see the reference to the [1927 sci-fi] movie Metropolis woven into the collection. It's a combination of art deco with plastic acrylic - almost robotic or futuristic but with a 20s feel.
Moon: I wanted the styling very simple and I knew straight away that I wanted the corset. I wanted to see the skin so we made the corset transparent and it turned in to this idea of Metropolis.
Nars: I was more involved in the makeup direction because I had Sarah's 1970s Cacharel images in my mind as a reference. I wanted a more extreme makeup look. I told Diane [Kendal], don't be afraid – give me those intensely smoky eyes. Those eyes work so well in Sarah's world in combination with the lighting and the way in which Sarah shoots.
Moon: We talked about the idea of a kind of mist around the eyes and worked from there. Nothing too obvious, nothing too strident. Just enhancing the woman's natural features. The shades really stemmed from this idea.
Nars: You get inspired by the colours in her photographs. They can go from dusty pastels to smoky neutrals. It probably took me an hour total to create the collection – it was that easy. Sarah loves those beautiful, deep red colors. And smoky eyes.
READ: Why Francois Nars Loves Stylish Women
Moon: Colour is a language. For me, it's like words. It expresses something each time. Everybody knows that red is more dramatic than pink. Each colour has its own story somehow and when you're using it it's revealed to you - whether you want it or not.
Nars: Some photographers have certain light that they love. Steven [Klein] loved very intense purples, greens and reds. With Sarah, it's more of a combination of pastels combined with muted reds and deep burgundies. This the fun part for me as a makeup artist, I get to create all of the colours they love.
Moon: For me, the secret to makeup is that it enhances, but it doesn't mask. It integrates your personality and that's always key. We wanted to tell a story of an authentic woman.
Nars: This was the first collaboration where we used two models – Anna Cleveland and Codie Young. Sarah has worked with Codie in the past and loves shooting her. I suggested Anna because I thought it would be a great combination. Sarah is very specific about her model. If she can't connect with the model, she can't take the picture – which reminds me very much of working with Helmut Newton and Serge Lutens.
Moon: It's difficult to say what my creative process is, because it's not always the same. A lot of it is hoping for luck. You have an idea in the head, but it's when you see it that you know if you can work with it or not. I was very lucky to get what I could vaguely imagine for this shoot. I really worked with Patti on the corset, the helmet, all of the details, the transparent jewellery … the props gave a direction and confirmed this notion of light, transparency, and strong shape. Even if some of it had to be eliminated in the picture, the idea remained. Not romantic, but romanesque.
Nars: While we were shooting I told her that this is her ultimate vision and she could do exactly what she wanted. No one was going to tell her what to do, especially me.
Moon: My work as a model helped me a lot with the complicity I have with my models. I began photographing when we were waiting during the collections. I never felt I had a special style. I just saw things this way – so I suppose it became my style, but I never realised it until people started talking about it. The grain, the sharpness, the blur – which is not really blur at all, but double exposure. It was really the silent movies that inspired me when I was young – before painting, before photography, before everything really. For me, fashion is fiction. Guy Bourdin was the one who really inspired me to do fashion.
Nars: Each collaborator is completely different. It's really about their ideas and their world. Through each collaborator's work you are able to see who they are and what they love.
READ: Francois Nars on What It Takes to Be a Supermodel
Moon: I always say less is more. I'm more interested in evoking than in describing. At the moment, I am doing a book on colour and an exhibition in Kyoto, Japan later this year. In photography the tool and the approach has changed with digital, as it allows many people to photograph. But a good photo is a good photo, whether it is digital or Polaroid or Analog. The challenge was much bigger before, but finding one's own voice is still very difficult. Especially now in an age where everybody talks.
Nars: You look at her world and you get inspired by the colours in her photographs. Sarah is a photographer of beauty. Beauty is in her blood; she's obsessed with beauty. Her love of fashion and beauty combined really create the stunning images she captures.
Moon: Beauty and fashion are very much linked – it is a way to enhance one's personality. They have a saying in French that the costume does not make the person - but in a way, it does. You're not the same woman if you wear a raincoat or an evening dress. The same woman can wear them both but she won't feel exactly the same. Make up accompanies this feeling. It enhances the personality and gives a direction. When you photograph a woman with very light makeup or very heavy makeup, it gives it a tune. And then you follow the music. There is a different perception of beauty as it is a question of environment. You can't make a generality though [of France v. America], there is no stereotype.
I'm smoking a lot, which is very bad! I'm working a lot, which is very bad! I try to do Pilates, but I am not regular. Yet I care, I do care.
The Sarah Moon X Nars Colour Collection features items for lips, eyes, face and nails and is exclusive to Mecca stores in New Zealand from November 8 until Boxing Day.
Share this:
More Beauty & Wellbeing / Features & Profiles