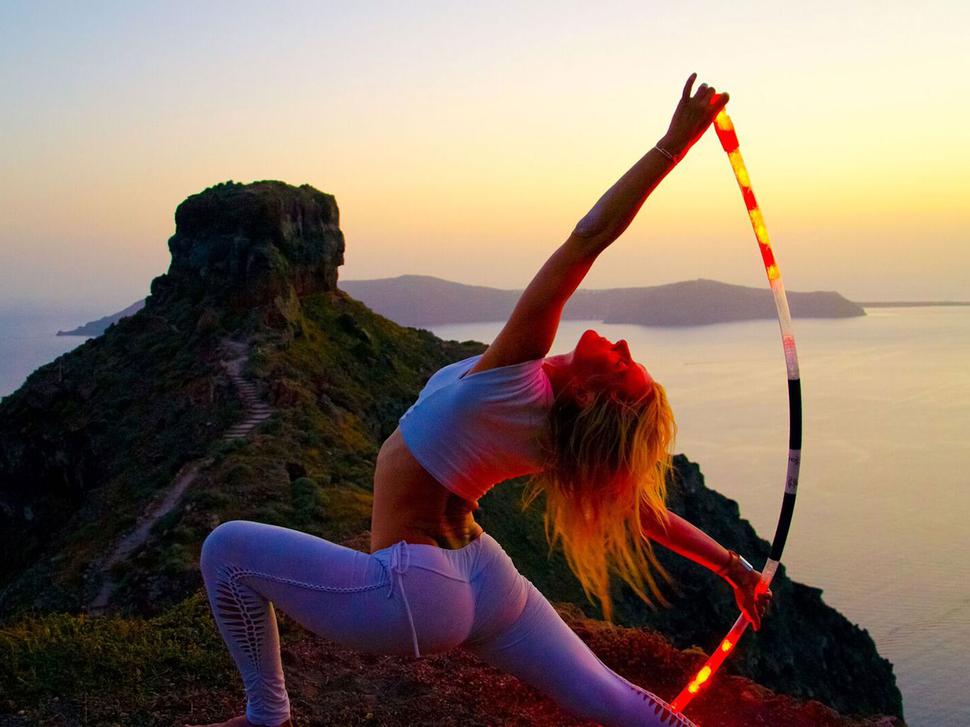 Shiva Rea's Style of Yoga
A world-renowned yoga teacher says we need to get away from mechanics and back to awareness
Wednesday Jan. 13, 2016
Once described as the "Madonna of vinyasa" by Vanity Fair magazine, Wanderlust festival headliner Shiva Rea is dismissive of of suggestions she invented her own style of yoga. "It makes me feel nauseous," she cringes. "From an anthropology point of view it's really just that culture evolves."
There is, however, no doubting that Shiva has been a driving force behind the huge surge of popularity in the largely Westernised system of vinyasa yoga (vinyasa meaning simply, "a series of movements linked with breath"). "What I was finding", explains Shiva, "is that Westerners tend to make anything mechanical — including asana [yoga poses]".
She realised that through this rigidity people were creating stress patterns within yoga. "I wanted to bring people back into the pulsation of breath as an underlying pulse of life." Thus, Shiva's trademarked "prana vinyasa" evolved.
Shiva has been teaching yoga for 25 years and practicing much longer, having started meditation as a 14-year-old. She eventually did her teacher training as a way to deepen her practice, assuming she would be an anthropologist. "I intended to do this kind of cultural bridging and advocacy but I ended up choosing a path that I felt was the front line of evolution."
She explains: "Where I live in LA, disembodiment is a huge issue, people are living with high levels of stress and not in a natural rhythm." Eventually, anthropology studies were not empowering enough. "I became tired of writing about it. Yoga felt like I was actually doing something."
Shiva's career has weathered the highs and lows of an industry once inhabited by fringe dwellers and is now threatening to burst under the pressure of its own popularity. She describes yoga as "an amazing science of transformation" and questions whether its current market saturation is reaching people in the appropriate way.
"I think we have to beware of an approach where the body becomes a machine", she cautions, "or machinistic yoga, where we're really taking limited awareness. People are going to start to miss the soul of yoga again." She cites the spread of large studio chains and the subsequent loss of traditional yoga studios and the communities they fostered as symptomatic of this problem.
"It's like eating a banana peel", she says laughing. "We're missing nutrition. And I think people are going to start to realise that. My only hope is that they don't stop doing yoga, that yoga is able to evolve. I feel it is."
She is excited about Wanderlust for this reason. "The festival is as old as people coming together. We've got to come together!"
It will be Shiva's first visit to NZ and the teacher who once studied dance movement culture at UCLA is ecstatic to have the opportunity to immerse herself in Maori culture. "Ancient wisdom is what we really need to embody and integrate, I'm thrilled that's part of Wanderlust."

• Wanderlust Great Lakes Taupo runs February 4-7. For tickets and more information see wanderlust.com
Share this:
More Beauty & Wellbeing / Wellbeing