Singer Kendall Elise's Beauty Routine
With a debut album out on Friday, this colourful performer with a liking for rocking a vintage look - on and off stage - is one to watch out for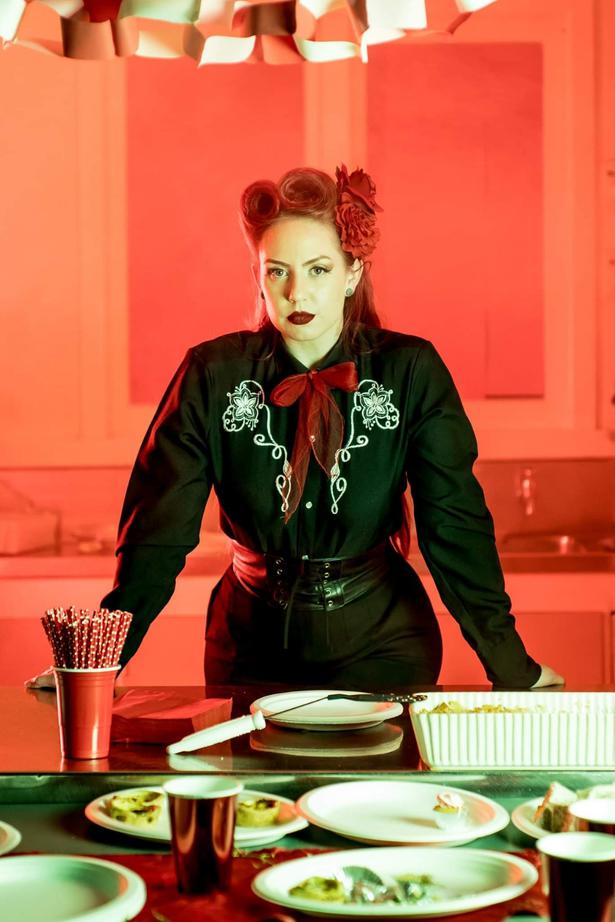 Thursday May 2, 2019
Kendall Elise is hoping her debut album Red Earth will be the next step in her promising and self-managed solo career. The talent of this determined young Auckland singer-songwriter was recognised in 2017 when she released an EP and was a finalist in the APRA Best Country Song category at the Golden Guitar Awards, with a song called Heart Full of Dirt. Since then she has been grafting away, mixing work with performing her music which shows influences from rhythm and blues to folk and country.

Red Earth draws on her experiences growing up in Papakura, where she got into music as a teenager and began singing with bands. The album's first single, Valentine Street came out early this year, with a clever video that encapsulates her retro style. Performing with the likes of Gin Wigmore and at venues including the Tuning Fork has helped Kendall gather fans, some of whom have contributed to her Kickstarter campaign for Red Earth. That closes on Thursday night, May 2, with supporters able to pre-order her album which will out the next day. 
Then gigs in support of the launch will follow, starting with one with Daniel Armstrong at the Monsoon in Kumeu on May 4.
On May 18, she plays at the Ministry of Folk.
Kendall says while she understands how some female performers can feel pressured about looking a certain way, she doesn't. "I choose to look the way I do on stage because I find the ritual of applying makeup very calming and enjoyable. I find having that quiet time to prepare is almost meditative, it helps me become focused and combat pre show nerves."
Her love of the vintage aesthetic is deep-rooted, but also helps her stand out on stage appearance wise. "I feel empowered and put together when I have nailed a complete vintage look," is how she puts it.
Beauty approach
I like to keep it simple and save time. My makeup bag is small and only consists of items I always use because I take it with me wherever I go – I'm regularly going to events and gigs straight from work and prefer not to have to worry about forgetting something important. I tend to find a look and products that I like and stick with them.
Real life v on stage
Time is the biggest contributing factor to how I look day to day compared with at events or gigs. I work full time as well as being a self-managed musician so have established a quick weekday routine. My day-to-day makeup look is created using a light covering of foundation, filling in my eyebrows with powder, waterproof mascara, a little blush and a long wearing lipstick.
My wardrobe is heavily inspired by the vintage aesthetic (1950s-1960s). So, what you see me wearing at work during the week is what I wear on stage – usually adding a few more glamourous touches such as seamed stockings, victory rolls and hair accessories to perform.
READ: Musical Theatre Star Elise McCann's Beauty Routine
There may be days where I am sick, or I have been up late working on creating music or the administration side of the biz so I choose to sleep in for a few more minutes instead of worry about how I look. However, before performing I always make sure I have enough time to calmly sit and style my hair and put on a full face of makeup, including eyelashes, cat-eye flicks, highlight and contour and a bold red lip.
Memorable moment
I love the look I created for my Valentine Street music video. I wanted to go for a Johnny Cash kind of vibe in all black. I wore a vintage black country styled shirt with white embroidery. I styled my hair in asymmetric victory rolls and accessorised with pops of crimson red: with a red scarf, red hair roses and red lips. I felt quite confident and powerful and I feel like that really came across in the music video too!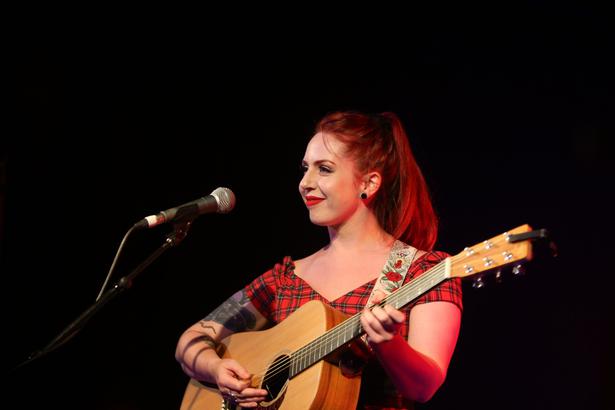 Kendall adores recreating all the glamour from the 1950s for the stage. Photo / Supplied.

Favourite look

The vintage look of the 1950s which I find is quite classic and easy to do. I like a matte finish achieved with foundation and powder, and accentuate my cheekbones with a little blush. I draw my eyebrows with a high arch using a red lip liner to match my red hair, and soften them with eyeshadow powder. I use black eyeliner only on the top eyelid, extended out beyond the eyelid, with a liquid eyeliner. I like to use neutral brown colours for my eyeshadow to accentuate my blue eyes, and top it off with mascara and false eyelashes. For lipstick I use a lighter red or coral shade for the day time, deeper red shade for night.

Makeup memories

Hanging out with kids in our neighborhood, playing with Mum's lippy, painting our lips and drawing big red circles on our cheeks trying to look like clowns.

READ: Dancing With The Stars' Carolyn Taylor's Beauty Routine 

Daily routine

My routine is very simple. At night I remove any makeup and cleanse my skin. I then apply a light moisturiser. I also exfoliate every few days. In the morning I gently cleanse and use moisturiser before applying my makeup.

Hair and its care

I like to experiment with different tones of red. I colour my hair myself and use Directions semi-permanent hair dye which comes in a range of bright colours. I find semi-permanent dye often contains a conditioning treatment which is great for my bleached hair. I colour my hair once every 6 weeks or so. To maintain the colour between dyes I use Loreal Colorista in #REDHAIR, and I also use CHI Ionic Color Illuminate Conditioner in Mahogany Red.

Transformation tip

Adding red lippy never fails to transform a look from day to night.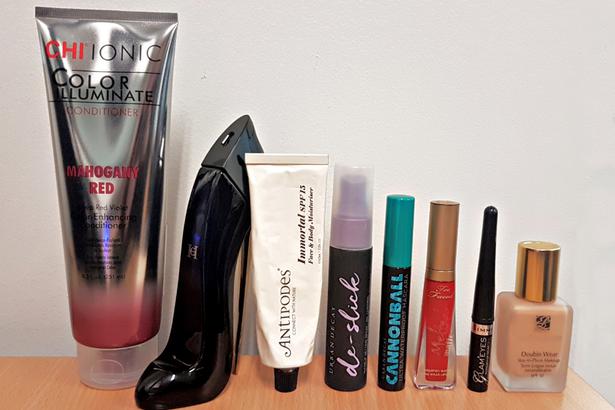 Kendall looks to colour-enhancing products to keep her signature fiery red hair looking vibrant. Photo / Supplied.

Five favourite products

1. Antipodes Immortal SPF15 Skin-Brightening Face & Body Moisturiser: I love that it has an SPF and absorbs really quickly into my skin without making it oily. It creates a nice base for my foundation.

2. Estee Lauder Double Wear: I have very oily skin and Double Wear stays put without slicking off.

3. Carolina Herrera Good Girl Eau De Parfum is my favourite perfume to wear. It settles nicely on my skin.

4. Rimmel Glam Eyes Liquid Eyeliner: I have been using this ever since I started drawing cat eye flicks as my regular makeup look. I love the fluidity and the way it doesn't cake – it stays put all night.

5. CHI Ionic Color Illuminate Conditioner in Mahogany Red: It helps maintain the vibrancy of my red hair and smells really nice!

Beauty to you is…

How well a person treats other people. The most beautiful people I know are the kindest.

Share this: