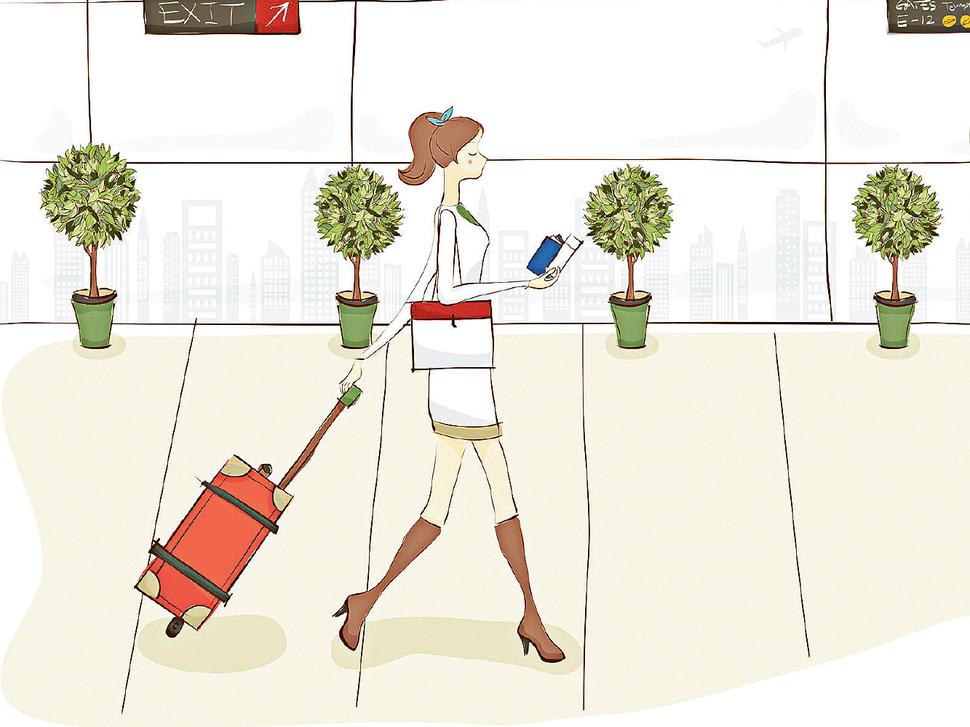 Your Ultimate High-Flying Skin Guide
Try these tips for caring for your skin before, during and after a flight
Sunday March 25, 2018
Everyone loves going on holiday, except for the actual travelling part. The arid environment of an aeroplane or bus can wreak havoc on the skin and leave it looking dehydrated, blotchy and fatigued.
American dermatologist Elizabeth Tanzi shares her skin-saving travel secrets.
BEFORE TAKEOFF
Before you board: Pick up a one-litre bottle of mineral water or a potassium-rich cucumber or coconut water. Pack a reusable water bottle for easy refills in the airport and on the plane.
Go au naturel: A clean, makeup-free face, or a minimally made-up face, is your best defence against oily skin and clogged pores. If makeup is necessary, mix a light moisturiser with your foundation to keep skin hydrated.
Prep to protect: Use a gentle, creamy facial cleanser, such as Neutrogena's Ultra Gentle Hydrating Cleanser or Dermalogica's Ultra-Calming Cleanser, or try New Zealand's own Trilogy Very Gentle Cleansing Cream. Apply a hydrating body lotion on your arms and legs. This will nourish skin and protect it from becoming parched in the dry cabin air.
If your skin is troubled by eczema or the like, avoid flare-ups by using a specialist care body product such as Eucerin's Advanced Repair Lotion or QV or Ego products. A natural choice such as Weleda's White Mallow Body Lotion has also been recognised for use with eczema. La Roche-Posay's Cicaplast range provides barrier protection and is especially good on hands.
Layer products according to your skin type: Tanzi recommends that travellers with combination or oily skin apply a sheer super-hydrator such as Neutrogena's Hydro Boost Water Gel.
Individuals with dry skin should add an extra layer of protection, such as using a serum with hyaluronic acid to aid skin-plumping moisture retention, and look also for the likes of shea butter for rich moisture. Try Ultraceuticals Ultra B2 Hydrating Serum or Antipodes Vanilla Pod Hydrating Day Cream, with African butter.
IN-FLIGHT MODE 
Spray it: Nothing feels quite as refreshing as a spritz of water when your skin feels like a desert. Apply a mist hourly to give skin the extra gulp of hydration it needs to fight redness and irritation. Tanzi's favourites are Avene's Thermal Spring Water and La Roche-Posay's Thermal Spring Water.
You can get some aromatherapeutic relaxing benefits from sprays such as Jurlique and Trilogy, but avoid those with synthetic fragrances, which can dry and irritate. Sleep is your friend: Skip the movie marathon and try to catch some extra Zs. Use a comfortable silk eye mask and consider applying a sheet mask such as Neutrogena's Hydro Boost.
READ: Eight Ways to Relax Into Your Holiday
UPON ARRIVAL
Wake up your skin: Wash your face with a gentle facial scrub, such as Sukin's Super Greens Detoxifying Facial Scrub or Aveeno's Skin Brightening Daily Scrub, after disembarking for a quick pick-me-up.
Swipe off: Wipe away plane grime easily with a pre-moistened cloth, but ensure it is not abrasive. Try Nivea's Gentle Cleansing Wipes.
Swipe on: Lather on a facial hydrator such as Clinique's gel-style Moisture Surge and use a natural balm to refresh dry lips, nose and hands.
Avoid extra baggage: Beat puffy, bloodshot eyes and dark circles with saline drops and a cold compress. Specialist eye masks, such as Shiseido's Benefiance help ensure that while you may still be jet-lagged, your skin doesn't have to show it.
— The Washington Post (with additional recommendations from Viva)
Share this:
More Beauty & Wellbeing / Features & Profiles