The Growing Popularity of Skin Oils
It's a gold rush out there as the beauty industry mines the growing popularity of skin oils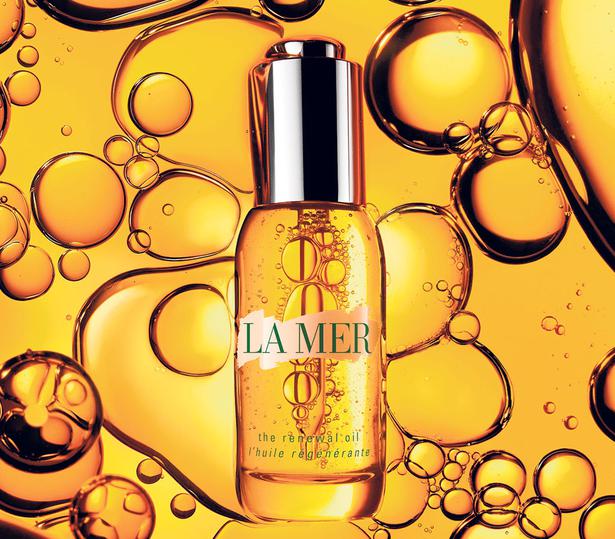 Thursday Dec. 17, 2015
The appeal of oils in skincare has reached new heights with prestige brands tapping into "the gusher". Although plant oils have long been valued by indigenous communities and natural beauty practitioners, their mainstream acceptance has taken longer. We are well beyond that now, with recognition of the specific values of different oils for different uses.
The best choice for the body compared with the hair or face varies as should the weight of an oil used primarily for cleansing, massaging or moisturising. For instance some contain anti-bacterial properties, others are rich in omega fatty acids to nourish skin.
Clouding the issue is that oil from the petroleum industry has been a staple additive of the beauty industry for decades thanks to its occlusive properties and cost-effectiveness, but as issues of sustainability occupy consumers' minds more, the focus has shifted towards the more appealing allure of traditional oils extracted from seeds, nuts and plants.
Finding finer oils that absorb well into the skin rather than merely sit on the surface has been a focus, especially for use on the face. Mixing botanical oils with other skincare ingredients is newer, as nature and science combine in targeted treatment oils. At the high end of the market, the growing acceptance of oils in serums or standalone form plays well with an often mature customer base looking for intense moisture without resorting to heavy creams.
Below we sample a few drops of the new generation of high-value face oils. Worth exploring also are those oils from natural skincare makers, including a strong representation from New Zealand brands, looking to incorporate effective antioxidants to boost the potency of your daily drop (see sidebar).

La Mer Renewal Oil $360 
Oils are versatile and La Mer recommends its customers discover the "art of play" with this one, trying it variously as a primer under their serum, an added layer to their nightly routine or even as a moisture booster for air travel. Like all La Mer skincare it contains the brand's cornerstone "miracle broth" of sea-sourced actives. The suggestion to try it on body and hair seems profligate at the price, but your face will lap up a light layer and look more radiant for it. From Smith & Caughey's.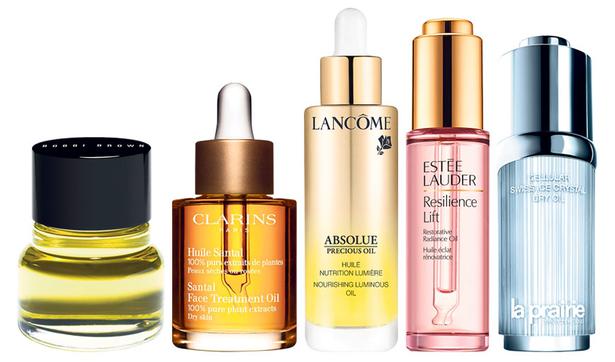 Bobbi Brown Extra Face Oil; Clarins Santal Face Treatment Oil; Lancome Absolue Precious Oil; Estee Lauder Resilience Lift Oil; La Prairie Swiss Ice Crystal Dry Oil. Pictures / Supplied.

Bobbi Brown Extra Face Oil $125
Bobbi Brown was early to add a cleansing oil to her skincare range and followed with this hydrator. As well as for moisturising, her makeup artistry trick is to try tapping it over foundation to bring an added glow to the skin. Contains sesame, jojoba and almond oil, with vitamin E. From selected department stores and pharmacies and Bobbi Brown Britomart.

Clarins Santal Face Treatment Oil $66
This oil blend is formulated for drier skin prone to redness and reflects the French practice of combining moisturising plant oils with essential oil fragrances for cosseting aromacologie care. Hazelnut seed oil helps with suppleness and cardamom oil with resilience. From selected salons, pharmacies and department stores.

Lancome Absolue Precious Oil Nourishing Luminous Oil $335
Part of Lancome's top-of-the line Absolue range, this smells of rose essential oil and is mixed with seven botanicals oils including jojoba, rosemary and olive. Designed to provide sensorial pleasure as well as replenishing moisture with a golden glow. From selected department stores and pharmacies.

Estee Lauder Resilience Lift Restorative Radiance Oil $133
A few drops of this silky subtly fragranced oil smoothed over the face and throat before moisturising will help hydrate and fortify skin with nutrient-rich phyto-lipids. The dropper applicator helps control the amount of fluid dispensed. Keep away from direct sunlight to protect the contents. From selected department stores and pharmacies.

La Prairie Swiss Ice Crystal Dry Oil $442
Customers apparently often mix a few drops of this oil into their chosen moisturiser to tailor the texture to suit. This is a nice way to introduce oil to your regimen if you do not wish to use it as a standalone product. But slathering it on will give you the highest concentration of silky oil infused with La Prairie's fortifying complex of survivor plants and algae from the Swiss Alps, from where the oil takes its name. From Face Facts, Remuera, or Smith & Caughey's.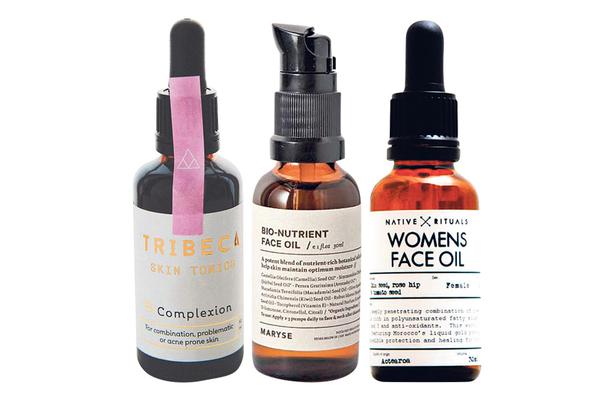 HANDCRAFTED HELPERS
New Zealand's strong representation of natural skincare makers are big on face oils. Botanical oils are popular in moisturisers and serums and their emollient formulas are ideal for self-massage, bringing extra benefits from adding oil to your beauty regime. Established brands are associated with key oils — Trilogy for rosehip, Antipodes with avocado for instance — but like many other companies they mix it up according to purpose. The oils we feature here stand-out in being hand blended by three emerging makers, using a variety of oils they have used their beauty backgrounds to determine, in the belief they could offer something beyond what they were using.
Tribeca Skin Tonics 50ml Complexion Oil $65
Auckland facialist Ashleigh Scott makes three different plant oils, including this one with hemp seed and jojoba oils, plus calendula, frankincense and ylang ylang. It aims to feed skin to balance combination, problematic or oily conditions. She hand blends other mixes for devitalised, dry and ageing skin or for compromised skin. The oil can be used instead of a day moisturiser or under or over one, or as a treatment 3-4 times a week instead of night cream. ashleighscott.co.nz
Maryse 30ml Bio Nutrient Face Oil $62
Natural beauty specialist Maryse O'Donnell has come up with this all purpose, nutrient-dense conditioning oil for the facials she does and for at-home use. It contains easily absorbed oils known for their fine texture in camellia and jojoba, plus also avocado, macadamia, olive, kiwi and raspberry oils. See store.simonjamesdesign.com
Native Rituals Women's Face Oil $39
Rebekah Norman is a makeup artist who looks to glowing healthy skin for the ideal canvas. To that end, she has combined oils high in fatty acids, omega 6 and 3 and antioxidants. Key among them is moringa, suited for dry and troubled skin, argan and chia, with jojoba, avocado, macadamia, rosehip, raspberry and kiwifruit seed oil all getting a look in. nativerituals.co.nz
Share this:
More Beauty & Wellbeing / Features & Profiles