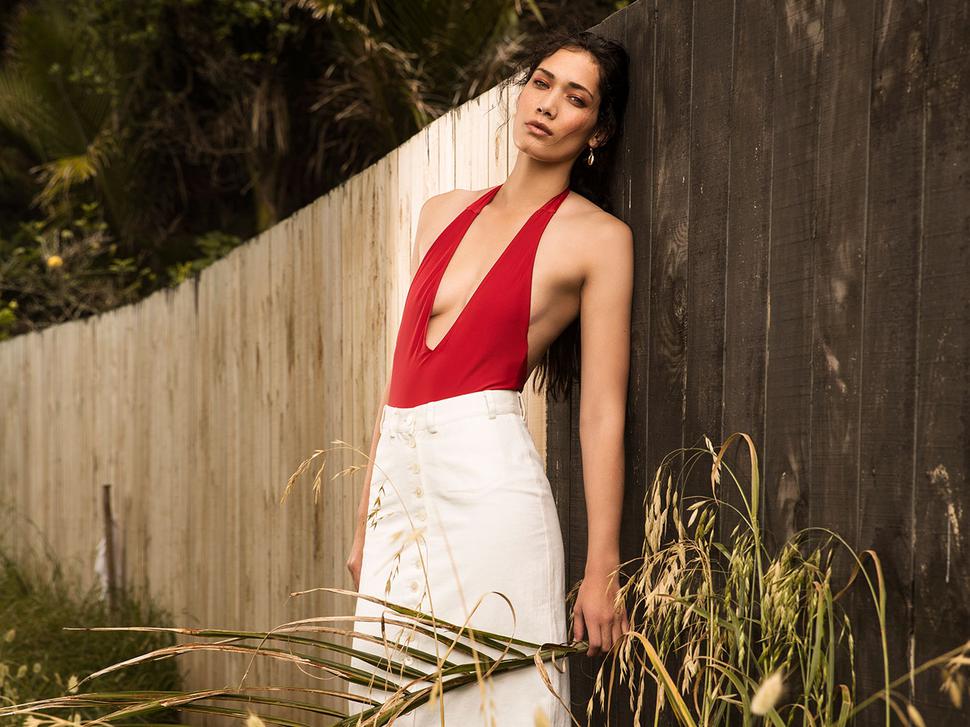 Skin Saviours To Beat Humidity
Over shiny skin and melting make-up? Call on these sticky summer busters
Thursday Feb. 22, 2018
If you're feeling frazzled and dehydrated and are over having melting makeup and limp or frizzy hair, it's high time to call a personal time-out on the effects of this extended sticky summer.
We can't promise to help you change the weather, but there are ways to ensure its erratic highs and lows don't get the better of your appearance. Look to short-term cosmetic fixes and corrective products to deal with humidity that leaves us simultaneously wilting and steaming. To counteract this duo of distress, you need to increase your hydration intake (external and internal) and switch to oil-free or oil-control skincare.
READ: Ripe for Summer Snacking
Whatever skin type you have, you are likely to be lacking in adequate moisture at this time of year. Even oily skin can be left severely dehydrated by too much exposure to sun, wind and air conditioning, leading to tricky combination troubles. Plus, whose hair isn't also sometimes greasy at the scalp and flyaway or frizzy at the ends?
If your skin feels parched, it's likely that, despite moisturising, its surface may not currently be in the best state to deal with a heavy load — akin to torrential rain running off very dry garden soil. To rectify this, experiment with the most effective ways to "water" your skin by trying different moisturising formulas and dosages and looking at how well they permeate.
READ: Find the Right Cleanser For Your Skin Type
Look for facial booster products and serums infused with encapsulated goodness that penetrate and bolster skin over time. Think of this as like an extra layer of mulch for the garden or applying potting mix containing slow-release nutrients. The effort is worth it because once the barrier layer on skin or the cuticle on hair is compromised, fixing damage becomes more difficult. Skin sensitivities set in and hair becomes more prone to breakage. If advanced, these issues can require professional help.
Try switching body butters for oils. Ramp up your use of sheet, hair and sleep masks. By day, set aside rich face creams until winter, instead favouring a lotion or gel. At night alternate with a sleep mask or oil.
Skin clinics can help with derma-rolling to better suffuse serums and with peels to freshen your pigmented complexion. Feed skin from within as well with a diet rich in healthy omega oils. When it comes to wearing makeup in high humidity, some people go minimal, others add smoothing layers of primers to make foundation fix better.
Another approach is to use a mattifying long-wear foundation, of which a good crop have just been released with lighter-look coverage. To work well, these need to be applied to happily hydrated skin. So it's back to basics, get the base right and the rest will follow in a flattering light. It's a seasonal juggling act.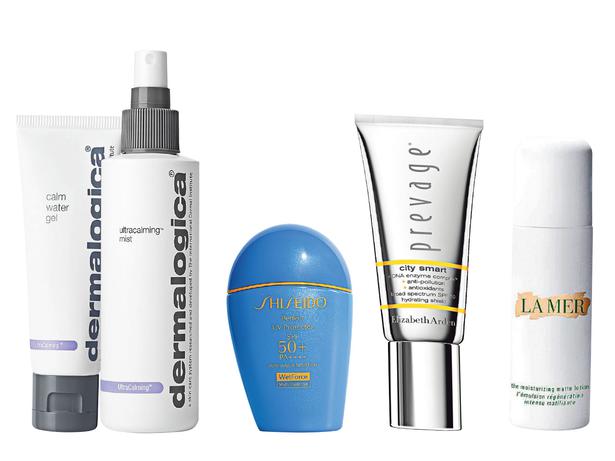 1. Dermalogica Ultra Calming Calm Water Gel $94 and Ultra Calming Mist $66
Anti-inflammatory properties make this light yet hydrating gel suitable for soothing red and sensitive skin and deterring future flare-ups. It's also handy to dab on patches of sunburn or post-waxing. The gel, with hyaluronic acid, is a recent addition to Dermalogica's Ultra Calming range, along with an oil barrier defence booster to nourish and balance skin. The range's existing Ultra Calming Mist, $66, is a spritz with benefits, designed for reactive skin, but soothing for all. From Dermalogica skin centres, selected department stores and pharmacies and Dermalogica.co.nz
2. Shiseido SPF50 Perfect UV Protector $65
This fluid sunscreen was designed to help skin cope comfortably in steamy Asian climates. Its lightweight finish is impressive. An added bonus for skin protection is its Wet Force technology, which means negative ions in the formula bond with minerals in water and in perspiration to enable it to better adhere to skin. A clear stick version absorbs even faster and makes a smart addition to your handbag. From selected department stores and pharmacies.
3. Elizabeth Arden Prevage City Smart SPF50 Hydrating Shield $115
This sheer skin defender, with a universal tint and optical diffusers for a healthy glow, also provides sun and pollution protection without clogging pores. It delivers high-tech, stand-alone multi-tasking help or can be layered between your serums and foundation. From Farmers and selected pharmacies.
4. La Mer Moisturizing Matte Lotion $415
Admittedly this isn't priced to be an everyday option for that many people, but it is an excellent high-end example of how technology is transforming texture. The original lush luxury cream is prized for its healing hydration, but its rich texture is a bit much for those with oilier skins or in hot and humid conditions. The refined solution is this mattifying formula, achieved by suspending tiny moisture spheres in a gel layer. A sea-sourced micro-fine powder surrounds each gel capsule to create a mesh network that helps minimise shine. Adding to the comfort factor is that the smell somehow reminds me of Oil of Olay. This is may not be quite what La Mer had in mind, but to me it somehow makes this indulgence seem more approachable. From Smith & Caughey's.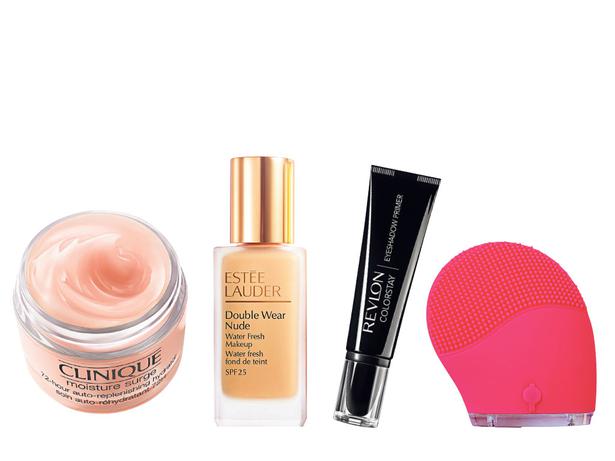 5. Clinique Moisture Surge $75
This gel-cream hydrator boasts the ability to help skin rehydrate itself for up to 72 hours, thanks to something called Auto-Replenishing Technology. It's laden with hyaluronic acid (that favourite moisturising substance that holds 1000 times its weight in water) and contains aloe vera and caffeine to help skin circulate its own water. The moisture infusion is said to continue even after you wash your face. I'd rather just reapply it, because the dewy feel is seriously refreshing. Clinique makes a number of Moisture Surge products, the more liquid Hydrating Supercharged Concentrate, $89, feels even more watery fresh but delivers as much moisture as cream. From department stores and pharmacies.
READ: Luscious Oils Your Skin Will Love
6. Estee Lauder Double Wear Nude Foundation $69
Long-wearing makeup generally delivers medium to full coverage, with good oil-absorbing properties. It can feel a bit drying, but working women have long loved its staying power. Recent releases like this are rewriting the rule book, with lighter feeling fluids that still wear well but have added moisture complexes for a fresher, more natural look. Check your favourite foundation brand for updates, but Lauder is a good place to start with its range of Double Wear choices, including this most "nude" new look one with SPF25 and antioxidants for added environmental protection. From department stores and pharmacies.
7. Revlon Colorstay Eye Shadow Primer $18
This eye primer is ideal for all comers, given the eyelid is the oiliest part on the face, so if you're going to the trouble of wearing eye makeup you may as well ensure it stays put. It and a liner are additions to the enduring Colorstay franchise, which has a range of foundation and primer formulas, including for combination/oily skin, at a price customers can experiment with. From pharmacies, Farmers and selected variety stores.
READ: Beauty Picks to Celebrate Chinese New Year
8. Skin Sonic $75
This vibrating silicone tool will help pep up your complexion without undue aggravation. Use for massage or to gently work in cleanser or exfoliator. It's waterproof and travel friendly and the silicone is non-porous so resists bacteria build-up. After seeing similar gadgets overseas, Megan Hutchison, founder of the She Said Yes bridal blog, came up with the design to power up manual pads and as an alternative to sonic bristle brushes. The full-sized model, $75, lasts for up to 300 uses before being recharged via a USB cord, whereas the travel mini, $35, lasts 100-plus times, but isn't rechargeable, although after the battery expires it can be used manually. Skinsonic.co
Share this:
More Beauty & Wellbeing / Features & Profiles