Six Skincare Trends to Try
The latest skincare treatments you need to know about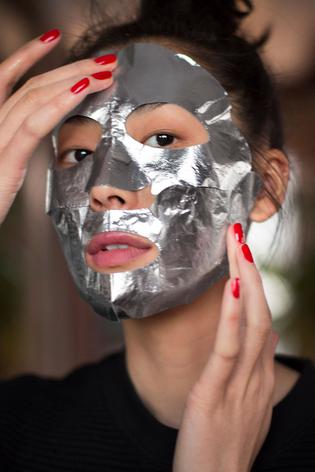 Mask mania
Face masks are one of the fastest growing categories in skincare, with hydrators, sleep masks, brightening varieties and detoxifiers coming in sheet form and in jars. We are particularly partial to the travel-friendly convenience of individual masks sold in sachets, such as the tinfoil one worn by Chinese supermodel Liu Wen in our picture. This is Estee Lauder's Advanced Night Repair Power Foil Mask.
Other sheet masks worth trying, in paper and cloth form, come from SKII, Shiseido, Mecca Cosmetica, Neutrogena and Za. These hydrating masks are like a drink of water for the skin. Look for plumping ingredients like hyaluronic acid and other high concentrations of serum-style actives.
Expect to see more mask options soon. In Korea, shops specialise in sheet masks for everything from the face to the feet, with elbows and breasts under wraps in between. Multi-masking is also a trend, with L'Oreal Paris advocating its three new clay masks in jars can be applied to specific zones of the face to target different concerns at one time. The Body Shop also has a good range of masks you might mix up.
Dark matter
Charcoal masks, scrubs and cleansing powders are joined by clays as current favourite ways to unclog pores and detoxify skin. Charcoal and clay are reckoned to be particularly good at sucking up atmospheric pollutants and drawing forth impurities from clogged pores. These are definitely not leave-on products. Whether you choose a full-body mud wrap in a spa, or a DIY face fix, be prepared to rinse away some dirty residue. For the face, try Freeman's economical sachets, or sophisticated choices from Dermalogica and Clinique. Boutique brand GlamGlow has a love affair with mud. Men's ranges have also been early advocates of the dark matter.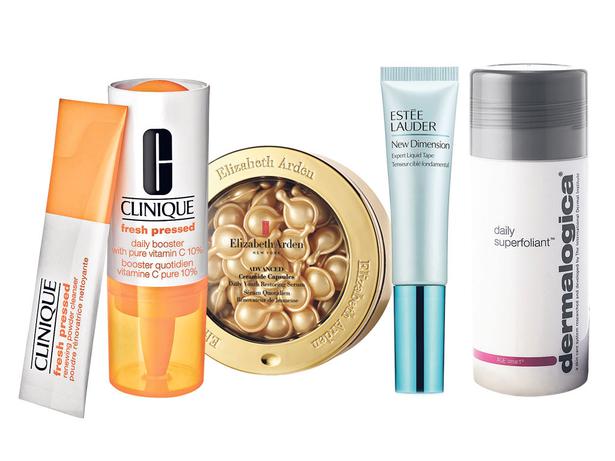 Fizzy face washes
Clever powder washes that activate with water are set to pep-up more cleansing routines. Some foam and fizz, thankfully without a detergent-style stripping effect. Others mix to a creamy paste to gently cleanse and/or exfoliate. The plus of powders is they can store vitamins and other active ingredients until they are ready to go to work, in a more stable way than in liquid form. Clinique's new Fresh Pressed system, which works as a duo with a serum, is one good example, laced with vitamin C. Dermalogica makes charcoal the hero of its new Superfoliant exfoliating powder, while upmarket natural brand Nude Skincare contains an antioxidant cocktail its Detox Brightening Fizzy Powder.
Into the matrix
Engineered skincare that acts to screen and structure is a high-end development. Invisible polymers incorporated into products form meshes and webbing. Their effect can range from the anti-pollution filters in a growing range of brands to smoothing primers and serums, to tightening polymers that help with facial contour control, as found in Estee Lauder's New Dimension Expert Liquid Tape. Not Botox in a bottle, but a step to surface layer manipulation for improved appearance.
Neck minute: We are also seeing more specialist neck creams to for this area where age-induced sag shows earl. Find them most often in premium ranges and from prescription skincare clinics, with an example being Revision Skincare's Nectifirm.
READ: How to Get (and Keep) Healthy Skin
Individual doses
Popping pills and cracking capsules is a way to access a measured skincare prescription for both internal and external use. The beauty supplements sector is growing fast, although what it delivers to skin isn't that easy to measure. More clear-cut is the convenience of cosmetic items sold in individual packages or dispensed in measured amounts. Ten years after the launch of its first-of-a-kind single dose serum, this has been updated as Elizabeth Arden Advanced Ceramide Capsules Daily Youth Restoring Serum. The fatty acid complex squeezes from a biodegradable capsule that enables preservative-free contents. Providing stable, air-tight and light-tight homes for fast-to-degrade active ingredients, such as vitamins, has seen big advances in packaging design.
"In" ingredients
Coconut, coffee, the latest superfood freshly translated to skincare from the menu of your favourite organic cafe. For more pointers, it may pay to check out your breakfast bowl . . . Think extracts of berries and grains and nut and seed oils. Better yet if the latest ingredient discovery has a back story, be it from the Arctic, Amazon, icy steppes, driest desert or deepest sea.
Forgive us if we sound cynical, it's hard to keep up with the ever-changing "in" ingredient list. But suffice to say, the good ones tend to hang around the longest and enjoy international rather than purely localised recognition, as happened with argan oil and now manuka honey, the star of Kiehl's Pure Vitality Skin Renewing Cream. Look out for more fermented ingredients in future and a renewed appreciation of marine extracts.
Be inspired by the good things in life. Sign up now to receive emails from Viva, and twice a week you will be sent the latest news, profiles, videos, fashion shoots, competitions and more.
Share this:
More Beauty & Wellbeing / The Latest