Smoothies for your Face?
Healthy menu items are repurposed for beautifying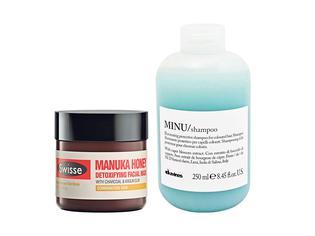 Berries, avocado, kale, coconut, a splash of citrus, a dash of spice ... if this sounds like a recipe for a breakfast smoothie think again, it is just as likely to be the ingredients in your face cream.
Botanically influenced beauty has moved well beyond the appealing use of moisturising plant oils and aromatic essential oils. Now your skin health is being enhanced with soothing and smoothing ingredients drawn from nature to calm and correct tone and texture.
Although some of these, such as chamomile and oatmeal, have long been used traditionally, others have only recently been widely used as substitutes for synthetics or as their useful natural properties have become better understood.
Antioxidants are the undoubted frontline fighters in anti-ageing efforts. So it's no surprise then that the call to keep up your vitamin intake is vital to maintaining internal and external health. Dark berries are among the more concentrated natural sources of antioxidants, explaining why their extracts feature so often.
Beyond a vitamin boost, increasing our intake of other nutrients is worth considering in skincare. Fruit enzymes add gentle exfoliating action, replacing harsher particles. Grains and rice proteins plump and polish skin and hair. Omega oils of differing weights replenish and strengthen.
As with diet, getting the right balance for enhanced beauty isn't as simple as slathering on or gulping down anything that sounds vaguely good for you. But it's an appetising start. Here's to topping up with healthy treats.

Oasis Beauty Fruit Smoothie $39.90
This cutely named skin-smoothing face mask and enzyme scrub in one is a fruity way to get your glow on. Papaya, pineapple and pink grapefruit enzymes combine with jojoba beads to naturally lift off rough and dull surface cells, with pink clay drawing forth impurities and tightening pores. From selected pharmacies and health food stores,
see oasisbeauty.com
Antipodes Worship Skin Defence Antioxidant Serum $59
From six botanically based Antipodes serums, we've chosen this one for its high-level of age-fighting antioxidants. Drawn from grape seed extract, with boysenberry, blackcurrant and kiwifruit, this fortifier also adds a skin booster shot of coffee and acai. Antipodes also uses locally grown avocado oil as a nourishing ingredient across its range. antipodesnature.com
Ayurda Almond and Saffron Moisturiser $80
With a light feel but a replenishing effect, this uses almond and wheatgerm oil to moisturise, and saffron and fenugreek to revitalise. The locally developed Ayurda range redefines skin types using Ayurvedic insights, with this item being suited to "pitta" types, that is, those needing balancing. Traditional Indian herbs and spices, such as turmeric for brightening, are also used in the spa range. See spaayurda.co.nz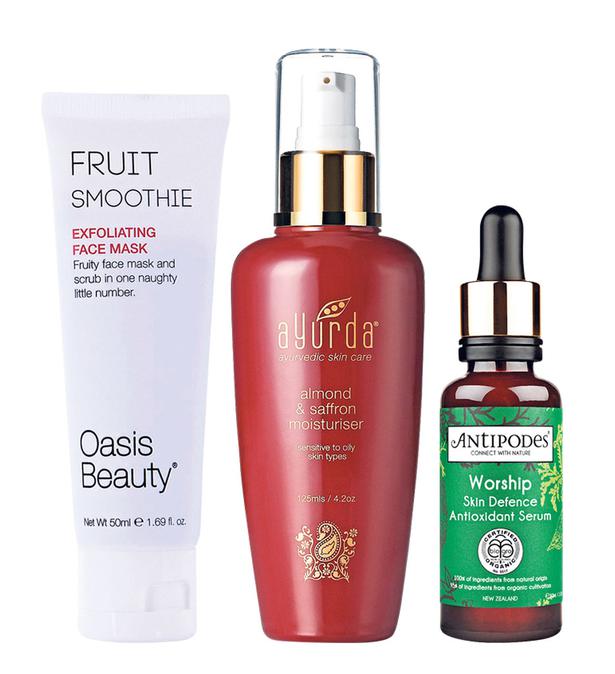 Swisse Cranberry Detoxifying Facial Mask $19.99
Supplements company Swisse has launched into skincare, in a reversal of the developing trend for beauty businesses to add internal options to their ranges. Serums and creams feature berry-seed extracts, a cleanser contains olive leaf and good old manuka honey is the healing helper in this mask, which also contains charcoal and clay to unclog congested skin. From selected pharmacies and health stores, or see swisse.com
Davines Minu Shampoo $36
Italian hair company Davines is one of those leading the way in using natural ingredients, but it goes further to support specialised growers of prized crops across its home country. In this case, caper bud extract from Salina, Sicily, rich in polyphenols, is incorporated into shampoo to protect and gently cleanse coloured hair. The orange blossom scent is a bonus. Davines has nine shampoos in its Essentials range and each features a hero extract, including my favourite, the Momo range with melon for dry hair. Other extracts include tomato, olive, almond, red celery and turnip. From selected salons, ph 0800 252530
Share this:
More Beauty & Wellbeing / Wellbeing