Staz Lindes' Beauty Routine
Musician, photographer, model and face of YSL Beauty Staz Lindes shares her beauty secrets - and love of New Zealand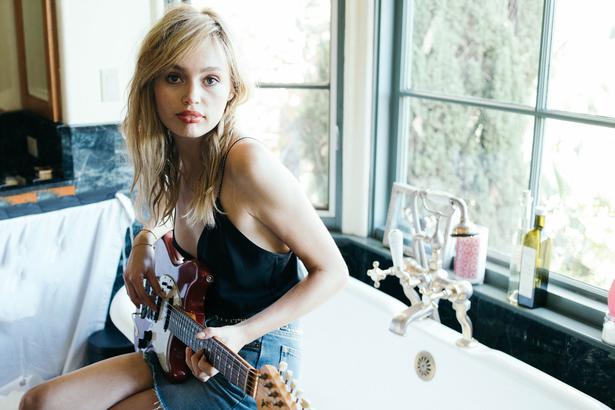 Wednesday Feb. 15, 2017
When it comes to style and beauty it doesn't get much cooler than LA-raised musician, photographer and sometime model Staz Lindes. The member of riot girl band The Paranoyds is known for her strong beauty look and taste for vintage leather and military clothes found in thrift shop trawls.
"Every day I express my individuality, I've never felt comfortable wearing all black or dressing like everyone else. I like wearing whatever I like and it's typically loud and trashy," she said when discussing her personal style.
The 24-year-old is the daughter of Dire Straits guitarist Hal Lindes, and is the new makeup ambassador for YSL Beauty - featuring in the latest campaign for YSL's Volupte Tint in Balm.
She is also good friends with a bevy of New Zealanders who regularly feature on her Instagram account, including stylist Zara Mirkin, and models Georgia Pratt and Lili Sumner. She even featured in a campaign several seasons ago for New Zealand designer Penny Sage.
"I love all of my Kiwi friends so much. I met Zara when she was living in LA about four years ago and when I moved to New York in 2014 she recommended me to move in with her friends, which were Georgia and Paris Mitchell. Lili soon visited and hung around and it was just love at first sight with all of them. Basically any New Zealander is my fave."
Staz spent time in New Zealand a couple of summers ago and says her favourite memories were "camping on the beach, the six-course meal I had with Georgia and her family on Christmas, the strawberry farms and going to a hangi at New Year's".
She shares the products she loves most, her recent haircut and the best beauty tricks she's picked up on the job.
First makeup memories
Getting into my mother's makeup drawer when I was a child.

Beauty ethos
Self-expression and exaggeration, also respect and care. 

Everyday makeup routine 
Jojoba oil to cleanse; apple cider vinegar to tone; then a serum from Meg 21. Caudalie Vinosource moisturiser on top of that, then Yves Saint Laurent Top Secrets All-In-One BB Cream Skintone Perfector, followed by Yves Saint Laurent Mascara Volume Effet Faux Cils Baby Doll with the Yves Saint Laurent Couture Kajal Eye Pencil just at the corners of my eyes, and maybe some Yves Saint Laurent Rouge Pur Couture No.1 lipstick or the Baby Doll Kiss & Blush.
Day-to-night beauty look 
Sometimes nothing, but typically I'll do a heavier cat eye.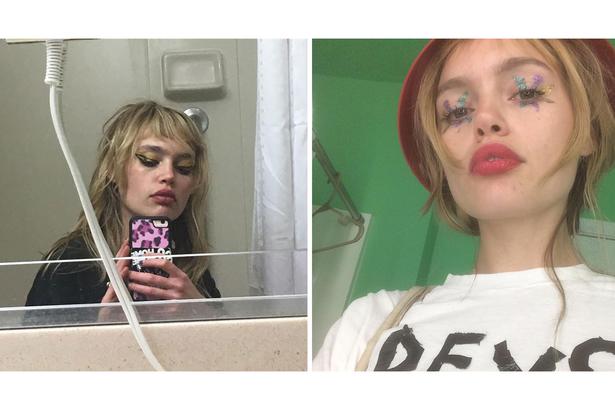 Top five beauty products 
1. Caudalie skincare — I suffer from dry skin and its line of serums, moisturisers, eye cream, face spray and night cream have all made my skin so soft. 
2. Yves Saint Laurent Kiss & Blush — I love the texture of these lipsticks and they don't dry my lips out.
3. Viviscal hair vitamins — these supplements have saved my hair.
4. Homeoplasmine — best chapstick.
5. Yves Saint Laurent Couture Kajal Eye Pencil — wonderful for a cat eye.
Style icon
Siouxsie Sioux.
Best beauty tricks picked up on the job
Always remove makeup before bed; use plenty of moisturiser with SPF; to create the perfect cat eye follow the shape of your eyes; drink a tonne of water; and use natural instead of manufactured products when it comes to skincare.
Style and beauty evolution
It fluctuates, I look more like my 14-year-old self when it comes to makeup style right now. I go through phases of not wearing any eye makeup to wearing a bunch, and I always wear lipstick.

Morning routine
I try not to read the news; I do coconut oil pulling for 20 minutes before I brush my teeth or eat anything; and I like to make breakfast if I can - typically eggs, cooked spinach and kale with garlic and some avocado
Hair
My cool friend Blake Erik gave me the best haircut ever recently and I either go to David Mallett salon in Paris or Benjamin Salon with Megan in LA.
Share this:
More Beauty & Wellbeing / Features & Profiles