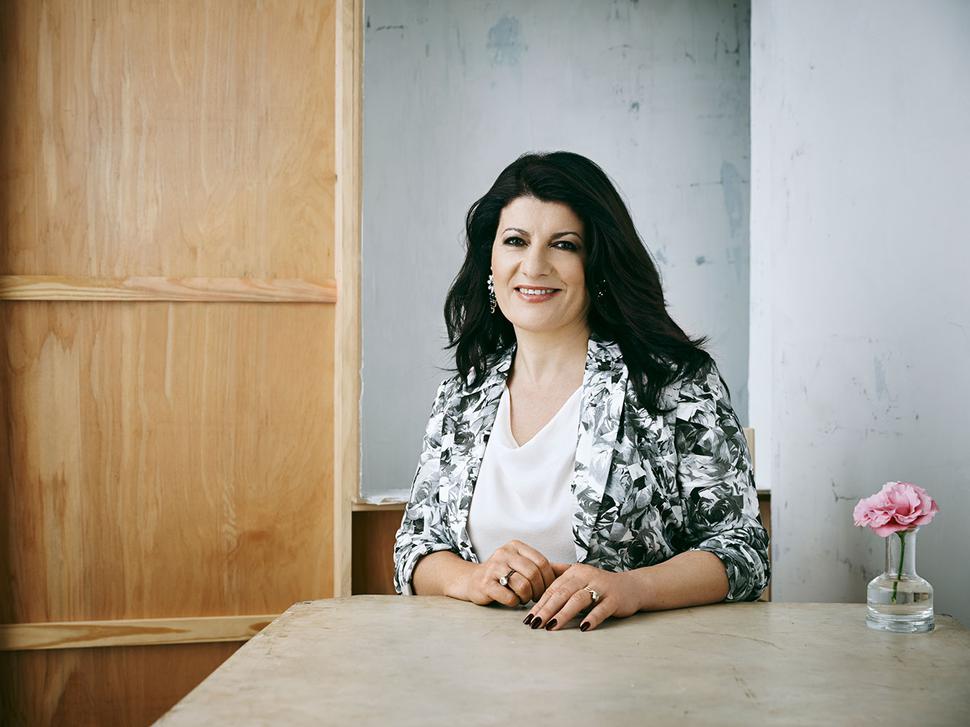 Beauty Entrepreneur Sue Ismiel on Giving Back
This inspiring beauty entrepreneur believes in giving back and challenging stereotypes
Wednesday June 29, 2016
Sue Ismiel still remembers her third day at school in Australia more than 40 years ago. She was beaten up on the bus, because she couldn't speak English, by a bunch of ignorant teenaged girls.
"It was absolutely horrible at the time yet it was a defining moment for me. I had to decide if I was a victim of bullying or would rise up to it and prove them wrong," she recalls. "I wasn't going to let an incident like that ruin my life."
The 15-year-old, newly arrived from a village in Syria, soon came to consider the city of Sydney home. She went on to get a job as a receptionist, marry young and, in her mid-20s, while caring for three young daughters, launched a business from her kitchen table. That business, still family-owned, is now a multimillion-dollar international enterprise. It saw Sue named Australian Entrepreneur of the Year in 2002. The best-known brand, Nad's, is built around hair removal products, inspired by the traditional Middle-Eastern "sugaring" technique.
Sadly, Sue's husband, Sam, died earlier this year but their girls, now all in their 30s, hold key roles in the company. It proudly trades as Sue Ismiel & Daughters.
From a young age, Sue was inspired by stories about her maternal grandmother, who faced vilification for defying cultural norms. Showing courage and determination, she travelled dirt roads to the capital, Damascus, for goods to set up a food trading business to support her family after her husband was paralysed. She too was beaten, but battled on.
Sue, whose birth name Seham was adapted, has a saying in the face of adversity: "There's no strength without challenge." Daughter Natalie elaborates that her mother's favourite sign off is: "There's always a way."
Within a short time of meeting the warm and elegant Sue, it is clear she seeks to influence primarily by engaging. She is a government appointee on the Council for Australian-Arab Relations, a Child Fund ambassador and for her business and considerable philanthropic activities has been a nominee for Australian of the Year. Over the years she has sponsored more than 100 children in Africa and funded medical research in Australia.
Sue and her husband were regular visitors to Syria, although their immediate families had emigrated decades before the warfare now tearing the nation apart. She despairs at how desperate things have become in her childhood homeland, with people starving and hospitals bombed. "My heart goes out when I hear that 350 of our people [from the border near Turkey where she grew up] were abducted and taken away." Everyone has fled her childhood village of Tel Tamer.
With millions of refugees spilling out from Syria, Sue says: "I look at Australia and New Zealand and I see enormous land." In a bid to do more to help those stuck in Syria without enough food or medical supplies, she plans to start a trust or foundation in her husband's name.
This is part of the 58-year-old's gradual move away from being wholly hands-on across her private business, in favour of philanthropy. A public float is being weighed, and Forbes publication last year had Nad's as a US$40 million and growing business. The Ismiel women aren't ready to wholly cede control, however, as shown on a recent New Zealand visit to see local stockists. Nitwits, a lice-removal product, is another of their brands. The need to innovate continues to drive them, with new Nad's items in the pipeline. These include an exfoliating strip wax and a nasal hair removal wand.
The original "green goo", an all-natural mix to remove hair, remains the top-seller. It was developed for Natalie, who as a primary school child was self-conscious about having dark hair on her arms. Her sensitive skin reacted to the few chemical hair-removal options available and hot waxes hurt, so Sue set out to improve on an old and scratchy family sugaring recipe.
"I became a product scientist with no qualification," says Sue, who combined sugar, honey, fructose, molasses and lemon juice. The gel-like substance did not require heating like the waxes then available and, encouraged by feedback from family and friends, Sue began selling it at markets and malls. The breakthrough was in taking the risk of paying for a slot on breakfast television in 1997, after which sales took off, driven by the heart-warming story of a mother who invented a product for her daughter.
"By being naive and talking about the problem [of hair removal], I created the demand," says Sue. From Good Morning Australia to American TV, the infomercial model rapidly exceeded expectations and Nad's — called after daughter Nadine rather than Natalie because Sue thought the abbreviation sounded a more "cosmetic name" — became the No. 1 infomercial Stateside.
Natalie, 35, the middle daughter, now looks after marketing and brand management; Nadine, who has a bio-medical science degree, is in charge of research and development; and the youngest, Naomi, a graphic designer, steers creative direction. Says Natalie: "I don't know if I'll ever be as high-achieving as my mum, but she's definitely an inspiration to me."

• Nad's is available from Life and Unichem pharmacies and Countdown.
Share this:
More Beauty & Wellbeing / Features & Profiles